2004 Ferrari 360
User Reviews
2004 Ferrari 360
Review Ratings
Average Ratings from

12

reviews
Performance:
Appearance:
Build Quality:
Overall:
Review Highlights
Click to filter reviews below
Displaying 1 - 10 of 12 2004 Ferrari 360 reviews.
Navid

writes:
Pros
Uhhh its a Ferrari!! great handling and a feeling of real power pulsating through you. Shame the brakes were really noisy as it had been driven hard all day.
Cons
I can't afford one :-(
The Highlight Of My Track Day Experience In Oxfordshire — Well this was what the whole day was about...perhaps the only time in my life I get to drive a Ferrari..was I excited..Oh YES!!! From the moment I got in it was a feeling of class and style all the way around. Buckled in and raring to go I put my foot down and felt the 3.6 Litre V8 engine rumble right behing you..It really is quite something.
GDVBR8N

writes:
2004 Ferrari 360 2 Dr Spider Convertible
Review
Pros
The car steers, tracks and handles like a high end race car.
Cons
Spell "Ferrari" like this: e-x-p-e-n-s-I-v-e. Everything related to the car, from a spare key to a new muffler costs five or more times what most people think is reasonable.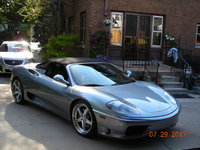 Get Anywhere Fast, But Bring Your Wallet — For the most part,the car is built to a high quality, of well-made parts. There are some glaring exceptions. For example all of the buttons and switches in the interior are covered with a black material that gets sticky over time. If an owner is at all fussy, he will need to dis-assemble the buttons and switches, and strip and repaint all of them, or have someone do it for him-at great expense. Except for the high cost of maintenance, it is a great car. The car looks tremendous. This is my first Ferrari. I am used to driving Corvettes, old and new. They get plenty of stares and positive comments, thumbs up and such. But the Ferrari is in a different universe. I hope that I don't cause any accidents by drivers taking their eyes off the road to stare at my 360.
Primary Use: Sport/fun (spirited driving, track racing, off-roading, etc.)
Joseph

writes:
2004 Ferrari 360 2 Dr Spider Convertible
Review
My Roxanne — Driving a Ferrari 360 spider is a roller coster ride, its acceleration is awesome, the sound from the Tubi Style exhaust is a symphony from heaven, build quality is good and the appearance is amazing. Ita a Beauty and a Beast in the same time !!
Primary Use: Sport/fun (spirited driving, track racing, off-roading, etc.)
Liam

writes:
2004 Ferrari 360 2 Dr Spider Convertible
Review
Best Car Ever — the performance on this car is amazing.every feature is top notch. for example the acceleration picks you up and throws you around. the cost was vary reasonable at 150 grand. i recommend this car to every one because it is the funnest little car ever. this car is the best.
Marc

writes:
2004 Ferrari 360 2 Dr Challenge Stradale Coupe
Review
Pros
Quick, superb handling, awesome engine
Cons
No luxuries (but that's what it's all about)
Alex

writes:
2004 Ferrari 360 2 Dr Modena Coupe
Review
Cons
Not the nicest looking Ferrari
Patrick

writes:
2004 Ferrari 360 2 Dr Challenge Stradale Coupe
Review
Pros
Great paint job and headturner and racer feel.
Cons
Kind of intimedating
Great Drive — I felt a little low in the seats but whatever. Suspension was nice and firm, evry bump was felt. The steering was qucik and responsive. And acceleration was fairly good. Interior was 2 red custom fit ferrari racing seats (probably why i didn't fit well) with minimzed wieght and luxurys throughout the cabin.The extensive use of carbon fiber throughout the interior helped to reinforce the "racer" feel of the car. The exterior was extreamly well put togather and flowed beautifly. Overall i would give this car a 9 out of 10 strictly because it's the only super car i've ever driven and i have nothing to compare it to. Although the same guy who owned this is hopefully geting an F430 in the near future:)
Marek

writes:
2004 Ferrari 360 2 Dr Spider Convertible
Review
Pros
incredible track performance
Cons
not a great daily driver
Sexy And Fast, But I Wouldnt Drive It To Work Every Day — This car's track performance is just incredible, that 3.6 liter packs one hell of a punch, and it drives like its on a rail. As for easy driving in areas such as suburbs, its terrible, the car was made simply to go fast and look nice. You can't hear the person beside you, the seats are uncomfortable, after a few minutes at low speed the motor begins heating up and running poorly and to top it off, once you get fed up and try to back it into your garage, you can't see a thing behind you.
Ahmet

writes:
2004 Ferrari 360 2 Dr Modena Coupe
Review
Pros
Nice interior, easy to use, good visibility, good groud clearance, sound of italian V8, the metallic sound gated manual shifter makes especially from 2nd to 3rd, acceleration, endless oversteer option (be carefull), oh, and the fact that its a bloody Ferrari, best supercar maker in the world..
Cons
Brakes are not very good unless the pads are warm (ceramic or not they have to be warmed), maintenance can be costly (damn services overcharge for anything), insurance is CRAZY, craks and rattles as its handmade, depreciation. Cant park everywhere, because of people who like to take picture sitting on the bonnet or something, but you can not control what happens when you are not looking, and as its aluminium it bends immediately and cant get fixed. (so park it indoors :))
Italian Crescendo At Its Best.. — It looks good, goes well and sounds incredible (if you tubi it especially). The high pitched scream of Ferrari V8 on 8-8500rpm is the best engine sound you can have in a car, imo. Easy to drive in stop go traffic, clutch not heavy, and manual causes less electrical and technical problems than F1. It is very reliable if you dont miss interwals or go to service and check her diagnostics every 1500miles or so. Not very stable at high speed, and if you step on it hard on 2nd or 3rd with act off (traction/stability) or even sport mode on she shake her ass wildly, so if you are on a narrow street or cars around do not try it. Cant use with rain, not becasue its hard to control the car, but its impossible to control other drivers which might get too close to watch or take picture (the last part is for all seasons).
Raj

writes:
2004 Ferrari 360 2 Dr Modena Coupe
Review
Pros
every one around you loves it
Cons
dissapointed when you have reached your destination
Displaying 1 - 10 of 12 2004 Ferrari 360 reviews.
Reviews From Other Years
Italian Style
Sticky interior black pieces are a nuisance to fix. The 360 drives great, looks great, is really quick, and sexy. the F1 transmission is slick but i would not want to have to replace it. The Daytona s... Read More
Best Car I've Driven
It's a Ferrari, what else can I say? The quality of everything from the construction of the car itself down to the fine stitching of the interior was amazing. The handling was also great. Not only did... Read More
Read all

4

2003 Ferrari 360 reviews
Its A Ferrari
Very fast and suprised on how easy it was to drive, its so responsive it feels like there is no weight to it, the leather is far nicer than in any other make of car but everything els inside is poor q... Read More
Ferrari 360 Modena
A dream come true. I have loved Ferrari's since my father took me and my brothers to the San Francisco International Car Show when I was 8 years old and started telling us about Ferraris and other exo... Read More
Read all

3

2002 Ferrari 360 reviews
Best Car On The Planet For The $$$$
Shiny White beautiful color, shifts like a dream and sounds excellent like a real sports car should. I love the automatic top function, and paddle shifters. Hoping to get the challenge grill for the r... Read More
Drive A Comfertable
its fast and it is a comftable drive i think that anyone who likes there cars will enjoy a ferrari as it is a show off car yeh this is a fun car to drive and its good looking thanx Read More
Read all

9

2001 Ferrari 360 reviews
Looking for a Used
360
in your area?
CarGurus has

86

nationwide 360 listings starting at

$54,999

.