Average Ratings from

19

reviews
Performance:
Appearance:
Build Quality:
Overall:
Review Highlights
Click to filter reviews below
Displaying 1 - 10 of 19 2004 BMW Z4 reviews.
amanlkml

writes:
Pros
This car handles like a dream. It is just fun to drive. Automatic is a little slow out of the gate but works well when you shift ore and use as a manual
Cons
Gas mileage. Maintenance. No aux input for iPod.

Love It — Its hard for me to believe this car is 9 years old. It handles like a dream. Entering the freeway or passing at highway speed is a breeze. It practically begs you to take the long way home and find a twisty road. I've had it about 11 months and can never go back. Maintenance does cost more but in my case it's because I actually care about making sure the car is in great shape. In the past I've driven cars for months with the engine light on and it never phased me. Now I'm actually doing a legitimate maintenance plan. My advice skip the Starbucks or expensive dinner once a month and stick that money in your BMW account and have fun.
Primary Use: Commuting to work
Looking for a Used
Z4
in your area?
CarGurus has
1,313
nationwide Z4 listings starting at
$6,900
.
Ashley

writes:
Pros
Great handling all around, the interior is high quality, and i got to floor it without paying for gas.
Cons
Automatic transmission (really took a lot of fun out of the driving experience), looks girly, engine sounds high pitched.
Fun To Drive, I'm Jealous Of The Owner — I drove it with the top down last fall and it was cold. I wasn't used to it so I didn't get to really play. But, the owner knowing that i wanted to, urged me to step on the gas and i was up to 80 faster than anything I had driven prior. By that time, i was around the block and i got to test out the amazing braking system on that. It's a small car and I'm pretty small too, so it fit me great. I don't think I want to see a man driving one, though. It's a chick car.
Stuart

writes:
Pros
Great looking Car with Nice get up and go. Stick to the road like glue.
Cons
The Repairs and maintains.
Bmw Z4 — Performance - acceleration, is ok, nice pick up, but the 3L is better. Build Quality, So far i spent over 12 thousand in repair, i wouldn't Recomend getting this car unless you realy want it. Roof played up cost me 51 hundread, then there was a leak in raitor, then few weeks later that went. Other Friends that own a Z4 have also had Problems, poping up. Stick with the Hard Top No problem so ive heard. Other than my problems i've had with my car its a great car to drive.
Primary Use: Family transportation
CaIrishGuy

writes:
Pros
Great fun cat to drive. It's been almost trouble free.
Cons
The ride is a little choppy, but well worth it.

A Fun Sporty Car! — I love the convertible top, but I wish it was a retractable hard top. The tires are $400 each and need to be replaced every 20 to 30k miles. I get about 27 mpg on the highway. It has a nice size trunk for a convertible. It's a beautiful car that turns heads every where it goes.
Primary Use: Sport/fun (spirited driving, track racing, off-roading, etc.)
Charley

writes:
Pros
Fast. Sexy. Fun. Gas mileage. Paddle shifting transmission.
Cons
Rough ride at times.
Amazing. — This car is so amazing. By far a tipped hat to the engineering. 3.0 inline 6 with an SMG transmission. Black with red leather interior. 18 inch BBS/BMW wheels make this car look amazing. The navigation system in the car is very fun to play with as well. It gets over 30 mpg on the highway which is awesome, I've never had a car that could do that, let alone be this sexy. You will not find a car with these options anywhere around here. The m sport seats, smg tranny, premium pack, sports pack, conv pack, navi. Its nearly one of a kind and the SMG transmission cannot be purchased with this car in the USA anymore. Euro still has it, but Americans apparently didn't bite on it. Its nearly perfect.
FlaRiptide

writes: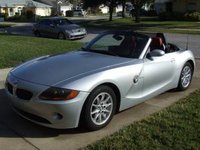 Sporty, Fun, And Practical - All In One — Sporty convertible without breaking the bank. Most fun on curvy mountain roads. Has great acceleration even with the 2.5i. Even at 80mph, still plenty of passing pep. Looks best with the top down. Great car for just fun or everyday driving.
Primary Use: Commuting to work
fuegoplus559

writes:
Pros
Sporty and beauty. Fast and fun.
Cons
what is there not to love?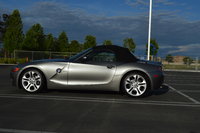 Awesome — It is always a joy to be on the road and getting great compliments about this beautiful thing that was made for gracious individuals. There is no other satisfaction like you, me, and the convertible on 17 mile drive Pebble Beach.
Primary Use: Sport/fun (spirited driving, track racing, off-roading, etc.)
Greg

writes:
Bruce

writes:
Pros
Rolls-Royce once quoted the power of their cars as "enough". This car has ENOUGH. Combined with fresh air and a delightful exhaust note, who could ask for more?
Cons
Only 2 seats - is that bad ... or good...
Ultimate Sports Car. — Quoted 0-60 for the 3 litre auto is 6.1 seconds, although I have not tried it! It is fast, with brakes and handling to match. Can change gears manually, or leave the auto box to it, depending on your mood. With the hood down (takes 12 seconds) I cannot stop smiling. Even when it's cold outside, with the heater on and heated seats, it is quite cosy. And the all-round visibility is excellent Even the boot space is very good. Only had two minor problems - wipers not parking (oil in motor) and a loose door mirror glass (glued). I get 25mpg around town, with upto 36mpg on a run - not bad!
Primary Use: Family transportation
bsofva

writes:
Cons
Long trips if you are tall, not so good

Best Just For Fun! — Well made and good cornering and great power. The cup holders are not well done. The fuel economy is impresive for a sports car. This car gets to be difficult getting in and out of if one is six feet tall or taller.
Primary Use: Sport/fun (spirited driving, track racing, off-roading, etc.)
Displaying 1 - 10 of 19 2004 BMW Z4 reviews.
Looking for a Used
Z4
in your area?
CarGurus has
1,313
nationwide Z4 listings starting at
$6,900
.