2003 Mitsubishi Eclipse
User Reviews
Average Ratings from

52

reviews
Performance:
Appearance:
Build Quality:
Overall:
Review Highlights
Click to filter reviews below
Displaying 1 - 10 of 52 2003 Mitsubishi Eclipse reviews.
Wrieland

writes:
2003 Mitsubishi Eclipse GT
Review
Pros
Great handling, lots of power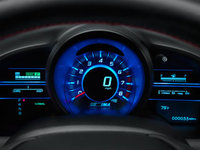 Good Looking And Fast — Acceleration, speed, handling, and performance is top notch. Comfortable front seats, back seats were small but fits everyone easily. Gas mileage and repair costs were fair. Overall it had a lot of character and was an easy and rewarding drive.
Primary Use: Commuting to work
Looking for a Used
Eclipse
in your area?
CarGurus has
1,517
nationwide Eclipse listings starting at
$1,800
.
dopestr

writes:
2003 Mitsubishi Eclipse GS
Review
Pros
Lots of trunk space, reliable, fast,looks good.
Cons
Very limited back seats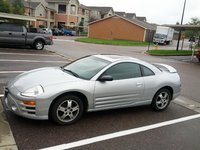 RedKatDriving

writes:
2003 Mitsubishi Eclipse GTS
Review
Pros
Great road car. Fast and comfortable.
Cons
Turns like a cow. Our Dodge Grand Caravan has a similar turning radius.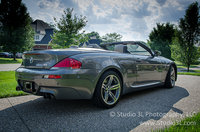 Love This Car! — Sexy little red car is fun to drive on the highway and gets fantastic gas mileage (especially for a V6). Really responsive acceleration This is NOT a family car, you can't safely put anyone larger than a toddler in the back seats. Great cargo space for stowing suitcases for road trips.
Lindsey

writes:
2003 Mitsubishi Eclipse GS
Review
Cons
Needing a different radio hook up
Awesome — Performance: accelerates and shifts wonderfuly as well as braking and handling. Build Quality: Needs a few minor adjustments repairs. Appearance: Some touch up on the both inside and outside tyle Cost of Ownership: gas mileage is awesome as well as the maintenance Fun Fact: Kicks butt at drifting awesome
Primary Use: Sport/fun (spirited driving, track racing, off-roading, etc.)
cholrus

writes:
2003 Mitsubishi Eclipse GTS
Review
Pros
Very fun to drive, very reliable, decent trunk space, great factory audio, 3.0L engine, comfortable and easy to maneuver, awesome factory audio, sunroof, resilient design, virtually no blind spot with amazing visibility, comfortable to me as a 6'3" man despite compact design, resilient to accidents - many people have bumped my car and it's designed very well to absorb these minor impacts and simply have exterior pieces "pop out" without bending or ruining them, which are easily fixed at home.
Cons
Has had battery replacement, brakes replaced, and timing belt replaced in the 80,000 miles its been going. Somewhat shotty sealing - can be very noisy and moisture will get in very easily if you roll the windows down in the rain but it is still able to keep all the elements out effectively while driving, must be properly checked + maintained, premium fuel only can get expensive.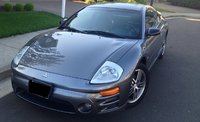 Beautiful, Well Rounded Car With Few Cons, Guaranteed Head Turner — This car is Pretty ideal for me. It handles great, is incredibly easy to see all around me when I'm driving, parallel parking is extremely easy, able to park in compact spots while still having an engine with good kick. If you're going to get this car the GTS is the way to go sporting a considerable 3.0L engine, and a unique but sleek and sexy exterior, this car is a head turner. The interior is definitely meant for you and one other person, with a backseat mostly good only for fitting whatever you need to take with you. I've had really good luck with maintenance since it's been in my hands, since I regularly check + maintain the parts of the car. The audio system is amazing for factory in my opinion, with a clear and powerful infinity 6 CD stereo and plenty of bass. One of my favorite things about this car is the way its well rounded, it gets decent MPG, however it ONLY takes premium; I left this car with my mom one day so she could take it in for maintenance while I took her car to work. She unknowingly filled it up with regular not knowing it took only premium and the engine wouldnt start for a couple of days. I ended up having to siphon most the gas out and replace it with premium, which solved the problem. Also make sure you monitor this car checking under the hood every couple of weeks. The timing system can be sketchy I've noticed, so I'd recommend you simply buy some sort of application for treating the timing belt as I did to make sure you keep it running smoothly. Overall it's a great car for the price and I'm very happy with this car, and I'd recommend it to anyone who's willing to take the time to truly love and care for their vehicle!
Primary Use: Sport/fun (spirited driving, track racing, off-roading, etc.)
Nick

writes:
2003 Mitsubishi Eclipse GT
Review
Pros
really nice looking and fun to drive.
Loves It — the performance is so so it accelerates to 60 in about 7 or 8 secounds brakes are really good and the handeling is terrific. the car has overall not had any repairs except the filler tube, which was rusted out. i love the apperance of the car and would suggest the car to a friend
Primary Use: Commuting to work
azides

writes:
2003 Mitsubishi Eclipse GTS
Review
Pros
Silky smooth engine and transmission.
Cons
Auto has only 4 gears. Why?!!!

Is A Very Good Car, Speedy, Comfortable And Good Looking. — Is my wife's car (85K miles). I drive a Scion tc (at 78K miles) and an Explorer. So a comparison! (Not to the Explorer, duh!) Performance - Acceleration (4 speed automatic) is a shade over 7 seconds and thus about the same as my tc (stick). Eclipse is faster to around 35 in 1st gear but 2nd is criminally slow to 60, in fact the Eclipse automatic should have been a 5 speed automatic and it would have been much faster. Why would they do that! Scion is faster from 40 to 60 and appears to be faster in overtaking as my manual transmission can kick down much faster than the auto in the Eclipse, unless you use manual option. Braking is more powerful in the tc than the eclipse and feels more connected to the driver. Eclipse feels more planted in corners than the tc because of lower body roll, but I feel more safe taking corners faster in the tc as it feels more nimble and connected to the road, i.e. the eclipse is softer and does not communicate as much info to the driver. Eclipse has a quiet and silky smooth V6 which effortlessly reaches the speed you want to go, while the tc, being a 4 banger is loud and relatively graceless and you have to work the gears. Eclipse drives smoother. Build Quality - My tc is 5 years old and has required no maintenance outside of scheduled maintenance, however, there are rattles in the tailgate (common with tailgates). My wifes eclipse has only been in her possession a year and will require some accessory belt adjustment as it squeals sometimes during acceleration, hopefully nothing else. Rear tailgate does not rise or fall properly, so the lift canisters will need to be replaced (inexpensive). It has a problem with the passenger side window which is addressed in a technical service bulletin provided by Mitsubishi (the previous owner did not sort it out), other than this, no problems. I would estimate that the tc, being a toyota, will outlast the eclipse, however the eclipse is a very solid car. Appearance - Both cars look good, I like both equally. Our eclipse is maroon and the paint has lasted very well, no problems, looks as good as new ... why is it that some eclipses look old before their time ... I sometimes see the matte red ones and they look old ... the maroon/burgundy pearl finish seems timeless, as does the silver. Interior of the scion is better executed than the eclipse with the exception of the seats; the scion has cloth cheapass seats and the eclipse good leather ones with lumbar support. Interior of the eclipse is good though. Eclipse has very poor rear seat room. Cost of Ownership - Insurance about the same. Eclipse requires premium fuel and yields 25mpg, while the scion sips regular fuel and yields 28mpg. Maintenance is probably similar, but work outside of regular schedule will most likely be more expensive on the eclipse V6. Residual value is perhaps just in favor of the scion. 2005 tc about $11.5K rtl ($9.5K private) (19K new, inc. options). 2003 eclipse gts auto about $11.5K rtl (9.5K private) (25K new). KBB is a bit dubious though, if this is true then the gts holds it's own against the tc in residual value. Fun Factor- Eclipse is fun to drive, and would have been more fun if my wife had driven a stick ... lol! It is what it was designed to be, a grand tourer. It is no RSX-S, but then it is a more comfortable ride with a smooth engine. I bet the eclipse is faster off the line than the type s, even if not to 60. 2003-05 Eclipse gts is a good car. If you want one, I would opt for one with a manual transmission and in a good color. Be sure to get one from a reputable retailer or someone with the car history ... a lot of folk might have razzed theirs. Anyways, my wife loves her eclipse, probably as much as I would love my car if I had an Aston Martin DBS!
Primary Use: Family transportation
Tin

writes:
2003 Mitsubishi Eclipse RS
Review
Pros
Looks like a supercar, great on gas, tons of potential
Great First Car — Great first car had great power brakes sucked but can be dealt with handling was just fine, great looks gas mileage was awesome overall a very fun car to drive whether it be a vacation or one of those nights you feel like taking a drive
Allison_Roselle

writes:
2003 Mitsubishi Eclipse GS
Review
Pros
Reliable, fuel efficient, attractive, sporty, fun car to drive.
Cons
Blind spots due to hatchback.

Reliable Sports Car — I've really enjoyed owning this car, it's a fun sporty car that gets good gas mileage on road trips. It's been driven around town and for long distance out of town trips. The car gets regular maintenance & I've not had any problems with the car.
Mike

writes:
2003 Mitsubishi Eclipse GT
Review
Pros
its really fast and handles like a race car
Cons
really expensive parts
My Car — Preformance - Exellent Build Quality - pin hole in the flex pipe on the exaust Appearence - Awesome Cost of ownership - Great Gas Mileage, expensive parts though Fun Factor - Extremely fun to drive Faster than all my friends cars by far no contest
Primary Use: Sport/fun (spirited driving, track racing, off-roading, etc.)
Displaying 1 - 10 of 52 2003 Mitsubishi Eclipse reviews.
Looking for a Used
Eclipse
in your area?
CarGurus has
1,517
nationwide Eclipse listings starting at
$1,800
.