2003 Honda Pilot
User Reviews
2003 Honda Pilot Review Ratings
Average Ratings
from 19 reviews
Performance:
Appearance:
Build Quality:
Overall:
Review Highlights
Click to filter reviews below
Displaying 1 - 10 of 19 reviews
Tommy

writes:
2003 Honda Pilot LX AWD Review
Pros
mmmmm, how 'bout everything!
Just My Take On It — Well, when i first saw it at the dealership, i wanted it terribly. I just fell in love with it. Everything about it, the shiny black, chrome trim, leather interior, not to mention, its a honda, which comes with honda quality and reliability. I couldnt wait to test drive it, and when i did, i was happier than a pig in shiiiiiiiiiiiiiiiiii, uhh, mud. one thing dissappointed me though, which still haunts me to today, is the lack of power. Its not bad at all really, your not going to be beating the carlos and the 'stangs at the stop lights, but its bearable. Annoying at times, considering that i live out in the sticks, which means daily scaling steep hills to get to and fro, which in turn means watching the tach jumping from a cozy 1500 to 2800. Its painful but we all bear our crosses.lol. That being said, i just love it!! The braking is the tightest and smoothest of any vehicle i ever drove, the response timing is delightful, and steering is all the above and then some! The Pilot is the best handling truck in the wind i ever seen. Seriously, with the radio blasting, i would never know i was in a tornado until i landed in kansas. Now i have the lx so maybe this is cheating, but the stock sound system is great sounding and the only changes im making to that is adding another sub or 2 for bass, but other than that, everything is just fine! The interior is very plush and surprisingly handy,and i never cease to hear compliments when i give someone a ride.For those with no boose in the house, or whose dealer wont text back cuz you still owe him $25 from last time and so you have nothing else to do but read this, i live right in the heart, or more like the large intestine of wisconsin, so our winters are'nt the worst, but they're nasty. And since im a maintenance guy at a hotel and a church, i always have to drive in these storms, and when the roads are always at they're worst. Never missed a day of work, or was even late because of 6in of unplowed snow on the roads. The pilot plowed through some of the worst storms and even high snow drifts i have ever seen, with ease.I still cant get over how smoothly it handled and easy to control the steering was on the daunting roads. Find yourself an empy parking lot, and some drifting is also easy and very fun! My honda is also one of the lowest maintenance cars ive seen. Gas mileage, well, that varies from person to person, but i got no complaints.
Looking for a Used

Pilot

in your area?

CarGurus has

17,280

nationwide Pilot listings starting at

$3,495

.
Honda1fan

writes:
2003 Honda Pilot EX AWD Review
Pros
Plenty of cargo space for family hauling...sports equipment, Christmas trees, groceries, baby stuff. Easy to handle and decent gas mileage for its size and power. I found I got better mileage, particularly on the highway, than estimated. The best thing about this SUV is that the back deck window is flat so you can actually see out of it. Those SUVs with curved windows are almost impossible to see out of.
Cons
No real negatives except that I wish manufacturers would do a better job of sound proofing all makes and models!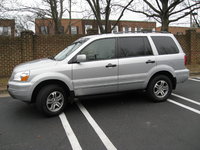 I Loved This Car! I Just Don't Need A Third Car Anymore. — There is nothing to dislike about this car. It looks great, it is a great family car for hauling the kids with all their equipment and the rear fold down seating (3rd row) is a bonus we have used many times. It may be a little cramped for adults for a long trip, but not bad for short ones. The second row of seats is plenty roomy. Good driving in all weather. Extremely reliable car.
Primary Use: Family transportation
dbwester

writes:
2003 Honda Pilot EX AWD Review
Pros
Reliable. Comfortable Ride. Lots of Room.

This Is A Great Family Vehicle. — Honda Pilots are well known as vehicles that are well built and perform better than most of their SUV competitors. Better acceleration and ride; better fuel economy. Better repair history. Consistent styling that allows an older model to retain its value. An SUV is NOT expected to be fun to drive - but this sure beats driving a mini-van!
Primary Use: Family transportation
Justin

writes:
2003 Honda Pilot LX AWD Review
Pros
Its the Best thing for traveling!!!
Its Amazing!!!! — This car is simply amazing!! Has great pickup on he road!! I havn't ever had any problems with this car, just the normal oil change and tires. It has great gas mileage! It pulls my trailer great, and my boat. The Dvd player in the back is nice on trips to orlando and tennessee, it keeps everyone quiet. the AWD is nice cause I don't have to be shy in the mud!! Its just all around a great vehicle!!
Primary Use: Commuting to work
yellowjacket33

writes:
2003 Honda Pilot EX-L AWD Review
Pros
This is a very nice, clean and Honda dependable SUV. I just replaced the battery with an AC/Delco and replaced both headlight bulbs. (The headlights are clear and bright).
Cons
This Pilot has a third row seat that would be a little tight for taller individuals.

Clean Title With No Accidents — The only thing that I do not like are the front seat headrests as they do not adjust. The drivers side has a power seat and the passenger side is manual. The second row of seats have a slight recline that is nice. There is good leg room in the middle row and not so much in the third row. The V6-240 horse power has adequate acceleration and I was very pleased with the gas mileage. It is a midsized SUV that you feel that you are in control of.
Primary Use: Family transportation
HMF

writes:
2003 Honda Pilot EX AWD Review
Pros
Nice over all. Smooth. Tight feel.
Cons
Not fond of front wheel drive.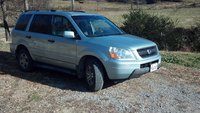 Fine Car For The Price — It's a Honda. Drive like a front wheel drive even though it also has 4x4. It's not flashy, but seems reliable. Fuel mileage seems better than other suv's in its class. Nice radio. This is not my style, but I can see why it would be a favorite for some.
Primary Use: Family transportation
hibern8r

writes:
2003 Honda Pilot EX-L AWD Review
Pros
Rock solid. Plenty of power! Can you say Vtec? Comfortable inside. Hot heat and cold a/c. Stops quickly for such a heavy vehicle. Cargo room.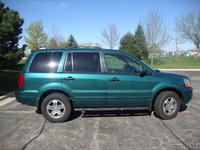 Best Family Car To Have If You Really Don't Wnat A Mini Van. — This car is comfortable on long trips. Can swallow 4' x 8' sheets of whatever. Is generally very reliable. What I don't like is that Honda knows this transmission has a built in design flaw. I've had mine repaired rather than let Honda put the same thing back in. It has a solid look and feel to it.
Primary Use: Family transportation
Killian

writes:
2003 Honda Pilot EX AWD Review
Pros
The Honda for a family not wanting an Oddysey
Taking Care Of Bidness When My Crz Can't. — Strong V6 acceleration and it's a Honda for those that don't want an Oddysey. Although my oold Civic Si and EX handled immensely better, they were both stranded in the driveway when it snowed. I don't miss that steep, winding sloping cul du sac whatsoever...
Primary Use: Family transportation
fnyldy1938

writes:
2003 Honda Pilot LX AWD Review
Cons
Tendancy to roll in tight, fast cornering

I Would Buy Another In A Minute With A Tow Kit — Early model has only acceptable mileage Handles well in bad weather may roll in turns Nicely styled Lasts forever but maintenance is high I can't say this is a fun car unless you need space for large family and shopping
Primary Use: Utility (towing boats, transporting cargo, etc.)
Kristin

writes:
2003 Honda Pilot LX AWD Review
Pros
Lots of interior room
Cons
Harder on fuel that you would think
Stylish Family Vehicle — Peformes well, brakes excellent. Quick start and stop. I feel very safe with children. Auto 4WD is awesome!! What else can I say? It's nice to have the back seat with their own controls, like the hauling space in the back, where the seats fold down.
Primary Use: Family transportation
Displaying 1 - 10 of 19 reviews
Ask CarGurus about the 2003 Honda Pilot
Average response time:
8.5 hours
,
# of Honda Pilot owners:
1,153
Looking for a Used

Pilot

in your area?

CarGurus has

17,280

nationwide Pilot listings starting at

$3,495

.