2003 Honda Element
User Reviews
2003 Honda Element
Review Ratings
Average Ratings from

25

reviews
Performance:
Appearance:
Build Quality:
Overall:
Review Highlights
Click to filter reviews below
Displaying 1 - 10 of 25 2003 Honda Element reviews.
mavwreck75

writes:
2003 Honda Element EX
Review
Pros
Reliability. Cargo space. Maintenance cost.
Cons
Limited to 4 passengers. Suicide doors clunky for passengers in tight parking spaces.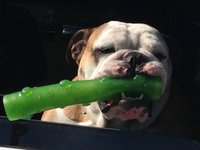 Honda Element - Capable, Reliable, Useful And Low Cost — I have had the vehicle since new. As of 3/2013 it has 225k miles and going strong. It did suffer from issues common to the Element such as cracked factory windshield, driver door component issues(handle, lock, window parts). Other than that it has put up with wear and tear better than I expected. The cost of ownership has been very reasonable. I would recommend the Honda Element to anyone that has to tote around people, pets and family cargo.
Primary Use: Family transportation
Looking for a Used
Element
in your area?
CarGurus has

1,312

nationwide Element listings starting at

$3,050

.
Stephenie

writes:
2003 Honda Element EX
Review
Pros
Great Quality, Super Roomy
Cons
Needs armrest on passenger side, Rubber floors
My Element — My car runs awesome, it is cute and it is super roomy. The back seats can be folded up and latched onto the side or they can be completely removed, that is Awesome! And...It has a tailgate in the back! Negatives: This year model does not have an armrest on the passenger side, it only has 4 seats (which is usually more than enough), the floors are rubber and must be scrubbed to be cleaned and I now have high mileage!!! Ready for a new one! Other than that, we love it and it is super fun to drive. I would definitely recommend this vehicle to anyone.
Ryan

writes:
2003 Honda Element EX AWD
Review
Pros
Looks, handling, functionality, interior space, all wheel drive.
Cons
I wish the fuel economy were better, but I knew that would be a trade off with the AWD and the space.
Car Of My Life — I've had many cars and been happy with most, but this car is the car of my life. For background: I purchased a 2003 EX AWD Element in 2014, so it was over a decade old, it had some wear and tear and was definitely not a new vehicle. I paid cash for it and planned to use and abuse it on trips to the greenhouse, home improvement store, etc. I wanted something with all wheel drive for the winters and something that had a ton of storage and that I wouldn't feel terrible if I scratched or dinged up. I found this Element about 4 hours away and scooted off to get it. After the first week at home, I realized how very much in love I am with this car. It's my main ride now. At 10 years old, it runs and drives like a brand new vehicle and, although it has 160K on it, you'd never be able to tell that this Element was more than a year old. It's a blast to drive, it handles so perfectly and the interior space is really unmatched. Although the gas mileage is lame, I drive this everywhere. My little boy is obsessed with the moon roof that's directly over this seat and I've fit a TON of stuff in this baby, with the removable and fold-away seats. I love the rubber mats - I don't feel terrible throwing in bags of pea gravel into the back. I love the rear doors - being able to just open the window to throw in groceries, or having a tail gate to sit on to watch fireworks. I love opening all of the doors and the tailgate and laying in it when we're out in the country. It's like having a gazebo with a radio built in, especially since the front and rear sets form a queen size bed when down. Overall, I could not be happier with my Element. In fact, my partner and I will probably buy a second (2011) Element next year, just to have the last version they made (and hopefully find one with super low miles. We are sold. These cars are fantastic.
Primary Use: Family transportation
ToasterDriver

writes:
2003 Honda Element EX AWD
Review
Pros
Comfortable on or off road and leg room
Cons
Fuel capasity and wind noise.

The Toaster — Although a bit pricy off the lot, these vehicles were built for cruising the road! It handles like a dream! It seems velcro'ed to the road in the corners. The amount of leg room in this thing rivals the outdoors. With the built-in subwoofer and AUX input, you can cruise with your iPod from one coast to the other. On the autobahn, it handles very good! I was impressed with its reliability! At higher speeds you will notice some wind noise because of the clamshell doors, but its not that bad. The only thing that I would change is push button 4WD selector. The whole water proof interior is an especially nice addition. This car is just plain fun to drive! It has an awsome turning radius and I have had a number of comments on it by the local germans. They seem to just love the design!
Vincent

writes:
2003 Honda Element EX AWD
Review
Cons
The acceleration is really bad - there is no power for the size of car it is. 4cyl DOHC is good for a civic but not for this SUV.
Honda Element — Performance (-) No Pickup on acceleration (+) Very good handling and braking (+) 4 wheel drive was especially good in the freak winters Build Quality (+) Good Quality Appearance (-) Looks interior and exterior are purely utilitarian Cost of Ownership (+) Maintenence is easy no problems with the car (-) gas cost for a 4WD is more costly (+) takes regular gas Fun Factor This car has actually been fun to drive, extremely utilitarian, and helped out a lot during moving and helping people move.
Primary Use: Family transportation
Chris

writes:
2003 Honda Element EX
Review
Fun Car, Well Designed — Functional, unique design, comfortable, can haul alot of crap. The performance is slightly sluggish. The wind noise is less to be desired. The cost of ownership is very low. The gas milage is OK. Overall I like the car for sure.
Primary Use: Commuting to work
Pamela

writes:
2003 Honda Element EX AWD
Review
Pros
hondas depreciate slower than any other make
Its Just A Great Suv Overall! — i love my honda elemant cause i love SUV's and its really nice! its super fun to drive and great in the snow! it gets 23 miles to the gallon, which isnt too bad and it has a super cool appearance! it met the kelly blue book value and its so worth what we paid for it.
Angellique

writes:
2003 Honda Element EX AWD
Review
Pros
Roomy, Great Gas Mileage, Unique Look
Cons
I'm yet to find one thing wrong
Can You Tell I Love It? — I love this car and it was so hard to find. I rated it ugly because it's not meant to be a pretty car but that's what I love about it. It's reliable and the one time there was something wrong the little lights told me exactly what the trouble was. It's fast too and I actually got a speeding ticket within the first month I got it. It's also so roomy and perfect for camping or long trips. We always have a cooler packed with all our goodies for road trips and the adjusting seats mean you can load anything and everything. The pictures and advertisements about this vehicle don't like and don't do it justice. It's like a cute lil pick-up with more room and a cover. It's also large enogh to be an SUV but compact enough to fit in any parking space. Everyone is always surprised at how roomy it is.
Porkydarts

writes:
2003 Honda Element EX AWD
Review
Pros
Space, maintenance costs, heavy Chicago blizzard driving,
Cons
I still can't get over how ugly the box shape is but I'm slowly getting past it.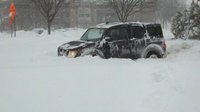 Don't Knock It Until You Try It. — The amount of room inside is amazing. My 6'9" friend sat behind my seat, I'm 6'2", and had plenty of space. With the back seats out I've fit a washer and dryer in one trip. You can configure the seats in many different ways for traveling or camping. My mechanic has a contract with a company that uses these and some of the 2003's have over 500,000 miles and still going. Would be a great family car if you only have 4 people. I originally bought it for work and figured I would get rid of it after I left that field but I have decided to keep it and drive it into the ground.
Primary Use: Utility (towing boats, transporting cargo, etc.)
iceman957

writes:
2003 Honda Element EX AWD
Review
Pros
Great in snow, carries everything we need, super for car camping
Cons
Typically bad Honda brakes, expected fuel economy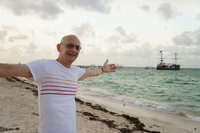 We Like The Toaster And Want A 2nd One! — I was reluctant to buy this in 2003 but Kim really wanted it. Now, I'm such a fan of the toaster we are seeking a 2nd one. This thing has 156K miles on it and has been incredibly reliable. Only Honda's ready-to-warp rotors are a pain. We switched to drilled and slotted ones and are happy. The driver's seat cushion wears out too quickly and that's a problem on many older E's. We have had tremendous luck with this little SUV under all driving conditions. It always makes it up the steep driveway in winter under conditions that leave the Civic at the bottom until I run the snowblower. We have enough room in the back to sleep side-by-side on a full size air mattress. Great vehicle. Honda should never have ended it's life.
Primary Use: Family transportation
Displaying 1 - 10 of 25 2003 Honda Element reviews.
Looking for a Used
Element
in your area?
CarGurus has

1,312

nationwide Element listings starting at

$3,050

.