2003 GMC Envoy XL
User Reviews
Average Ratings from

10

reviews
Performance:
Appearance:
Build Quality:
Overall:
Review Highlights
Click to filter reviews below
Displaying all 10 2003 GMC Envoy XL reviews.
tedLhansen

writes:
2003 GMC Envoy XL SLT 4WD
Review
Pros
Dependable and comfortable ride with plenty of power
Cons
Dealership repairs always seem high, but typical.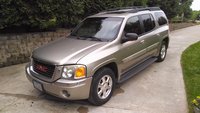 Fantastic Vehicle For Comfort And Style — This was a great car for our family and friends. It has the 3rd row back seat for taking friends along and the extra capacity for cargo when visiting long distances from home. The V8 in this truck was excellent when the extra power is needed. Out on the road it pretty much stays in over-drive to get good mileage for the size of the vehicle. I recommend this vehicle for any family 4 persons or larger. After 6 it will require a storage box out back or on top in the roof rack. Overall this has been a great vehicle for us.
Primary Use: Family transportation
Looking for a Used
Envoy XL
in your area?
CarGurus has
665
nationwide Envoy XL listings starting at
$2,895
.
CarlsbadCar

writes:
2003 GMC Envoy XL SLT
Review
Pros
Have loved this car. Good style inside and out. Comfortable, spacious and all the luxuries for driver and passengers as well as cargo. Low maintenance. Again, for a large car, can make nice turns and park in tight spaces.
Cons
Mileage is not great in today's standards, but considering the size of the XL, actually not bad. Large side mirrors cause wind noise on the highway.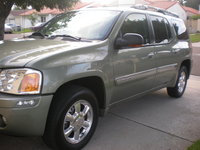 Great Multi-purpose Vehicle With Nice Exterior And Interior Style And Comfort — This is an inline 6 vs V8, but had the power we needed for our use, which included occasionally towing a pop up trailer. Felt safe in this car and had no hesitation to take long drives relative to safety or comfort. Original owner and overall this has been a great car and a purchase we've not regretted!
Primary Use: Family transportation
BMW535

writes:
2003 GMC Envoy XL SLE
Review
Cons
Cheap parts, to many things goes wrong with it. Like faulty gas tank

Will Not Get Another — Not a great truck to invest in for the long haul. The style is nice and comfortable ride when everything is working. Noticed a lot of crappy things go bad fast like rear cab fan motor. The other thing I already had to replace a valve gasket, faulty gas tank.
Primary Use: Family transportation
mbndr27

writes:
2003 GMC Envoy XL SLE 4WD
Review
Pros
Great family car so roomy and comfortable

Who Else Misses The Gmc Of Yesteryear? — Really enjoyed this truck when we first got it. Gas mileage is worse than expected and now the compressor for the suspension seems shot. Air ride not working at all so we're sitting on the frame...eek! Now the question is do we repair or run??
Primary Use: Utility (towing boats, transporting cargo, etc.)
Greg

writes:
2003 GMC Envoy XL SLE 4WD
Review
Cons
Daughter drives all the time
Vidal

writes:
2003 GMC Envoy XL SLT 4WD
Review
Cons
get the v8 or envoy denali
Love It — Suv that feels like a car, seats 7, looks good. vortec stright 6 has good low end haul alot with the seats down and roof rack,toe anything with the stock tow hitch. feels like a Caddliac with the slt package with the wood trim and bose system
Primary Use: Family transportation
tonymoe

writes:
Cons
MPG is not high but is okay for me.

Excellent Suv — I have a GMC 2003 Envoy XL SLT 4WD and it is everything I would want in a SUV. Sunroof, smooth riding, rear AC, heated seats, spacious third row, leather, and many other options. I mean it is a very nice vehicle and I am proud of my purchase. There is only one thing I would address and that is mpg and that is expected with this type of SUV. I would rate this up with a luxury vehicle.
Primary Use: Family transportation
memaven

writes:
2003 GMC Envoy XL SLE 4WD
Review
Pros
No major problems, Roomy
Cons
Minor body/frame build issues

03 Envoy Xl — We purchased our Envoy new and I have loved it from the beginning. It fits everyone (family of 5) plus a couple friends too. Some issues are problems getting back doors open(seems to be in wet weather the handles don't want to work right), cowling above rear window came loose(hubby just screwed it down again), and bracket on drivers seat adjustment broke. But in all it has been a solid family vehicle. No major problems with engine/driveability. Decent gas mileage on highways for an SUV.
biggox

writes:
2003 GMC Envoy XL SLT 4WD
Review
Cons
Gas mileage, under powered

madatgmc

writes:

Gm Should Quit Purposely Designing In Problems!!! — The good:smooth ride,quiet cabin,decent power from 6cyl, looks nice The REAL STORY:The 2003 Envoy XL which I currently have is not the original car picked up from the dealer.The first one, an SUV with a sticker of just under $37,000.00 came with side view mirrors which were MANUALLY AJUSTED-meaning they have to be moved by HAND!!! THIS IS INSANE! All GM emlpoyees who signed off on this before they actually sent these to market should lose their jobs. The XL which is the long wheel base, was not designed to fit 4x8 sheets inside with the hatch closed,my gas tank started to leak immediately after the warranty expired,the tachometer, oil pressure and engine temp gauges all quit working. The only gauges that work are the speedometer and fuel,(how long have gauges and gas tanks been used in cars???),the design/shape of the window and doorlock buttons is poorly engineered causing your finger to tend to slip off the closing end of the buttons,reverse light keeps filling up with water and therefore does not work,key gets stuck in the ignition,the 6 disc in-dash changer radio -which is an EXPENSIVE option package upgrade-has a cheap amplifier which drops out all low end bass when the volume is turned up (some good features of radio i.e. speed sensitive volume control but many annoying design issues),why does GM continue to put wheels on its vehicles with easily stolen and very expensive to replace center caps??!,the rear hatch has a difficult and awkward to grasp SLOT to close it as opposed to a handle,the windshield wiper/washer fluid controls were designed to force the driver to totally remove his hand from the steering wheel to operate even for a brief or short wiping/washing need (this should not have been incorporated with cruise control and turn signal all on one little stick),no light under the hood,no light in the glove box, no key hole on the passenger door or on the rear hatch, seat belts built into the seats are awkward and I'm a slim person,4 wheel drive has intermittant problems which of course don't show up while in for service, 13 MPG!!! This is all I could quickly think of while writing this review, but this is not by any means all of the issues I've had with this vehicle. I do not see a time in the future when I would consider purchasing another GM vehicle. This is a large reason why Toyota is moving ahead of GM in sales.
Owner for 3 years, 8 months
Miles Driven per Year:30,000
Displaying all 10 2003 GMC Envoy XL reviews.
Looking for a Used
Envoy XL
in your area?
CarGurus has
665
nationwide Envoy XL listings starting at
$2,895
.