2003 Ford Escape
User Reviews
Average Ratings from

21

reviews
Performance:
Appearance:
Build Quality:
Overall:
Review Highlights
Click to filter reviews below
Displaying 1 - 10 of 21 2003 Ford Escape reviews.
XOVICTORYXO

writes:
2003 Ford Escape XLS 4WD
Review
Pros
Great for Cargo; Great Family car; Nice Appearance
Cons
Rust spots; front suspension is horrible, bad on gas, horrible shocks; oil leak; bad quality parts

I Hated This Money Guzzling Car!! — I bought this car used at 100k miles. Owned it for 4 years. all Cats went at 100k miles which cost over $2500 to replace; The alignment was always wrong. Had to replace all axles and tire rods and tires. Tires kept going bald every 3 months. Fishtailed in the snow, slid all over the road during rain despite using good tires. Always felt like this car was ready to flip over its so light like a go cart. Constant rattling and knocking from inside the engine. This car lived inside the shop. First there was an Oil leak the car would omit an odor at 120k miles. Then the fuel pump went 10 130k miles. . There was a Gas leak on the highway that almost killed my family. Bought 3 batteries; for some reason this car uses a lot of juice. During Idle the car would REV. If foot is not on gas the car jolted forward almost causing accidents, no mechanic could help me. You will feel EVERY SINGLE BUMP in this car, the bumps become painful to the point you brace yourself every bump; there is zero shock absorption. For High mileage this car was absolutely AWFUL despite constant oil changes and maintenance done. Yesterday, I traded this truck in, the car decided to be spiteful and eat my favorite CD. Good Riddance you piece of crap!! FORDS ARE NOT BUILT TO LAST.
Primary Use: Commuting to work
Looking for a Used
Escape
in your area?
CarGurus has
57,924
nationwide Escape listings starting at
$900
.
iamwillow

writes:
Pros
Handles well in the snow.
Cons
The seats are the biggest con for me. The drivers seat was meant for someone taller the head rest forced my head forward and had to be removed and turned backwards. The back seats are too difficult to bring down, having to take the headrests off is a pain and they don't fold flat anyway so it is difficult too load larger items. (I'm comparing this to my previous Subaru Forester which had flat folding seats and the wheel wells didn't stand out as much)

Learned To Like It Alot. — I bought this car used in 2010 for $3500 and a month later it started stalling. After driving it for awhile and shutting it off for 5 to 10 minutes while I would go into a store when I came back out it would start and then stall if I took my foot off the gas. No engine light and no codes so the mechanic couldn't diagnose it. If I could drive without taking my foot off the gas pedal for a few minutes (say in an empty parking lot) it would keep running and I could go for another few months before it would suddenly happen again. For some reason it stopped happening and I managed a few more good years out of it. It was parked outside year round and didn't start to rust until 2012 which for a Ford is surprising. I used it to do a lot of volunteer work and used every inch of the cargo space collecting donations every week or so and while it could be frustrating to load up compared to my Subaru Forester it did the job. It ran fine until 2014 when I put it into overdrive to pass a car and the engine blew. I was comfortable with it for 5 years and sad to see it go.
Primary Use: Commuting to work
Brian

writes:
2003 Ford Escape XLS 4WD
Review
Cons
If you need to tow or want to get there fast
Solid Platform — Good gas milage out of a do it all vehicle. It isn't fast and isn't going on any trails but it can fit every thing for a weekend get away and get you there in one piece. The 4x4 is deffianantly more of a bad weather handler and not an off road accrument. Its not a pretty thing really, but it is functional and comes with all the nicities such as power locks, windows, mirrors, steering and good ABS brakes.
Primary Use: Family transportation
Vance

writes:
2003 Ford Escape XLT 4WD
Review
Amazing — good acceleration, 4 wheel drive, automatic, great on gas, and tows and pulls heavy weight very well. feel like you are driving a go-cart, no problems, lasts very long, has a V6, very good turning, handling, and breaking. FUN TO DRIVE!
Primary Use: Commuting to work
Marianne

writes:
2003 Ford Escape XLT 4WD
Review
Pros
reliable, trustworthy, well-maintained, roomy, seats fold in, easy transportation
Cons
has a tendency for rollover if not driven properly, leather seats can be a problem in the winter time (Your bum gets cold) and in the spring time you will cling to your seat.
Katie

writes:
2003 Ford Escape Limited 4WD
Review
Cons
bad stabilizer bars, gas mileage is worse then I thought it would be.
Pretty Good Little Suv — It's been a pretty good car. No big problems, just needed new stabilizer bars, which I guess is a common problem. The 4WD has been helpful in the snow. It warms up great in the cold and the heated seats are awesome in an "economy" car.
Christina

writes:
2003 Ford Escape XLS 4WD
Review
Go Get One. — Lots of room inside and the 4 wheel drive in the winter is the best. Handles very well. The color red is the best color. The over all performance, I give it A plus. Ths price is right. The appearance of the SUV is very sport looking. Would buy another..
AMiddleton

writes:
2003 Ford Escape XLT
Review
Cons
Not well insulated, hear a lot of road noise. Radio can be heard from the outside.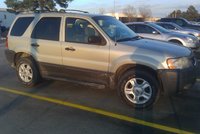 03 Ford Escape - Inexpensive, Reliable, Practicle Vehicle — I love my car! Its dependable, minimal maintenance, decent on fuel economy (for an older SUV) and it fits all of my stuff. I have two dogs that I carry with me sometimes. My husband and I are very outdoorsy and like camping and bike riding etc. and it fits all of our stuff. Only one time it failed me... We bought two toilets and two pedestal sinks at Lowes and they didn't fit like I thought they would. Its a great, all-around vehicle. I bought it while I was in college and have kept it now for over 6 years. I've taken it on 10 hour drives numerous times and once on a 16 hour drive and we were comfortable. I mostly use it for commuting to/from work everyday, and to the grocery store. I love that there are virtualy NO blind spots (that is very important to me to feel comfortable in a car). One minor flaw that I have noticed is the lack of insulation. I can hear a lot of the road noise (that might also be my all-terrain tires), and when I have the radio playing, it can be heard very clearly from the outside. (Not just the bass, but every word of the songs) Mechanically, I haven't really had any problems. One morning, it wouldn't crank for me and one of the coils went out on it. That had to be replaced, but I don't think it was much more than $100, so nothing major. I've always gotten the oil changed at 3,000 miles and gotten regular tune-ups and rotations, alignments, etc. and the car has done well for me. I have no complaints.
Primary Use: Commuting to work
Campers

writes:
2003 Ford Escape XLT
Review
Pros
Dependable and versatile
Cons
Gas mileage could be better

Dependable And Versatile — I've had this car since 2004. I've had regular oil changes done. The only issues I've had thus far were some spark plug problems, which were easily fixed, and at the moment I have a leak in my power steering hose that I need to fix. This has been a great car for me, whether it's been used for family vacations, or bringing home large purchases. The gas mileage could be better, but hey, it's a 2003!
Primary Use: Commuting to work
Nick

writes:
2003 Ford Escape XLS 4WD
Review
Pros
FWD, auto 4x4, good gas mileage!
Cons
You can't do donuts with the auto 4x4.
Awesome 4x4! — This is the best vehicle I've both driven and rode in. The front wheel drive is a plus in the winter because it handles like a car but has higher clearance than a car and has the 4x4 system. The truck comes with both auto 4x4 and full time. The auto 4x4 is great for when the roads are somewhat bad but it's nice to be able to throw it in 4x4 when you see a bad patch coming.
Displaying 1 - 10 of 21 2003 Ford Escape reviews.
Looking for a Used
Escape
in your area?
CarGurus has
57,924
nationwide Escape listings starting at
$900
.