2003 BMW M5
Review Ratings
Average Ratings from

9

reviews
Performance:
Appearance:
Build Quality:
Overall:
Review Highlights
Click to filter reviews below
Displaying all 9 2003 BMW M5 reviews.
CarGurus
http://www.cargurus.com
ecos1

writes:
Pros
More fun to drive than cars costing much more money.
Cons
Some electronic gremlins, but that's normal problem that BMW has.

Very Fast, Very Sporty, Handles Awesome, And You Can Carry 4 Passengers. — In my opinion still the best looking M5 out there. The new ones are very nice without a doubt, but the E39 is still the king. The car will outperform many sports cars out there, even the newer models. It perform flawless on any arena. If driven normally, you can take your favorite date to a very nice night out, if you take it to the track for a spirited spin, will shame a bunch of cars.
CarGurus
http://www.cargurus.com
battag1000

writes:
Pros
Excellent driving and handling 4 door sedan. all controls and ergonomics are intuitive and extremely well layed out.
Cons
The factory clutch just can't handle the power of this engine. The UUC upgrade is an unbelievable improvement. Short shift is also very nice.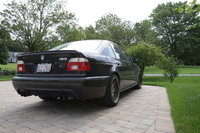 Best Of Both Worlds — Excellent for every day driver. Handling, braking and performance are spectacular. The addition of the UUC clutch and short shift eliminate any shortfall this car had stock. This is by far the best car I have ever owned. Nice blend of performance and every day useability.
CarGurus
http://www.cargurus.com
jimmyz787pr

writes:
Pros
The real ultimate Driving machine with commodities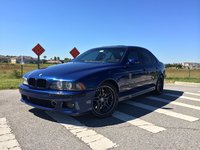 5 Stars — "M Series are the real ultimate driving machines" What things have gone wrong with the car? When I first got the car, everything was awesome. The first thing to go wrong with it was the front seats. I found out later that on all 5 series, this problem is kind of common, and they call it twisted seat. I got it fixed with my mechanic, and it was $150.00 per seat. The dealer (stealer) was going to charged me $400 per seat. I changed the upper arms thrust bushings for power flex urethane ones. The clutch is slipping in 2 and 3 gear sometimes when I put it in sport mode. But the car has now 69,648 miles, and it is about time to put in a new clutch; I decided to go with stage 2 endurance package. Just recently my starter when out, and I got it for $254 (OEM) dollars, not bad for an M series vehicle. I also replaced the flex disc (Gibo) that goes between the driveshaft and the differential. Other than that, the car is a piece of art! Most of the things I replaced are tear and wear parts. General comments? I had a 2003 BMW 330Ci, and I decide that I wanted more space, but at the same time I wanted more performance, and that's why I opted for the E39 M5. I wanted the E60 M5, but this one was more on my budget! Was a deal of the century. So far I am really satisfied with the vehicle. The ride is out of this world when in sport mode. It is a real sleeper. It moves like a rocket for a 4 door sedan, despite the car being 7 years old. I had to replace a few things, but most of them were tear and wear. So I am not complaining. I do recommend that before anybody buys one of these to check the clutch, bushing, get the carfax and try to find out the kind of maintenance the car received before you buy it, because the maintenance is not cheap. This vehicle is cheap to buy these days, comparing the original price of $69,970, now you can even buy one for low $20,000, or even cheaper. But here is the catch; this car has an S62 V8 engine that pushes 400-hp and is supremely expensive to own. Overall, I am very happy with my investment, and I forget about the expenses every time I get behind the wheel! I have owned Volkswagen GTI, Volvo S40, Audi's A4/A6 and BMW 330Ci. This by far is the best car I ever owned!!
Primary Use: Commuting to work
CarGurus
http://www.cargurus.com
Greg

writes:
Pros
Fast and excellent handling.
Oldie But Still A Goodie — Fast, great handling, sounds great. everything on this car is completely modded. The mileage is pretty decent averaging at 14 mpg highway since i do have a turbo and usually drive at high rpms. if i did not drive at high rpms, usually averages around 22mpg
Primary Use: Sport/fun (spirited driving, track racing, off-roading, etc.)
CarGurus
http://www.cargurus.com
Saleem

writes:
Pros
very fast and fun car
Anyone Would Want To Drive It — this car is a great drivers experience it has no sqeaks or rattles there is no end to the fun you can have with it .this car is the best car i have driven.anyone who has a drivers licence needs to drive it
Primary Use: Sport/fun (spirited driving, track racing, off-roading, etc.)
CarGurus
http://www.cargurus.com
Eric

writes:
Pros
Power, ride, 6 speed manual
Cons
Maintainence costs, gas mileage (13/20)
2003 Bmw M5 — Finally got the chance to drive the car of my dreams! It simply does not compare to any other car I've ever owned or driven. Very smooth ride, and for having ~400HP it is still very drivable around town. If the maintainence costs weren't so high I would have bought it in a heartbeat!
CarGurus
http://www.cargurus.com
fortwo_18

writes:
Pros
Performance cornering when it was working
Cons
relieiblility, shop service was inadequente, price
Bmw M5 Experience — The BMW experience is advertised to be the best that there was, well my BMW experience was not as good as you may think it would be. It was serviced every two weeks because of the endless breakdowns and faulty manual transmission. In conclussion the BMW experience is actually like no other as terrible one.
Primary Use: Sport/fun (spirited driving, track racing, off-roading, etc.)
CarGurus
http://www.cargurus.com
John

writes:
Pros
Power, Torque, more power, and more horsepower, handling, sleeper
Displaying all 9 2003 BMW M5 reviews.
Looking for a Used
M5
in your area?
CarGurus has
616
nationwide M5 listings starting at
$8,995
.