2003 Audi A6
User Reviews
2003 Audi A6
Review Ratings
Average Ratings from

19

reviews
Performance:
Appearance:
Build Quality:
Overall:
Review Highlights
Click to filter reviews below
Displaying 1 - 10 of 19 2003 Audi A6 reviews.
meansbusiness

writes:
2003 Audi A6 3.0 Quattro
Review
Pros
The price offered is below any other offer for this model.
Cons
There are no reasons to avoid this car.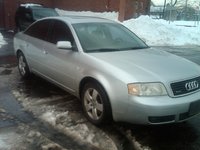 For A Truly Amazing Ride, Choose This Audi. — There is nothing like a German made vehicle. Japanese made cars can't compare. This car handles the road like a race car would. The acceleration is so smooth when entering a highway. It's an awesome car and fun to drive. The body of the car is heavier than that of a Honda or a Toyota. This model Audi was made for 3 years only and I've had no problem with it.
Primary Use: Commuting to work
Looking for a Used
A6
in your area?
CarGurus has

6,945

nationwide A6 listings starting at

$2,395

.
Richard

writes:
Pros
Pretty much everything about it
Cons
Audi servicing is expensive
Audi A6 Vorsprung Durch Technik And A Smile On Your Face — Svelte comfortable extremely well built has done 115,000 miles and feels like new. It's a 1.9 Turbo diesel and for such a large car it goes like a greased weasel. Can fit 3 kids in the back with 2 child seats! Or 3 large-ish adults all in comfort. The boot is so cavernous I was thinking of renting out rooms in it.
Mahmood

writes:
2003 Audi A6 4.2 Quattro
Review
The Beast — Performace: -4.2 V8 engine quattro -double overhead cam - 350 Horsepower @ 5,700 RPM -Four wheel ABS -Stability Control -The car is 7 year old and still looks better than many 2010 cars out there. Very well designed. Great ride on the snow better than most cars with the AWD system. -The car is fast, handles well and is an all-around first class sedan. It has wonderful build quality, is roomy for passengers and luggage, fun to drive and is significanly cheaper than other's in its price range and class.
Primary Use: Sport/fun (spirited driving, track racing, off-roading, etc.)
Marc

writes:
2003 Audi A6 3.0 Quattro
Review
Pros
Looks, build quality, handling, traction
Cons
Heavy steering compared to a rear wheel drive, good but not great power.
Audi A6 Is A Winner — Great looks, ride, handling, traction in wet or snowy conditions. The car is built so well, both inside and out. The materials, fit and finish, and realibility have been excellent. Service is not cheap, but I have needed very little of it luckily. Hard to think of what I don't like....uh...somewhat heavy steering due to all wheel drive; power is good but not mind-blowing by any means....that's about it. Oh, and the gas mileage is just so-so....averages 18.3.
Dave

writes:
Pros
its an audi what more can i say
Cons
cost £8500 to buy and is pricey to insure thats about it
Fantastic Car — performance - 1.9 TDI 130 bhp when the turbo kicks in it takes off i love the power it has build quaility - being german and not that old it is solid every now and then there is a screech from the bonnet but goes in seconds other than that for a car with 126k on the clock it is german engineering at its finest appearance - there are a few stone chips and 1 or 2 scratches but other than that it is perfect and looks fantastic cost - cost me £8500 and about £150 on fuel a month but being diesel it is very good does about 35 - 40 miles per gallon fun factor - well considering the car i had before this was a 10 year old vectra this is just perfection i love the power and speed and it has all the mod cons ie: heated seats leather interior climate control trip computer cruise control multi disk cd changer and much more i will be keeping this car for a long time yet and plan to replace it only with an audi Q7 3.0 TDI (when i can afford it lol)
Nazrin

writes:
Pros
Luxurios interior, sturdy, safety features
Cons
Performance, market depreciation
The Gentle Giant — Even though I haven't driven an A6 with European specifications, I find that the model sold in Asian markets (more specifically Malaysia) are toned down models of the original Audi A6. When this model was released there, the only options avalaible was the 1.8T and the 2.4 models. This makes the car feels slightly underpowered and heavy. The 1.8T model scored a figure of 120 hp on whells on a conducted dyno test. Even though i did not managed to get a torque value due to technical complications, the car did manage to score good points on throttle response. The car showed good response from 0-100 hp on the dyno test. The 6 speed multitronic CVT transmission on this particular model can be a let down if you looking at driving the car aggresively. The shifting on the gears (on shiftronic/multitronic modes) are rather slow as compared the BMW 523i model of that current year. On the plus side, the transmission does comes with a sports mode which allows the car to maintain optimum revs without the feel of gear shifts in the given mode. Despite a slight blow to it's performance figures, the 2004 1.8t A6 is has relatively low fuel consumption and comfortable to drive in. The smaller engine of this version paired with it's transmission puts the A6 on par with the smaller, lighter 2005 1.7 Civic VTS. Besides that, the A6 is built sturdy and spacious. Along with Audi's great interior designs (espcially in black) the car is really comfortable to be in. Even the suspension is designed for comfort even if driving at speeds of around 120 km/h. Despite it's sturdy design, the car comes with a good assortment of safety features. The main highlight of its safety features is that the car comes with ESP (electronic stability program) which works like an enhanced ABS (anti-lock brake system) and TCS (traction control system) systems. The A6 also comes with 6 air bags which adds to the security of the passangers when it comes to a car crash. Overall, the 2004 1.8T Audi A6 is a good car to drive in. Despite the let down in its performance, the car makes up for it in its comfort, fuel economy, safety, and luxurios interior designs making this car a good run for the money.
Susan

writes:
2003 Audi A6 3.0 Quattro
Review
Pros
I love the style and performance
Cons
Not great for large families
Love My Audi And Am A Repeat Audi Customer — I loved this car. Great YEAR-round performance. Quatro gives you confidence in the snow! Only selling because I bought a new one! Gas mileage as advertised. Had all maintenance performed at dealer --prices a little high as would be expected.
Primary Use: Family transportation
judyw

writes:
Pros
smooth & easy great in snow
Cons
farenheit reverting to celsius

I Would Buy A New Audi Again — I love the all wheel drive I tis great in the snow. I love how the car is small but roomy. I love deluxe interior very rich looking. The repairs it has neeeded are now that is older hazards motor. Problem with farenheit reverting to celsius It is fun & easy to drive. 20 miles per gallon............
Primary Use: Commuting to work
Gustavo

writes:
2003 Audi A6 3.0 Quattro
Review
Cons
gotta get some things fixeddd
? — The cars good... Good acceleration.. love the brakes... handing's really good.. quiet drive... really fun to drive good sound system ok on gas the car looks fine.. just a few scratches, but nothing big!... maintenance could be a little pricecy
Primary Use: Sport/fun (spirited driving, track racing, off-roading, etc.)
twang41

writes:
2003 Audi A6 2.7T Quattro
Review

Excellent — Owned for three years No problems except computer malfunction replaced through extended warranty. As a 6 speed manual 2.7T the car is fast and responsive. The design is the best and the finish is Audi first class. Cost of ownership and gas milage is reasonable for a car of this caliber. While fun to drive it is not as direct in response as my previous WRX
Primary Use: Family transportation
Displaying 1 - 10 of 19 2003 Audi A6 reviews.
Looking for a Used
A6
in your area?
CarGurus has

6,945

nationwide A6 listings starting at

$2,395

.