2002 Toyota Prius
User Reviews
2002 Toyota Prius
Review Ratings
Average Ratings from

7

reviews
Performance:
Appearance:
Build Quality:
Overall:
Review Highlights
Click to filter reviews below
Displaying all 7 2002 Toyota Prius reviews.
maimonec

writes:
2002 Toyota Prius Base
Review
Pros
Fuel economy, reliability, space packaging.
Cons
lackadaisical acceleration, grabby brakes, mushy handling, cost of replacements.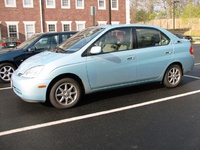 Fine Basic Transportation, But Not A Great Car, As So Many Want To Believe. — I am the second owner of a 2002 prius -- the first owners were my in-laws who owned it from new, so I've been associated with the car from day one. They replaced it with the newer Prius, so clearly they loved it. This car gets fabulous mileage, and has been incredibly reliable. However, there is no joy in driving the car. It handles tolerably, but almost any small car built today will handle better, accelerate better, and return more driving pleasure. The main problem, I think, is the weight. Having complained, however, I will mention that the car is extremely nimble in parking lots and tight situations. It has one of the tightest turning circles I'm aware of. In warm weather, I get between 47 and 52 MPG, depending on my driving conditions. In winter months, that drops off to 40-43. One thing to note -- the battery condition, including the 12v accessory battery, will impact the mileage, to some degree. Driving the Prius is an adventure when new, because the first time the engine stops when you pull up to a stoplight is very disconcerting. Also, the acceleration suffers from a standing start, until the gas motor kicks in. However, on the highway, acceleration is reasonably brisk. On the highway, the car drones because of the CVT -- the revs don't really change as the car accelerates. Also, the brakes are grabby, but once you get used to them, smooth stops are possible. I drove a 2007 Mazda3 as a rental car, and I have to say I preferred it as a drivers car over my Prius, but I will admit the fuel economy wasn't even close. The car is reasonably spacious for a small car. The trunk holds a fair amount, but you'll never confuse it with a mid size car or a good hatchback. However, I don't know whether the hatchback model (the newer Prius) is really much better, as the cooling stacks for the battery may intrude into the space. One thing which would help would be rear seats that fold down allowing a "Trunk-through". Last criticism: I recently had to replace the 12v accessory battery because it had reached its expected life, and was not holding a charge in cold weather (note -- this battery does NOT start the car, but is necessary for starting, because it powers the electronics). The dealer cost to replace the battery was a whopping $325 including labor. Why? because Toyota saw fit to redesign the part, so a retrofit kit is necessary, and not included. I have found no place that carries a direct replacement battery. The best I've found is an internet site which offers a $25 kit to replace the battery with a Miata battery (which has been the same since 1990!) Considering that a battery is usually a $50-100 part, and zero labor cost (at most auto parts stores), the situation is absurd. Toyota was NOT looking out for the customer when they did this. I bought the internet kit, and will buy a replacement battery when I get the chance (I've been working with stand-alone jump start device which costs less than $50 at walmart or the like -- in the end, I will have spent about $150 between the kit, the battery and the jump start device, and I'll have a jump start device and a larger capacity battery to show for it.)
Owner for 1 years, 10 months
Miles Driven per Year:25,000
Looking for a Used
Prius
in your area?
CarGurus has

31,608

nationwide Prius listings starting at

$1,795

.
Andy

writes:
2002 Toyota Prius Base
Review
Pros
Great gas mileage, space, technology, tax cuts, and its cheap.
Toyota Prius — Everybody rips on this car but I really dont know why. It serves its purpose wonderfully. It is built great and it actually has decent performance. The way I look at is if you cant have a performance car why not go with this?
Primary Use: Family transportation
jgd56

writes:
2002 Toyota Prius Base
Review

I Will Buy A Newer Prius When That Time Comes — This has been a great car for me. Great mileage and low maintenance. costs. Tires are the key to great mileage. Buy a higher load rated tire and overinflate them to notch up the mpg's. In 9 years of ownership I have replaced 1 computer and 1 radiator. Update 6/15/2013 - I had my hybrid battery pack replaced using a rebuilt one from ReInVolt. Mileage has surged upwards consistantly getting 45 MPG or better. Still love my now geriatric car!
Primary Use: Commuting to work
cbier

writes:
2002 Toyota Prius Base
Review
Pros
I'm still getting 46mpg after 161k mi. It's only cost me regular maintenance costs since 2003.
Cons
It has some scratches.

richpook

writes:
2002 Toyota Prius Base
Review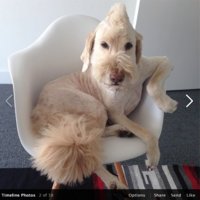 mdoertel

writes:
2002 Toyota Prius Base
Review
Pros
Quality and mileage!

Good, Basic Transportation. Nothing More. — This is a boring car. It's appearance is borderline ugly. Performance? Not sure you can use that word - it is not fun, though it keeps me safe. However, it gets me to work, gets me great mileage, and I have never, ever shelled out money for repairs beyond regular maintenance. I love this car - but it's so boring!
Primary Use: Commuting to work
Sid1577

writes:
2002 Toyota Prius Base
Review
Pros
Gas mileage, visibility, technology, video game display, quality of materials and overall build quality.
Cons
So so handling, low power - remember its purpose, tire noise, low

Great Car - Be Aware Of Its Purpose. No Front Row Valet Parking, But You Will Get Smiles. — The car is purpose-built in regards to every effort to attain high mpg. It must be driven with that in mind. Overall the Prius is very comfortable to drive. Low-rolling resistant tires have higher noise levels than most cars. My used Prius has every option available that year and after a year and a half of ownership, it has lived up to my expectations. Attractive? No moreso or less than cars in its segment. I do get friendly ribbing from my coworkers, but none of them average over 48 mpg like I do.
Primary Use: Commuting to work
Displaying all 7 2002 Toyota Prius reviews.
Looking for a Used
Prius
in your area?
CarGurus has

31,608

nationwide Prius listings starting at

$1,795

.