2002 Ford Mustang
User Reviews
2002 Ford Mustang
Review Ratings
Average Ratings from

83

reviews
Performance:
Appearance:
Build Quality:
Overall:
Review Highlights
Click to filter reviews below
Displaying 1 - 10 of 83 2002 Ford Mustang reviews.
Jason

writes:
2002 Ford Mustang GT Premium
Review
Pros
Fast, Fun to drive and has a georgeous body.
Cons
Too stiff a ride for an everyday car.
Modified Mustang Gt — This car is extremely fun to drive....with traction control OFF. My car is a Mustang GT with some modifications, mostly to the appearance. The mechanical mods are, Flowmaster exhaust, cold air intake, a K&N air filter, slotted and drilled brakes and a short throw shifter. Pretty basic. But I never said I was finished. Soon to come are headers, a performance X pipe and a supercharger. The ride is pretty stiff as you could imagine and that would have to be the only complaint I have about my car, but the power more than makes up for it. With today's gas prices it costs me about 54 bucks to fill it up from 1/4 full. So again that's 54 dollars for 3/4 of a tank. NOT cheap. With the amount of driving that I do, 3/4 of a tank will last about a week. I would probably get better gas mileage if I toned downed my driving. But it's a Mustang. I currently get 20 mpg in the city and about 25 on the highway with the mods on the car. Like I said I could get 22-23 mpg in the city if I slowed down but that's what my other car is for. Over all it is a fun car to drive and I haven't had any problems at all, knock on wood. Many people think fords are crap along with other makes but my philosophy is that if you take care of your car it will last forever, no matter what it is.
Looking for a Used
Mustang
in your area?
CarGurus has

23,475

nationwide Mustang listings starting at

$3,053

.
Shean

writes:
2002 Ford Mustang Deluxe
Review
Pros
Has quick acceleration and has good gas mileage..
Cons
Handling in high speed corners is not as good as i hoped..
I Love This Car Gets Great Gas Mileage And Is Really Fun To Drive.. — Performance is great i give the acceleration an 8 and the braking from 60 to 0 is ok for a sports car.. No squeaks or rattles.. Great appearance.. Gets good gas mileage.. Fun to drive.. This car handles well and gets up to speed very quick.. This car hasnt had any needs for repairs..
FrankoDrums

writes:
2002 Ford Mustang GT
Review
Pros
Manual , fast , nice looking , great for 2 people .
Cons
Winter time , you can't drive on the snow !!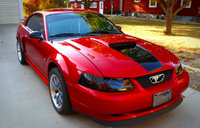 02 Ford Mustang Gt 4.6 V8 American Muscle Rims — I love Mustangs , I previously owned a 99 V6 Base and never had a problem with the car so that is why , when I saw this one , I fell in love with the car ... American muscle wheels & tires , manual , power windows , power seats , smoke healights , leather seats , 20% tinted windows , somoke tail lights
Primary Use: Sport/fun (spirited driving, track racing, off-roading, etc.)
Josepi

writes:
2002 Ford Mustang GT
Review
Stang — everything on this car is well thought out to a to z parts are cheap unless u go aftermarket but other then that its a car also its a ball to drive specially with exhaust and its stick of course
Primary Use: Commuting to work
sxyscker

writes:
2002 Ford Mustang GT Premium
Review
Pros
V8 460HP supr fast car!! sweet looking
Cons
gas milage, but thats what you get from a high performance vehicle.

Super Fast Car That Looks Sweet! — I love driving this car! its a fun fast car to drive, Leather seats are great, the car has the MACH audio systems with sub! it handles really well, even though its rear wheel drive the trac control option really helps for winter driving!!
Primary Use: Commuting to work
Joshua

writes:
2002 Ford Mustang GT Deluxe
Review
Pros
Looks good, sounds good, goes fast!
Love It! My First Muscle Car...if You Can Still Call It A Muscle Car. — LOVE THIS CAR! Not to pleased with the fact that Ford only squeezed 270 out of a 4.6L, but that's where we tuners get to play right? She's good off the start, and keeps hauling until 5th. Haven't had to many problems, only replaced brakes and turned rotors. Had an electrical issue, but cleaning the contacts and buying one of those anti oxidation kits fixed that up right quick. She looks good, would like to put new paint, and definitely need to replace the headlights. She drinks gas, so if your an eco kind of person, not for you. Eats tires too if you give her the throttle pretty hard, but be gentle, and you can keep a pair of rears on pretty long. So far, this stang has a K&N CAI, and the exhaust has been replaced, but I don't much about it other than it has a H pipe, resonators and such that aren't stock. Next on the list is an Edelbrock throttle body, some headers, and finally a tune once she's decked out....until I find a twin screw for her!
Primary Use: Commuting to work
Robert

writes:
2002 Ford Mustang GT Deluxe
Review
Hotness — i love this car a feww upgrades and you have a speed wagon lol. performance is awesome as well as handling and all in all i dont think that i would own anything else. so go out and get yourself one.
Primary Use: Commuting to work
McFrizzle

writes:
2002 Ford Mustang Base
Review
Pros
Addtions, fun to drive, sound system, rims and tires, performance for a v6, interior, after-market radio
Cons
Paint is stripping is some areas, slight dint on fender, needs new headlight covers.
2002 Ford Mustang V6 — Had I taken this survery four months ago, I would have rated everything except performance at their best. However, at this point, my body kit's paint is stripping off in very noticeable areas, and my rear bumper has been ripped off due to the last hurricane. My '02 Mustang is a v6 so it never really had that much get up and go. Although, after having put the hood scoop on and opening up the hood to receive more air, my cardoes get somewhat better acceleration and about half a mile more per gallon of gas. Acceleration is typically better on cold days and when I am lower on gas (due to the weight of the car and the sound system in the back). My breaks are great, not too sensitive and not too delayed. And the handling is pretty fantastic considering I have added 18" rims with lowpro racing tires meant specifically to fit Ford Mustangs. The build quality overall before I added the body kit wasn't bad. It only had a slight dint on the front right fender and some scratches to go along. But other than that, things were pretty good for an older car. After adding the body kit, however, all hell broke loose on the quality of the build. The Appearance of the car looks pretty good from a distance. But once anyone gets up close, they can immediately see the flaws, cracks, dints, scratches, and paint coming off in various areas of the car. The interior is very good for an older car. The seats are in great condition and the dash, center pieces, and door panels are still holding their color without much fading. No tears or rips and no cigarette burns. The cost of this car isn't too bad, except now I have some body work repairs to do on it which will definitely up the price tag. I get about 23 miles to the gallon on the interstate, not great but hey, it's a Mustang. Maintenance hasn't been bad. Every car has to have its oil changed, tires rotated and various regular activities like that. My car is the same. I really do enjoy my car and driving my car even though it has a lot of visual problems to contend with. However, those will be fixed very soon, God willing, which I am excited about. The two 12" subs and 1200 amp in the trunk definitely give my pony a bump when cruizing down the road.
Primary Use: Sport/fun (spirited driving, track racing, off-roading, etc.)
Jay

writes:
2002 Ford Mustang GT Premium Convertible
Review
Cons
Brakes and soft suspension
Great Car And Will Always Recommend — The Mustang GT's performance is good, acceleration will out do your average sports car and overall handling is satisfactory. Mustangs one down fall is the stock brake system, it is horrible and not a good fit for the cars power and weight. I could not have asked for a more reliable sports car. I have a 2002 with not one problem or one repair needed since having it. Car feels and sounds soilid, with the convertible top up, outside noises are minimal, although the engine roar can be heard throughout the cabin. Even though I have an older Generation, I have people stop me on the road to compliment on its looks. This car is definetly a head turner. Interior styling won't disappoint when you decide to drop the top. Black leather with horse symbol accents throughout the car make the cheap off color accents of a chevy seem just plain sad. Cost of maintenance is reasonable, gas mileage is whats expected for an 8cyl. I average 18-20Mpg spirited driving. Overall if you are looking for a good priced sports car with power; mustang is your choice. Between the sporty styling and aggressive behavior on the road, this car will never let you loose interest.
Primary Use: Sport/fun (spirited driving, track racing, off-roading, etc.)
Emily

writes:
2002 Ford Mustang Premium Convertible
Review
Pros
Just the fact that is convertable...lol
... — performance is great, handling is really good. it only had a minor repair to the hood latch assembly, along with needing a replacement stereo system, since the CD player doesn't work anymore. I do really good on gas, it takes about $28 to fill my car with Premium gas. My car is really fun to drive and i wouldn't trade it for anything. This was a great first car for me.
Primary Use: Commuting to work
Displaying 1 - 10 of 83 2002 Ford Mustang reviews.
Looking for a Used
Mustang
in your area?
CarGurus has

23,475

nationwide Mustang listings starting at

$3,053

.