2002 Ford Focus
User Reviews
2002 Ford Focus
Review Ratings
Average Ratings from

81

reviews
Performance:
Appearance:
Build Quality:
Overall:
Review Highlights
Click to filter reviews below
Displaying 1 - 10 of 81 2002 Ford Focus reviews.
Thomas

writes:
2002 Ford Focus ZTS
Review
What Is Up With The Ford Focus? — PERFORMANCE: The Ford Focus 1.6 Zetec (English) is stunning. To see what Ford have created here you simply need to turn into a roundabout a bit too quickly, lift off and watch the tail slide enthusiastically round like a dog doing doughnut on a polished floor (don't forget the opposite lock). Watch the suspension cope with the most ridiculous of tasks, such as hitting speed bumps at 40mph, or driving down one of North Yorkshires quality roads at a healthy speed. The engine could do with slightly more power than the 99bhp the 1.6L engine offers but it copes fine on country roads and being thrashed up and down the motorways at 90. APPEARANCE: The appearance of the car hasn't aged as bad as other cars that were launched around 1997, such as the latest incarnation of the VW Golf or the Vauxhall Astra. The Focus still sits well in the car park next to much newer cars. BUILD QUALITY: This car has been in my family for 7 years now (from new) and has survived being tipped on it side and being trashed about the countries worst roads by yours truly. If you drive like I do then you will get 30mpg out of it, otherwise you are looking at 38-40mpg, it's all about how you drive the thing (think economical thoughts!). CONCLUSION: Given the choice I know what I would be driving, since I don't I am driving the Focus but if it was up to me I would still be driving the Focus.
Looking for a Used
Focus
in your area?
CarGurus has

56,193

nationwide Focus listings starting at

$1,495

.
Joe

writes:
2002 Ford Focus SE
Review
Cons
if you dont work on your own car
Great For A Daily Driver And With A Little Modding A Contender At The Track — Performance : the ford focus is pretty quick for a 2.0 liter 4 cylinder and the handling is amazing for an econobox car with its control blade rear suspension and through the cones has a faster time than a jag xj8 or a bentley continental. Build quality : the only issue i have had personally with build quality is the springs break but the problem is eliminated with the svt springs or aftermarkets Appearance : im not a fan of economy cars but its better looking imo than a 02 civic or a chevy aveo so as economy cars go its one of the better looking ones Cost of ownership : 30 - 35 mpg and parts are cheap when they need repair Fun factor : if your into drag racing you may not have fun in a focus but for auto x or really anything with turns its a great car because the handling if you put a 21mm swaybar in the rear the handling will amaze you
Primary Use: Sport/fun (spirited driving, track racing, off-roading, etc.)
Jonathan

writes:
2002 Ford Focus SE
Review
Pros
gas mileage, interior room, inexpensive
Great Car That Is Inexpensive To Buy And Operate — Overall a very good car. It has decent room inside, rides well, and gets great gas mileage with its 2.0L 4cyl. rated @ 110hp & 125 ft-lbs with a 4 speed auto transmission. Wind noise is a slight issue though. The car has excellent suspension and soaks up bumps well yet is a bit sporty. The rear suspension pioneered a new multi-link system that is cheap to build like torsion suspensions. In a slalom test it was faster than luxury sports cars. The SE has alloy rims standard with disk brakes in front and drums in the rear. Stopping distance isn't bad. Power locks and windows also are standard. with SE. It has a very room trunk for its size. Mine has key-less entry as an option which is a nice extra. I haven't had it long but reliability should be average to good.
Primary Use: Commuting to work
Emily

writes:
2002 Ford Focus ZTS
Review
Pros
Comfortable, great fuel economy, excellent sound system, handles awesome
Cons
Horsepower is only 130 (torque is 130)
My Car — I love my little car! It's a yellow focus and, though it's not a high-powered car, I can get nearly 40 mpg. I especially love the sub Trav installed for me :) And now that he has a grey Focus we totally match... but not in a lame way.
Meredith

writes:
2002 Ford Focus ZTS
Review
Cons
electrical, transmission, gas mileage, and stuff.
It's Okay If It Is A Short Term Car — i spent a lot in maintenance. it had a lot of electrical problems, and my shifter got loose so it would not go into the correct gears all the time. the gas mileage could have been better for how small the car was. it was fun to drive. the looks were not too bad.
Primary Use: Commuting to work
Thomas

writes:
2002 Ford Focus SE
Review
Pros
its good on gas and not bad for someone who wants save money on gas and has no kids
Cons
its seems that everything in it was made cheap so storage os lower quality then my old car(98 taurus).
Cheap On Gas — it isnt built well enough from the engine so it rattles but it is the cheapest car they make so what do u expect. it got little to no scratches outside and inside is clean it get about 30 mpg it might need break work on driver front wheel.
Primary Use: Commuting to work
CarpenterJon

writes:
2002 Ford Focus ZX5
Review
Pros
Super Dependable
Low maintenance
Great Driver
Huge cargo space
Good All around Gas Mileage
Cons
Back seat is only good for short rides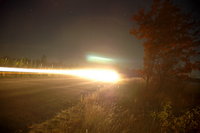 Great Price, Great Dependibility — Great Car All Around. Handles light and zippy, manual transmission is great around town and getting to highway speeds in a jiffy. HUGE cargo room for this little Hatchback. I moved to and from college and all over the country with no problem by putting down the back seats and using a roof rack. I have barely put any money into it except basic maintenance, tires, brakes, oil, Came with a great stereo, but I had to have the 6CD changer replaced six or seven times while under warranty. Now it hasn't had a problem Manual Transmission in crawling traffic is a pain (but that is with any car). The Blower Capacitor goes out almost every spring due to condensation. A $20 dollar part but still a pain when it is hot. Seats are kind of junky, my rear seat tore from some one sitting on it and it was just a normal person.
Primary Use: Commuting to work
FocusTroubles

writes:
2002 Ford Focus LX
Review
Cons
Time-consuming maintenence.

50-50. — Fun to drive, very versatile. Before I bought it, I was hoping that I could get away with little repairs after re-assembling the clutch. But to no avail. It seems like one thing goes wrong, right after I fix the last.
Primary Use: Commuting to work
Jesse

writes:
2002 Ford Focus SE
Review
Pros
Good Gas Mileage, adequate performance for everyday driving
Cons
Loud and annoying engine noises, high cost of ownership
2002 Ford Focus Review — While the performance was okay for everyday driving, the build quality of the 2002 Focus was very sub par. The main problems are under the hood; the engine while running or driving is very loud and annoying. While many a mechanic has said that nothing is wrong, others mention problems ranging from needing a new engine mount to problems within the cylinders. The cost of ownership is probably one of the highest out of any model year for the Focus due to what I mentioned above. The appearance of the Focus is fine for my taste, although after driving a new 2008 Ford Focus, I like the interior, exterior, and under the hood MUCH better. Ford has really cleaned up their act from 2002. That being said, while the 2008 was a blast to drive, the 2002 Ford Focus isn't too bad either. I would say it is a fairly zippy little car
Lou

writes:
2002 Ford Focus SE Wagon
Review
Pros
Large, but ok milage
Cons
Maintenance nightmare
This Car Was Nothing But Trouble — The Ford Focus I had was a white wagon. I had it in the shop constantly. Driving it was no fun because no matter who I took the car to, or how many times I took it, they could not remove the squeal from the brakes.
Displaying 1 - 10 of 81 2002 Ford Focus reviews.
Looking for a Used
Focus
in your area?
CarGurus has

56,193

nationwide Focus listings starting at

$1,495

.