2002 Ferrari 360
User Reviews
Displaying all 4 2002 Ferrari 360 reviews.
Catch

writes:
2002 Ferrari 360 2 Dr Spider Convertible
Review
Pros
This car has a lot of power The engine is strong and you can feel it when driving it It corners on a dime It is a true sports car
Cons
There is not a lot of cargo There are only 2 seat so it's not a family car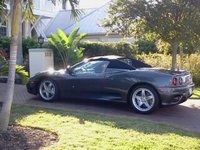 This Car Is Ment To Be Driven Fast And It Wants To Go — It handles very tight and monomers in between other cars. The engine is very throaty which makes this car stand out. I enjoy this car and will diffidently buy another one The car is very low to the ground so it can easily bottom out The trunk can only carry one small bag and there is not back seat
Primary Use: Sport/fun (spirited driving, track racing, off-roading, etc.)
Andy

writes:
2002 Ferrari 360 2 Dr Modena Coupe
Review
Pros
Nothing els feels like a Ferrari and u can say u have driven one
Cons
Expensive hard to live with as an every day car
Mark

writes:
2002 Ferrari 360 2 Dr Modena Coupe
Review
Pros
superb handling, incredible power, gorgeous looks and the magic of Ferrari (the "Red Mist")
Cons
Expensive, but maintainable.
Ferrari 360 Modena — A dream come true. I have loved Ferrari's since my father took me and my brothers to the San Francisco International Car Show when I was 8 years old and started telling us about Ferraris and other exotic sports cars. I have been following Ferrari racing, especially Formula 1, since my college days and enjoy it to this day. The magic of Ferrari (called the "red mist") has haunted me since childhood and I got this car as the fulfillment of a dream. And it is a dream come true - superb handling, gorgeous looks and incredible power.
Wouter

writes:
I'm A Driving God! — I had the opportunity to drive the Challenge (full race) version of the 360 on a race track, and what can I say? It corners like it's on rails, punches you in the stomach when the smash the accelarator and tries to launch you through the windscreen when you jump on the breaks - i.e. performance! But what else do you expect from Ferrari. Being a race version, with roll cage and slicks included, you wouldn't want to take it on the milk run (and couldn't as it isn't street legal) but its "normal" cousin is for all intents and purposes the same car with aircon
Displaying all 4 2002 Ferrari 360 reviews.
Reviews From Other Years
Get Anywhere Fast, But Bring Your Wallet
For the most part,the car is built to a high quality, of well-made parts. There are some glaring exceptions. For example all of the buttons and switches in the interior are covered with a black mate... Read More
5 Star Perfo
the car is just great...jus feather touch is enough for breaks....handling of the car is fine when it comes to driving in highways......its a dream car to own... love my car morethan anything... my da... Read More
Read all

12

2004 Ferrari 360 reviews
Italian Style
Sticky interior black pieces are a nuisance to fix. The 360 drives great, looks great, is really quick, and sexy. the F1 transmission is slick but i would not want to have to replace it. The Daytona s... Read More
Best Car I've Driven
It's a Ferrari, what else can I say? The quality of everything from the construction of the car itself down to the fine stitching of the interior was amazing. The handling was also great. Not only did... Read More
Read all

4

2003 Ferrari 360 reviews
Best Car On The Planet For The $$$$
Shiny White beautiful color, shifts like a dream and sounds excellent like a real sports car should. I love the automatic top function, and paddle shifters. Hoping to get the challenge grill for the r... Read More
Drive A Comfertable
its fast and it is a comftable drive i think that anyone who likes there cars will enjoy a ferrari as it is a show off car yeh this is a fun car to drive and its good looking thanx Read More
Read all

9

2001 Ferrari 360 reviews