2001 Volvo V70
User Reviews
Average Ratings from

20

reviews
Performance:
Appearance:
Build Quality:
Overall:
Review Highlights
Click to filter reviews below
Displaying 1 - 10 of 20 2001 Volvo V70 reviews.
7246KM

writes:
Pros
The look is elegant and sporty.
Cons
May get those characteristic 2001 Volvo transmission problems.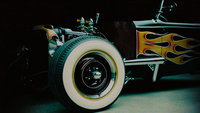 Silver Bullet. Fast, Safe, Sleek, And It's 'me'. — haven't had long; like it lots so far. Rides very nice for being on 17 inch rims and 45 series rubber. Most everything still works at 177k. body and interior have held up well for the mileage over 13 years.
Primary Use: Commuting to work
Looking for a Used
V70
in your area?
CarGurus has
524
nationwide V70 listings starting at
$1,496
.
alhb1

writes:
Pros
Comfortable, looked good, drove well (at first)
Cons
not reliable at all, we bought it as a family car with a good safety reputation, but major drivetrain components gave out without warning, not safe in my book

Negative — Lemon, the all wheel drive failed in a ball of flames. The viscous coupling siezed and caused the bevel gear to overheat and catch fire, luckily there was snow on the ground to put it out with and my toddler was not in the car at the time. Replaced both the viscous coupling and the bevel gear only to discover that the driveshaft was bad. Volvo driveshafts are not serviceable, need a new or remanufactured replacement. Or turn the car into a front wheel drive only as we did. Latest crisis, the engine missing on one cylinder. The piston or rings aren't functioning and means an engine tear down. Lesson learned and driven home, will never buy another Volvo...
Primary Use: Family transportation
RyanMorig

writes:
2001 Volvo V70 2.4T
Review
Pros
Great in the snow and great for cramming tons of crap into the 15 foot long beast.
Cons
Little pricy to fix. Not the BEST gas mileage, but pretty good.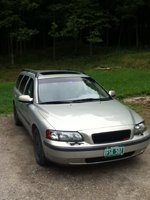 I Love This Car, I Wish They Made This Trim (2.4t) Manual Trans. — I like the room and comfort and sound system. I dislike the expenses and the electrical problems, although very small, its a pain to have some switches not working properly. Overall i think it is a great, safe car. I would keep it if it was manual.
Primary Use: Commuting to work
crpaddock

writes:
Pros
Best of both worlds; performance meets family practicality
Cons
Transmission to complex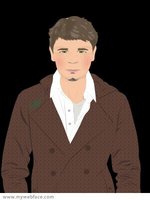 Manwagon — 4 out of 5 stars, car has been a work horse. I've used it at times like a truck and hours later after a clean up drove it to the opera. Versatility is almost equal to any four door crew cab truck- Seriously. The T5's 257hp loaded up with coolers, kids and dogs can out run a Porsche Boxster!
Primary Use: Family transportation
vikes740

writes:
Pros
Awesome Turbo power (T5), great handling, great MPG (26 Avg), Styling , safety features , low insurance cost
Cons
Expensive Parts and maintenance, Modern computer modules glitches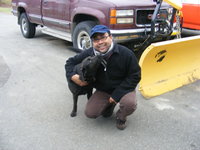 My 01 V70 T5 (geartronic 5 Speed) — Bought it 3 years ago and served me very well. Love the driver position and all the control within reach/ simple luxurious wagon. I am confident the car will protect me with all the safety features (it has so many different Airbags, Dynamic Stability and Traction Control works well in the slippery/ snowy condition). Great MPG as I am getting 26 MPG combined highway and a bit city driving. If I took it on a long trip all highway, it gotten up to 32 MPG (constant speed at 75 MPG) And boy, it is expensive to maintain ! Then I checked Audi / BMW / SAAB owners, they're in the same boat if not more expensive maintaining their cars. But it is worth every pennies as the car is so comfortable. Transmission problem in earlier years can be costly *as volvo claimed no maintenance required*. I ve been changing my trans oil on an interval basis to prolong my transmission.
Primary Use: Commuting to work
carnett77

writes:
Pros
Absolutely LOVE my 11 yr old white V70 T5. Beautiful bulldog rear stance & clean Scandinavian interior that is a mixture of all you can want- luxury, utility, awesome concert hall like sound system. Incredibly comfortable & I'm a fanatic so Lexol leather treatment 2x mo & the leather is like new and soft. Continental extremes make the car even a bit better in varied weather conditions. I follow maintenance religiously and all genuine parts. I have over 137,000 miles & can't imagine being happy with any other car.
Cons
I don't know if it's the safety/soccer mom image, but for some reason I singnal for every little turn & sit very upright with both hands on the wheel at all times. It almost feels like it's not right if I'm driving like a typical 34 yr old single male-with many distractions

In Love With My Non-pretentious, Sporty Yet Luxurious Wagon — Pretty much LOVE everything about this wagon. The sport wheels add so much to the look, unassuming when speeding, low insurance rates & generally laid back, smart fellow drivers at the dealership when it needs servicing, unlike the typical Louis Vuitton, wanting to be noticed newer MBZ crowd that is utterly annoying
Primary Use: Commuting to work
brucemc

writes:
Cons
need a decent job to maintain properly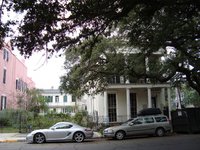 Fun-ctional V70 — I love my car and only worry as the miles pile up. Great performance (it's a manual), luxury, handling, capacity, looks and highly functional - I chauffeur my 3 dogs and lots of art supplies, ladders, etc. Fun-ctional and almost invisible to police. But yes, pricey to maintain.
Primary Use: Sport/fun (spirited driving, track racing, off-roading, etc.)
Johan

writes:
2001 Volvo V70 2.4T
Review
Pros
Great familycar with good acc.
Maybe The Gas Milage... — Good acceleration for being a family car. The best seats in it´s class and good overall comfort. Good locking with 18" wheels and spoilerwing. A little bit expansive MPG in city traffic, average in motorway. Big trunk and a great car for pulling trailers.
Primary Use: Commuting to work
Rune

writes:
2001 Volvo V70 2.4M
Review
Pros
got it cheap.safe car driving.
Kevin

writes:
Pros
it is comfy and fastish as a road car.
Cons
leather seats (hard to clean spills out of).
Great Car. — quick acceleration (its got a turbo) and quick braking. the handling is good but not super great. it doesn't need much repairs . it is cheap to own and it is fun to drive. it has great gas mileage. great interior and exterior.
Primary Use: Family transportation
Displaying 1 - 10 of 20 2001 Volvo V70 reviews.
Looking for a Used
V70
in your area?
CarGurus has
524
nationwide V70 listings starting at
$1,496
.