2001 Saab 9-3
User Reviews
Average Ratings from

23

reviews
Performance:
Appearance:
Build Quality:
Overall:
Review Highlights
Click to filter reviews below
Displaying 1 - 10 of 23 2001 Saab 9-3 reviews.
Philip

writes:
2001 Saab 9-3 SE Convertible
Review
Pros
2.0 turbo superb mid range
Cons
limited top end to 125 mph because its a soft top
Looking for a Used
9-3
in your area?
CarGurus has
1,298
nationwide 9-3 listings starting at
$994
.
Neumann

writes:
2001 Saab 9-3 Viggen
Review
Pros
Acceleration, fuel econony, huge trunk, programmable speed alert warning
Cons
Too fun to drive in traffic!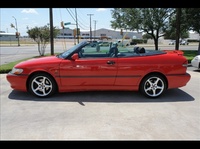 If You Can Find A Viggen, Get It! — The Viggen is a fun car to drive. Great acceleration without turbo lag. 32+ mpg highway. It is a sweet looking car that is a bit of a sleeper. Torque steer is known issue despite torque being limited in 1st & second gear. Hang on and enjoy the ride!
Nathaniel

writes:
2001 Saab 9-3 Base
Review
Pros
Overall a very good car. Would buy it again many times over.
Cons
My only beef, I wish I had sprung for the leather interior.
My Saab Story — Performance This car has a nice little turbo, that gives that extra punch when needed. The second gear acceleration will throw you back in your seat. Build Quality The Swedes at Saab really payed attention to detail with the interior, lots of satisfying creature comforts even for the passengers in the back. Appearance I'm biased cause it's my car but despite being 11 years old this car still looks like to could have come off the lot last year, the styling is new and current, even today. Cost of Ownership The 4 cylinder turbo puts out 185 hp while still getting 8-9L/100km very good on gas. Though with the current situation with Saab parts are a pain to get, not that you need them that often. Fun Factor The turbo, makes this little thing a hoot to drive.
Primary Use: Commuting to work
Teddy

writes:
2001 Saab 9-3 SE Convertible
Review
Cons
Cup holders aren't that great
It's A Fun Car — It was pretty fast, went from 0-60 in 6.5 seconds. It was a convertible so obviously it was fun to drive especially with the top down. It was pretty good on gas got about 25 to the gallon. Overall it was a good car.
Primary Use: Family transportation
aboutbob

writes:
2001 Saab 9-3 Viggen
Review
Pros
fun to drive, turbo has lots of power, brakes good, Viggen sport package, had since new now has 200,000 miles
Cons
tires wear out quickly, has road noise although tires make a difference

Great Ride — Great family car that's fun to drive, haven't had any problems other than normal wear and tear on a car of this age and mileage, still going strong. Maintenance costs seem about right for a European car of this caliber, not as high as most others
Primary Use: Family transportation
Taylor

writes:
Pros
Acceleration out of this world, nice interior features, quirky styling.
Cons
Turbo lag! And alotta torque.
My 2001 Saab 93 Manual — Amazing off the line, I find myself taking porches and holding any high end car as long as they don't have a supercharger or a turbo. With just under 15k miles when I bought it, I have just hit 30k this week, other than 2 flat tires, absolutely no repairs have been needed, the handing is alittle boaty in the back, it could really use new roll bars aswell as coilovers and dampeners. Brakes are average. Exterior is nice, very small for a 4 door, although no one can sit behind me when my seat is in its normal driving postion. Back in 2001 when I first saw the car (back when I was 10 before I could even drive) it was the first car that I had never seen with power seats on both sides aswell as heated seats, for a 2001 car it's pretty loaded. Sadly the only interior problem would be the SID (System information display) has alotta pixels that are dead which makes things look bad. Other than that, everything works. I get around 22-26mpg with me beating on it every day.
Dezmon

writes:
2001 Saab 9-3 Base
Review
Eye Candy... — Its foreign.. Made by aircraft company..In my SaaB Jet..Stealth power. Rarity. Everyday usability. Manual transmission. Heated seats. Seat memory. Steering wheel audio controls. Overall luxury... Comfy interior, versatile hatchback model, torquey turbo motor, i mean business personality. More power? Aftermarket kits are available. Better handling? Again, check the aftermarket. It is a powerful FWD car, torque steer and understeer are part of the package!
Nathan

writes:
2001 Saab 9-3 Viggen
Review
Pros
Great performance in a four door package. Exclusivity only 2500 a year weir produced world wide
Cons
The CID all of them loose pixels. Front wheel drive
The Viggen — I love this Car!! I have now owned for three years. I love the way it drives, the way it looks and they way people look at it and you can see them thinking what the hell is that. They know it's a Saab but most have no idea why it looks different and better. I also have to say it's very nice having a car that goes like a bat out of hell and corners great especially for a front wheel drive car but can still holdme, my wife and two kids comfortably on a four hour road trip.
Kenny

writes:
2001 Saab 9-3 Viggen Convertible
Review
Pros
Very econimical, yet powerful hight output turbo 2.3 4 cylinder engine. Smooth and comfortable ride. Fun to drive!!
Cons
resale prices aren't great
Beatiful Peice Of Engineering — I love the car, great miles to the gallon, I get 500-550 miles to the tank, about 32MPG. Awesome acceleration, you have to fight the torque steer in second gear though. Rides and handles great, sticks to the road like glue. The most comfortable seats I've ever sat in. Over all a great sunday cruising car, or dailey driver.
Robert

writes:
Pros
safety, practicality, performance
01' Saab 9-3 — This is my current daily driver. It is unbelievably fun to drive on the highway where you can get the turbo spooling and providing instant accelleration. It gets ok mileage (20-22mpg city). During the winter, this car shines. It drives better in the snow than many 4WD cars that I have driven and handles all bad weather with confidence. In the winter, I will take my saab over a subaru any day of the week. I often move small furnature, and haul drapery rods in the car. It can fit a 113" rod inside with the trunk closed. I recently put a fully assembled weber grill inside the car standing up and closed the hatch. Maintanence costs are a bit frustrating. It seems you have to take the car to the dealor for everything. Even getting lightbulbs must be done through Saab in order for the dash computer to staop saying "rear light failure" everytime you start the car. I am a believer in the fact that my mechanic is just as good if not better than the guys at the dealor but sometimes, the parts availability or special procedures that you need to know in order to work on this quirky car make me have to go to the dealor. As far as safety goes, I am proof of the fact that these cars are amazingly safe. I was in an accident where i was hit on the drivers side front of the car by someone pulling into the street from a parking lot at 30+mph. (it was a tremendous act of stupidity on their part) I walked away from the accident and am convinced that in many other cars, I would not have been so fortunate. above all, they fixed my car instead of tataling it because it was still structurally sound. Despite maintanence costs. The combination of performance and practicality makes me a saab believer.
Displaying 1 - 10 of 23 2001 Saab 9-3 reviews.
Looking for a Used
9-3
in your area?
CarGurus has
1,298
nationwide 9-3 listings starting at
$994
.