2000 Mitsubishi Mirage
User Reviews
Average Ratings from

16

reviews
Performance:
Appearance:
Build Quality:
Overall:
Review Highlights
Click to filter reviews below
Displaying 1 - 10 of 16 2000 Mitsubishi Mirage reviews.
madmopar

writes:
2000 Mitsubishi Mirage DE
Review
Cons
can be small sometimes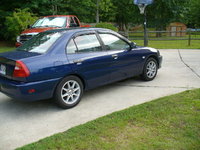 00 Mirage — i bought this as a commuter vehicle. it is great on gas, even with 260,000 miles on it. My son currently drives it, and we have made some cosmetic upgrades, like new headlights and taillights, handles good, but doesn't have a lot of power.
Primary Use: Commuting to work
tashtan1

writes:
2000 Mitsubishi Mirage DE
Review
Cons
NO REASON WHAT SO EVER

Awesome Car — Great car I really like it.I would recommend it to my friends to drive it to school,work,and just around city to have fun to party. Performance is decent for size of this type of car. As I know it has 112hp and with an automatic transmission it pulls fine, but for it to be fun you definitely need manual tranny. Appearance cool but it also made to look even better just throw a body kits on, a simple spoiler, some set of simply cool looking rims, change may be to original headlight and taillights
Primary Use: Commuting to work
Mwalimu

writes:
2000 Mitsubishi Mirage LS
Review
Cool — The heart of this giant killer is the MIVEC (Mitsubishi Innovative Valve and Lift Electronic Control System) 4G92, using a bore and stroke of 81.0mm and 77.5mm respectively. This amounts to 1597cc and with a 11.0:1 CR, DOHC, 16 valves and EFI, it generates 129kW at 7500 revs and 167Nm at a skyward 7000. That way-high rpm at which peak torque is developed never feels like that on the road - there is always instant, strong response. How strong? Well, with the fairly slippery tyres of the test car, you could drive along at low rpm in first gear with the clutch out. Stomp on the loud pedal and the front tyres would then actually chirp on dry pavement as the torque hit! This is one highly efficient engine - its 81kW per litre puts it way ahead of the Honda Integra VTi-R with 69 kW/litre. But, of course, you always need to feed it premium unleaded to keep it running happily. (Remember, Japanese fuel still has higher octane than even our Shell Optimax) and is a fairly rare car, harnessing so much power into a five seater car . rides on the same basic MacPherson strut suspension design . To make this thing a real go-kart, the steering needs to be sharpened up just a bit with a quicker ratio. It isn't bad; it's just that the rest of the car is so damn inspirational!
Primary Use: Commuting to work
Nicholl

writes:
2000 Mitsubishi Mirage DE
Review
Pros
It got me to Georgia almost non-stop
Kevin

writes:
2000 Mitsubishi Mirage DE
Review
Pros
good on gas and if tuned right can be a weekend racer
Cons
do not weck or hit anything cruple point every where
Nicly Built — i like it i went jdm with it and put on a intake and exhaust and i am looking for a turbo kit to be built for it. this car handles very well and holds the road with great responivesnes.
Primary Use: Sport/fun (spirited driving, track racing, off-roading, etc.)
Josh

writes:
2000 Mitsubishi Mirage DE
Review
Yup — well, the interior kinda needs work, i have soda stains on the headliner. but the engine is pretty cool. stock engine, has a performance exhaust, yeah very fun to drive, it hugs the turns and sweeps across the wide open 35mph roads :( needs a cross country trip to bring out its inner beast.
Ronald

writes:
2000 Mitsubishi Mirage DE
Review
Mitsubishi Mirage — For a family guy it has room for the wife and three kids plus it still feels sporty enough to make you feel like your not driving a family car. Besides that the engine is roomy to work on and gets around 32 mpg. The ride isn't the smoothest but you feel connected to the road.
Matt

writes:
2000 Mitsubishi Mirage DE
Review
Pros
Fun to drive, great gas mileage and reliable.
2000 Mitsu Mirage De — I really miss this car. It was my project car that I had put a lot of time and money in to. It was fun to drive, never gave me any problem and was great on gas. In the 3 years I owned this car it was like my second wife I took very good care of it.
Carmen

writes:
2000 Mitsubishi Mirage DE
Review
Pros
Cute, Small, four doors
Excellent — What I like of my car is that the performance is great, brakes, acceleration and easy to manage. It also has great appeareance and good interuor and style. The maintenance is very low because nevers has problems in or out of the road. It isalso fun to drive, it is small, cute and great side when you're driving in and out side of the city.
Andre

writes:
2000 Mitsubishi Mirage DE
Review
Pros
Reliable and economical. Easy to maintain, low road taxes
Cons
Underpowered, back seat too small.
Mitsubishi Mirage 2000 — This car is incredibly reliable. It has never stalled on us, despite being left outside in the -25C weather that sometimes occurs in Maine winters. Our car (nicknamed "Esmerelda" or "Ezzie"), is very easy to drive as the power steering requires very little effort to control. The ride is reasonably smooth and, important for US drivers these days, the fuel economy is very good. We get about 500 kilometres on a full tank of 45 litres (11.11 kilometres a liter or . 25 mpg). Not bad for an eight year old car. Performance is variable in this car. It is definitely underpowered for the racing type and has major problems getting about 100 kmh when going uphill. However, on a flat road she can easily go to about 175 kmh - a speed which is more than sufficient for family use. The quality of this vehicle's engine is amazing. It has never overheated, never stalled since we have had it. Obviously, the oil is changed every 4,800 km (3,000 miles) without fail. The only parts that we have had to change since 2001 have been: 1) The tyres (all four changed twice). 2) The alternator 3) The radio and CD player (stopped playing CDs) 4) The timing belt (changed at 120,700 km (75,000 miles) 5) The windshield wipers (changed 4 times in 8 years) 6) The windshield wiper arms 7) The lights/turn unit had to be repaired (by me ....). 8) The automatic transmission fluid - twice in 8 years. 9) Oil - changed once every 4,800 km (3,000 miles). 10) Windshield (hit by stone from a truck's wheel). The odometer on the car is about 225,000 km (140,000 miles). Appearance: The car does have a tendency to rust and we have a slight amount of visible rust on the right back door. Cost of Ownership: Cheap compared to a lot of others. Roadtax is now $84 a year. Fun Factor: A good car for two people. I would not fancy sitting in the back for long - though, it is way too cramped.
Displaying 1 - 10 of 16 2000 Mitsubishi Mirage reviews.
Looking for a Used
Mirage
in your area?
CarGurus has
7,704
nationwide Mirage listings starting at
$1,209
.