2000 Audi A6
User Reviews
Average Ratings from

22

reviews
Performance:
Appearance:
Build Quality:
Overall:
Review Highlights
Click to filter reviews below
Displaying 1 - 10 of 22 2000 Audi A6 reviews.
Cieskodude

writes:
2000 Audi A6 2.8 Quattro
Review
Cons
Can be temperamental, but hey its an Audi.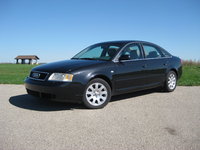 Fantastic Autobmobile! — Great car overall. Love Audi's but they can be a challenge. Too me it is well worth it because there is nothing like an Audi! Ultimately though where can you find such a cool dash lit up with red lights? Zee best.
Primary Use: Commuting to work
Looking for a Used
A6
in your area?
CarGurus has
8,098
nationwide A6 listings starting at
$2,495
.
Craig

writes:
Pros
vorspung durch technik
Cons
i dont own a 4.2 bi-turbo yet
Just The Best Every Day Car — All i can say is AUDI vorspung durch technik, pure brilliant audi in the 1980s won rallies and still to this day perform as they did then, this to me is the xfactor for the car industry never a problem. and nerver will be. well recomended as i have owned a a6 estate
Primary Use: Family transportation
Joshua

writes:
Pros
Plush executive style
Cons
Expensive to maintain
Great Vehicle, But Don't Keep Them Past 125,000 Miles — This was a great daily driver, but became to expensive to keep running once the mileage started to stack on. Great power from the 2.7L twin turbo engine. Very smooth ride and crisp handling. Plush leather interior and excellent sound system.
Primary Use: Commuting to work
James

writes:
Pros
Fun to drive, fast, comfortable, a true sleeper
Cons
It's old now, and while I love it, it's a 10 year old car with over 200,000 miles
Wish I Could Have Another One — I've owned this car for 10years and 204,000 miles. I purchased it via telephone. In stock form it was adequate, in it's current form it's perfect. This pic was taken in 7/10, with 203,000 on the odometer. It's not mint, but as close to mint as you'd find in a daily driver. Equipped properly with a 6spd, this 2.7t has been modified with KO4 turbos, RS4 Clutch, SS Downpipes, and an upgraded ECU and fueling package.
Dave

writes:
Pros
very fast 3 piece suite
Great Diesel Fun — a 2.5 tdi v6, big, comfy, massive spec, great to drive, faster than most things on the road with 165bhp, masses of torque, massive boot, massive in the back and the front, used to play games with the fuel computer to see how many miles to the gallon i could get, good fun
Primary Use: Commuting to work
Michael

writes:
A Lot Of Positives But A Lot Of Negatives Also — tuner friendly, requires a lot of care, awesome engine, but heavy. brake upgrade is a must, and suspension upgrade is a must also. i personally think it is very ugly looking, but many others like it. fun to accelerate, but not to corner due to its weight.
Primary Use: Sport/fun (spirited driving, track racing, off-roading, etc.)
Dean

writes:
Dont Buy A Car Because Of The Badge, Test Drive Everything — audi's are great after 2005 any older get your pocket book out. buy asian car They are a all around better value . I sell cars for a living and the acura and lexus are tops. If you do buy a german car buy the benz e class or the bmw 330i coupe VERY SPORTY
Primary Use: Commuting to work
Mike

writes:
Pros
All in the quick take
Cons
Expense when its time for repairs
All Around Great Car — Awesome daily driver for all year round weather. Excellent driveability, superb handling and decent performance especially when passing on the highway. Love the features and the shape had been around for more than 9 years which still keeps in looking like a modern vehicle. Repair costs are not cheap however not many cars are cheap to fix anymore. The downside is trying and attempting to make repairs yourself. The Germans did a fine job and making sure no prying hands could get into the tight spaces. This all around is a rock solid car that has been holding up very well for the past 4 years of ownership and I would recommend this car to any.
Primary Use: Commuting to work
Mark

writes:
Overall An Excellent Vehicle — Awesome performance: good accelaration, braking is very effective, handles well at high speed as well as under adverse weather conditions Build quality is excellent: thus far no funny noises or other issues. IMO appearance is awesome, Good cost ratio Lots of fun to drive
Primary Use: Family transportation
Leah

writes:
Pros
The smooth as silk ride and the fun!
Cons
electronic system that can reak havoc on your wallet
Audi A6 — I miss this car. Electronic wise...not the strongest, Audi has never been known to have an electrical system that stood the test of time. Drivability...almost beyond compare. It drives like silk and the sound of the 4.2 when you hit the gas...pretty much orgasmic. With low-profile tires this thing just sticks to the curves and turns and can easily glide along the asphalt at 100 mph without you even realizing it. It is a work of art...truly. Audi knows how to make a car worth driving. There is nothing quite like hitting the gas and feeling the pull of a 4.2 liters, the growl of the V8 as it takes off.
Displaying 1 - 10 of 22 2000 Audi A6 reviews.
Looking for a Used
A6
in your area?
CarGurus has
8,098
nationwide A6 listings starting at
$2,495
.