1999 Saturn S-Series
User Reviews
1999 Saturn S-Series
Review Ratings
Average Ratings from

55

reviews
Performance:
Appearance:
Build Quality:
Overall:
Review Highlights
Click to filter reviews below
Displaying 1 - 10 of 55 1999 Saturn S-Series reviews.
sweet60chevy

writes:
1999 Saturn S-Series 4 Dr SL1 Sedan
Review
Cons
not in business anymore

Most Bang For Your Buck — I drive my 99 sl1 close to 100 miles a day (90 to and from wolrk) it is such a great pratical car, it was very cheap, gets Amazing mileage..... I get normally 36-39 doing 60-75mpg on HILLS, the fold down rear seats come in handy.... i;ve hauled a 23 foot long roll of carpet with mine car, roomy enough for 4 full sized adults I've had 5 but they did look a bit snug. I'm a Die hard gm fan and they made a big mistake killing the saturn (and pontiac) brand. I get close to the same mileage as the hidious looking smart car, but I can fit 5 people for a fraction of the price. Saturns are a great buy and I highly recomend them all. Once this car takes a dump I'll be getting another saturn
Primary Use: Commuting to work
Looking for a Used
S-Series
in your area?
CarGurus has

1,194

nationwide S-Series listings starting at

$998

.
Josh

writes:
1999 Saturn S-Series 4 Dr SL1 Sedan
Review
Pros
Affordability, Gas Mileage, Reliability
Cons
Burns oil, really low to the ground, small interior
Incredible Little Car — My Saturn owes me nothing. I bought it used in 2004 for $1900 with 60,000 miles on it and currently have 170,000 miles on it. The car still gets good gas mileage (37 avg. with a 5 speed) and I have only had to perform routine maintenance and replace a starter. The interior of the car is a bit Spartan and small, but for one or two people, it is an ideal choice for everyday commutes or even road trips. I have driven my Saturn to 31 states plus Mexico and Canada and she performs just as well in the desert as in the mountains. I even regularly strap my canoe to the top of the car and it performs as if nothing was there, I would say if you are interested in the SL1, definitely get a 5 speed because power is lacking in the automatic and buy low. These cars are good for 200k miles plus if you treat them well.
Primary Use: Commuting to work
Luke

writes:
1999 Saturn S-Series 4 Dr SL Sedan
Review
Pros
dependable, clean styling, fun to drive
Cons
cheap interior, also would reccomend going for a better equipped model that has power door locks and windows.
Easily Overlooked-- But Shouldn't Be. — Handles well, quick acceleration, and good fuel economy. Only needed minor repairs, but never let us down. Outside plastic body panels eliminate rust and door dings. Inside could be nicer, but it was a cheap car. Though i will say that the interior is still looking like new. Hauls fairly large items better than many bigger sedans. Fun and economical make it a good choice for a small family car.
Primary Use: Commuting to work
littlehorn

writes:
1999 Saturn S-Series 4 Dr SL1 Sedan
Review
Pros
Parts are inexpensive, repairs are logical and easy to complete with basic hand tools.
Cons
Two transmission problems are noted for the automatic transmission in this vehicle. The valve body can cause a slam into reverse after many miles. This is an easy, although expensive, fix, requiring the replacement of the valve body assembly with a rebuilt unit, which costs around $500-600.

The other problem is that a roll pin in the differential inside the transmission can work itself loose and rub a hole in the transmission case, which causes replacement of the transmission due to leaking.

Great American Automobile At An Affordable Price — The 1999 Saturn SL-1 is an affordable offering from Saturn which is not only easy on the eyes, but also on the wallet. Available with either a 1.9L single overhead cam (SL-1) or a 1.9L dual overhead cam (SL-2) and a manual or automatic transmission, the SL-1 is typically found used in the $3000-6000 range in excellent condition.
Owner for 1 years, 6 months
Miles Driven per Year:12,000
TheHorror

writes:
1999 Saturn S-Series 4 Dr SW1 Wagon
Review
Pros
Solid fuel economy. Cavernous cargo space. Low cost of ownership.
Cons
Underpowered base engine. Crude interior quality.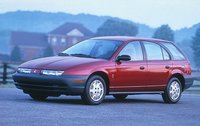 Inexpensive Utilitarian Workhorse — I purchased my Saturn wagon in 2006, with 52k on the odometer. I was looking for a reliable and efficient daily driver, no frills necessary. Having no high expectations for performance, style or luxury, the car suited my needs well. I routinely saw 28+ mpg in city driving. The wagon back was great when moving, or camping. Over 60k miles and five years of ownership, the car never once left me stranded. The SW1 was not without it's faults, though. While power was adequate for city driving, a little more would have been helpful for highway merging or when loaded up with cargo. In retrospect, I wish I would have held out for the twin cam engine - the gas milage is almost identical to the base offering, and twenty more horses is a substantial improvement. The interior was of typical 90's GM (low) quality, with a cacophony of squeaks and rattles. Various panels from under the dash refused to stay in place, to the point where I gave up trying to keep them affixed. While overall reliable, the car did need several repairs beyond basic maintenance - One of the headlights had a habit of burning itself out; the rear wiper motor needed replacement; the engine started burning oil around 90k miles (a common problem for these Saturns, I learned); engine mounts needed replacing at 100k; the transmission began slipping at 115k (also a common occurrence with this transmission). When the transmission started to go, I decided to part ways with the wagon. I had gotten more than my money's worth from it at that point. Overall, I was satisfied with my ownership experience. If the S-series was still in would production, I would consider owning another. As it is now though, the availability of spare parts has to be dwindling for these cars.
Primary Use: Commuting to work
Steven

writes:
1999 Saturn S-Series 3 Dr SC2 Coupe
Review
Pros
fast, fun, easy to drive and easy on the wallet
Cons
with spirited driveing the transmission just wont hold
Car Was A Joy To Drive — this car changed my perspective of compact economy cars. when i bought a saturn i thought i was getting a boreing gutless grandma-mobile. i was wrong. the amount of power that saturn gave me was a pleasant surprise. with the 4 wheel independant suspension it handled better than anything id ever owned before and asked for more. after the power mods it out performed my freinds honda civic SI al the way up to 140MPH, and still gave me 35+MPG!
Primary Use: Commuting to work
tats_and_holes

writes:
1999 Saturn S-Series 4 Dr SL1 Sedan
Review
Pros
handling, fuel economy
Cons
transmission issues, constantly in need of oil

Fun Little Everyday Car — Some transmission problems and eats through oil! Otherwise really nice for road trips and just everyday running! Handles really nicely. 185,500+ miles and still running! Got into an accident, got hit in the rear, and you'd never know (love the composite body)!
Primary Use: Commuting to work
Nick

writes:
1999 Saturn S-Series 2 Dr SC2 Coupe
Review
Pros
Good MPG, Good Responce
Cons
Differential Pin in the S-Series Transmission is faulty
I Love Ittt — its zippy, quick, handles tight in the corners, stops fairly quickly, i mean its a fun little car that i love to drive plus you dont see that many of them out with people my age driving them atleast not around here...
Primary Use: Sport/fun (spirited driving, track racing, off-roading, etc.)
Kris

writes:
1999 Saturn S-Series 4 Dr SL2 Sedan
Review
Cons
size, she is a small car...
Awsome — She runs well, handles good, and is fine at breaking. I haven't had to take her into get repaired but because of being mostly plastic you do get alot of road noise. The SL2 homecomming eddition looks a lil more sporty than an average saturn. I love driving this car, it may only be a 4 cylinder but she has some kick...
Primary Use: Family transportation
Alex

writes:
1999 Saturn S-Series 4 Dr SL1 Sedan
Review
Cons
Low power, transmission problems
Nice Cheap Fun Car — Lots of torque but still lacks in power. Quick city driving. Kick it down into the passing gear for some fun. Be easy on the tranny though, I've blown through one before from having too much fun. After you get used to the feel of it, it can very fun to drive around town.
Displaying 1 - 10 of 55 1999 Saturn S-Series reviews.
Looking for a Used
S-Series
in your area?
CarGurus has

1,194

nationwide S-Series listings starting at

$998

.