1999 Mercedes-Benz M-Class
User Reviews
Average Ratings from

22

reviews
Performance:
Appearance:
Build Quality:
Overall:
Review Highlights
Click to filter reviews below
Displaying 1 - 10 of 22 1999 Mercedes-Benz M-Class reviews.
Krista

writes:
1999 Mercedes-Benz M-Class ML430
Review
Pros
215,000 miles and still kickin. Mechanically sound.
Cons
Electrical not great and maintenance is pricey
Jessie — She is solid and reliable original engine and tranny with 215,000 very not bad. She will be 10 yrs old this december. She is a little rough around the edges. Great handling on the road for an SUV. Off Road not much ground clearance. I have driven and '03 more car than truck like mine. The '99 can take big bumps no problem little one not so good. The '03 is opposite. The '99 is very bare bones no frills lite and functional. Good car. The new ones well a lot more complex and the electronic shifter on teh column is wierd. I would not recomend a new one an older used definately
Looking for a Used
M-Class
in your area?
CarGurus has
11,254
nationwide M-Class listings starting at
$2,500
.
Joe

writes:
1999 Mercedes-Benz M-Class ML430
Review
Pros
Visibility, great ride (for an suv), utility, best looking SUV out there with small appearance
mods, excellent in the snow.
Cons
Gas mileage, stock sound system, expensive to repair if not under warranty.
Great, If You Can Afford The Gas. — One of the best riding SUV's I've ever been in, doesn't give you the excessive bounce of lesser suv's. Engine is slightly underpowered (a 4.3v8 with only 270hp) but has awesome torque (300 ft/lbs.). Gas mileage is TERRIBLE. 5100lb SUV with a v8 and full time all wheel drive is great in the snow but absolutely terrible on gas (13-16mpg, maybe 18 on CC on highway). Sound system SUCKS. When replaced with better head unit and 2 12" subs, it is excellent. Huge sunroof, tons of room inside, can fit 3 large adults quite comfortably in the back seat. Lots of room for all your stuff, great ride height, excellent visibility, a blast to drive for an SUV.
pooperscooper

writes:
1999 Mercedes-Benz M-Class ML320
Review
Pros
Shes smooth to drive, good quality(long lasting) has good space, but isnt a monster on the road
Cons
she gets around 18 miles to the gallon (guesstimation)

My Mercedes-named Her Lucy — We've had her for 10 years now, and she still runs amazingly. It was my mothers, and now its mine, and i could not hope for more. She's smooth to drive in. She doesnt squeak or rattle, but she did need a few repairs. To be expected after ten years! and the repairs were less repairs, more updates. like new liquids and new brakes.
gregorybrogers

writes:
1999 Mercedes-Benz M-Class ML320
Review

277,000 Miles And Still Going Strong Is All I Have To Say — Overall 1 ,outstanding vehicle. I just replaced the tranny and fuel pump at 268k miles and the tranny had a broken Plantetary gear, which the 3 times it was dragged onto a flat bed tow truck due to illlegal parking could not have helped. The Cats went out a 263k miles. And I just replaced both front wheel bearings last week at 277k. Outside of general maintenance and those 3 window switch replacement, I could not as for more. I know I'll see 300k easy in her or more.
Owner for 6 years, 0 months
Miles Driven per Year:40,000
Bret

writes:
1999 Mercedes-Benz M-Class ML320
Review
Pros
Very Stable, Good handling for an SUV, very well set-up suspension, extremely tight turning radius, great interior, full-time AWD, predictable braking distances
Cons
only 215hp, bad gas mileage, only a casette player came stock (in a mercedes?), kind of heavy for my liking though it is an SUV (4400lbs curb)
Ml320 — This car had extreme problems when we first go it, up to about 50K miles, but now it has 140K and has no problems whatsoever, which is very good, though we take good care of it. Anyway, it is equipped with Mercedes' "112.942" 3199cc Single-Overhead-Cam 90-degree V-6, 10:1 compression ratio. It really is a stellar engine in terms of power delivery and the specs really hide its true potential. It is 215 brake horsepower at 5500rpm and has 233 pound-feet of torque at 3000 rpm. One particularly cool thing about this, as with many Mercedes models, is a 3-valve per cylinder design. This means that there is one inlet valve for the air-fuel mixture and two exhaust valves, which provides a more thermally efficient engine. The transmission is a 5-speed automatic with selectable gears, 1-4, and "Drive." It has full four-wheel independent suspension, with double wishbone front and multilink in the rear, with stabilizer bars both front and rear. It has rack+pinion steering with 3.6 turns lock-to-lock and it does the thing where the front wheels angle, with the side being turned towards going into deep positive camber, which gives a great turning radius. It is full-time All-Wheel-Drive, which makes the gas mileage not so great, but you can definitely tell and though I've never exactly driven it off-road, I'm sure it could hold its own. Anyway, I've heard that the newer models are even better and much more reliable, so I'd say if you need and SUV and can afford it, this is a very viable option. Other cars to consider: Infiniti FX35/45, Nissan Murano, Lexus RX350, Acura MDX, Mazda CX-9, +more. Email me if you really care that much. I'd say, its pretty much between the Infiniti FX series and this, and both are available in V6 or V8 configurations. Anyway, Thanks for reading all of this technical stuff, (even though I didn't go into too much detail haha). Oh and its 0-60mph time is supposedly nine seconds even.
Michael

writes:
1999 Mercedes-Benz M-Class ML320
Review
Pros
quality of ride, acceleration, handling in snow/ice/blizzards, reliability&durability, interior space, luxury and comfortability,
Cons
expensive maintenance costs, fuel economy,
An Amazingly Reliable, Safe, Fun, Luxurious Car — I have a 1999 ML 320, which was my moms car but was very recently passed down to me. This car is an amazing vehicle and currently has 198000 miles on it and is 15 years old. There has never been a issue regarding reliability. Living in New England with the awful winters, it handles exquisitely in the ice and snow (especially with the low range button for blizzards). I think it is very comfortable. The leather is very comfortable, high quality, and extremely durable. The dashboard is a soft-tex material too which is very nice. I think my parents bought it with the premium package and an upgrade to a BOSE stereo system which still sounds great today. Also, I have plenty of leg room and head space when sitting inside the car and I am 6'1''. For performance, it may have only 215HP but it uses all of them and accelerates pretty quickly for its age and weight. The engine creates a a lot of torque and we have successfully been able to tow a boat (towing rated for 5000lbs). If I need to merge onto the highway really quickly it will accelerate extremely quickly if you floor it. Handling is impeccable. I've recently taken it off-roading and it had no problem (which I would expect because this model was used by the german army for military stuff). Maintenance from what my parents have told me was somewhat annoying. Although there are things that just need to be replaced throughout the life of a car, the catalytic converters would break alot in both of my parents mercedes (my dad has the ML350) which sucks because they're made from platinum, therefore making them very expensive ($2000). However, it didn't have to go to the shop very often for repairs. Rusting isn't really a issue. The only place where there is rust is along the trunk handle (which is a small area) and a little along the handle to open the hood. Overall, this is an extremely well-built, well-engineered, high-quality SUV and I definitely intend on staying with Mercedes-Benz when I am older and mostly likely buy and ML for myself.
Primary Use: Family transportation
Logan

writes:
1999 Mercedes-Benz M-Class ML320
Review
Pros
Beautiful interior... Very comfortable... Great acceleration and handling.
Love This Car:) — Nice car to take a long trip, very spacious, back seats fold Down and Up in many configurations. Nice solid ride on the road, great visibility. Love the styling and Mercedes-benz quality. Great curb appeal, roomy cargo area, reliable engine performance.
tiffboogie

writes:
1999 Mercedes-Benz M-Class ML430
Review
Pros
Spacious and comfortable ride. Very reliable car.
Cons
This model did not have rear controls for A/C. Later models have this feature.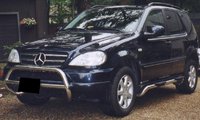 Great Value For The Cost. — Great value. Perfect family vehicle and much more cargo space than you would think. Car handles well and has a smooth ride. This car will comfortable seat 5 adults and two small children with the captains chairs installed and you still have cargo space in the rear. I would purchase again!
Primary Use: Utility (towing boats, transporting cargo, etc.)
fastcatpoppy

writes:
1999 Mercedes-Benz M-Class ML430
Review
Pros
It looks like money.(smile)

It Drive Well In Snow — Holds to the road well. Never had any major problems. Would buy another. Acceleration is good. Mileage is 95,000. the body is well kept and the interior is in good condition. braking is good and I just love driving my car.
Primary Use: Family transportation
Mercedesgirl23

writes:
1999 Mercedes-Benz M-Class ML320
Review
Pros
Safe, Reliable, Great handle in UPSTATE NY winters!!!!! Sharp-looking vehicle, convenient interior
Cons
Regular maintenance costs can be pricey for some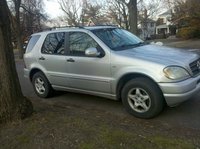 I Have Had This Vehicle For 11years,its Become A Family Member, Another Limb....iove It — This car's pros totally outweight its cons!!!! I would buy one for each of my closest loved ones if I could afford it.....I highly recommend to any luxury SUV lover out there!!!! I have had her for 11yrs and still counting and traveled for work and leisure without a complaint. BIG FAN!!!!
Primary Use: Commuting to work
Displaying 1 - 10 of 22 1999 Mercedes-Benz M-Class reviews.
Reviews From Other Years
Its Pretty Cool But Maintenance Is Expensive
I like the suv,the maintenance sucks, it drives really smooth,i love the way it looks, it get pretty good gas mileage,lots of room and compartments to store things,good sound system, overall its a p... Read More
Ml320 Review
performance - Excellent acceleration, good braking distance, excellent handling for a suv. build quality - exceptional build quality, no mechanical or body problems appearence - awesome, kind of a plu... Read More
Read all

5

1998 Mercedes-Benz M-Class reviews
My Best Friend
The SUV is the best I had, no problems until now...always on time for oil change. The ride is smooth, handles the road perfect, and saves gas in long trips.. I really luv it..I would recommend it....t... Read More
Stlyish .. German Engenering ... Safe .. Reliable
great to drive .. luxury SUV,,,, you can haul a lot of stuff in this car.. seats 5 people ... love the visibility .. and the handling of this car.. and rock solid and safe to drive in ... looks great ... Read More
Read all

21

2000 Mercedes-Benz M-Class reviews
The "bubble " / Aka The Chariot !
This is a Great little SUV. We call her, the "Bubble" I was going to sell it for a moment and then looking at her and thinking about how good these are in the snow and off road I couldn't part with he... Read More
Overpriced
Electrical is an ongoing problem. Granted it's 13 years old but less than 100k miles. Seems like some sensor or solenoid goes out every 2-3 months. Still has decent acceleration. Good but not great... Read More
Read all

22

2001 Mercedes-Benz M-Class reviews
2002 Ml320
Excellent overall vehicle. Very reliable. Versatile and sporty. Maintenance costs were not very high. Would buy parts direct and take to a mechanic and pay for labor. Strong engine, turns on the drop ... Read More
Still Like Driving It
after you drive one for a while it grows on you .If you know what i mean i like how solid and well build it is it makes you feel safer than other suv's out there but Germans still need to cache up w... Read More
Read all

16

2002 Mercedes-Benz M-Class reviews
Love My Ml
The exterior design falls a little short and lacks flash in comparison to say a BMW X5 or a Porsche Cayanne. The exterior quality feels like a tank, a very safe vehicle to be in with nice materials us... Read More
High Maintance
Good overall transportation, however if anything brakes down it is very costly to repair. This SUV allows you good vision all around while driving. MGP is ok for the interstate but below average for... Read More
Read all

18

2003 Mercedes-Benz M-Class reviews
Looking for a Used
M-Class
in your area?
CarGurus has
11,254
nationwide M-Class listings starting at
$2,500
.