1998 Volvo S70
User Reviews
Average Ratings from

36

reviews
Performance:
Appearance:
Build Quality:
Overall:
Review Highlights
Click to filter reviews below
Displaying 1 - 10 of 36 1998 Volvo S70 reviews.
Ashley

writes:
1998 Volvo S70 4 Dr GLT Turbo Sedan
Review
Pros
Good build, excellent performance, great speakers, very comfortable ride, safe
Cons
poor maintenance record
Excellend But Bad Repair History — I loved the car, it was sturdy and never failed to impress me! The car had heated seats in the front and the back, which was very nice to drive. The car was very fun to drive it had good pick up and was very safe.
Looking for a Used
S70
in your area?
CarGurus has
127
nationwide S70 listings starting at
$1,700
.
Christopher

writes:
1998 Volvo S70 4 Dr T5 Turbo Sedan
Review
Pros
Fun to drive, Safe, Reliable, Unique styling, fuel mileage
Excellent All Around Sedan, Inexpemsive To Maintain, 26mpg + Power! — This and other Volvo's are often looked over as they are assumed to be heavy, slow, expensive to maintain, and boxy in looks. This car weighs jut over 3000 pounds, and is powered by a 2.3L inline five cylinder engine producing near 240 horse power and 270 ft lbs of torque as LOW AS 1250 rpms. 0-60 times are between 5 and 6 seconds, and the stock quarter mile is 14 seconds. Not bad for a 11 year old vehicle, eh? My 1998 S70 T5 currently has 123,000 miles and has only needed a brake caliper and an AC condenser (under $500 in repairs in 11 years!). this S70 has always been a Jersey and New York car, and still has absolutely no on its underside. It is built like a tank! I hit a dear dead on at 50mph and was able to drive home with just a slightly bent hood and shattered headlights. The interior is plain and straightforward, the steering wheel tilts, and telescopes(goes in and out, for those that sit really close or far away from the seat.) And the seats are one of the most comfortable seats you will sit on, a d also contain a whiplash protection system that coddles your body when you are in an accident, and prevents whiplash. The seat belts have explosive tensioners that will snug you into the seat in the event of an accident, the front air bags are almost not even needed. The side airbags are mechanically set off by steel poles in the sides of the seats, when you are hit in the side and one of these poles is hit, the airbag will go off. Between these steel poles is an iron block that turns the seats into part of the car in the event you are hit in the side to avoid the sides of the car from caving in. These cars are still used in Europe today in the police force because of the quickness, reliability, and there durability. I would buy another one in a heartbeat, this has to be one of the best overall vehicles I have ever owned. I am glad I chose this car over The Subaru's, BMW's, and Mercedes I had looked at... the price for parts and maintenance is as cheap as an American car. Try buying a brake rotor for a BMW for less than $60!, Try changing the brake pads on your Mercedes! oh wait you cant do it without hooking it to a Mercedes computer!
Primary Use: Commuting to work
BlackBeauty

writes:
Pros
stylish, safe, dependable
Cons
pricey repairs (when it breaks), front light bulbs routinely go out

A Beautiful, Reliable, Safe Car — Though it sounds corny, my 1998 Volvo S70 saved my life. I bought my black 1998 Volvo S70 used in 2005 and would still be driving it now if I hadn't totalled it about a week ago on the highway on the way to work. A mini van in the breakdown lane was on fire, belching out thick black smoke. Blinded, I came through the smoke doing about 45 and smashed directly into the back of a Dodge Ram pick-up that had stopped suddenly. The entire front end of my car was smashed, and I veered into the guardrail, where my car got wedged. The airbags deployed, the windshield cracked, and the hood peeled up and back like an accordian. But I only had a scratch on my leg, some bruises on my arms and knees, and a bruise across my collarbone where the seatbelt held me. Everyone who has seen my car after the wreck can't believe I just walked away from the accident. As for reliability...other than a couple of repairs(front exhaust manifold after 120,000 miles) and the replacement of the fuel pump, which wasn't broken but needed to be replaced to prevent a serious problem down the road, the car was very reliable and ran great. I bought the car with 92,000 miles and it was going strong up until last week with 149,000+ miles. If it weren't for the average age of the S70s and the tendency for a lot of used ones to have high miles, I'd buy another in a snap. However, I just purchased a 2004 S60, so I'll let you know how it goes.
Owner for 2 years, 10 months
Miles Driven per Year:19,000
kd19

writes:
1998 Volvo S70 4 Dr GLT Turbo Sedan
Review

Most Surprising Vehicle In Both Performance And Cost Of Operation — What a fooler...the mom station wagon...HA!!!!! This car handles the corners at very high speed, tremendous acceleration, comfort interior and it averages (and I am not a slagger driver) about 23.5 miles to the gallon. It does use premium fuel (I do cheat and get mid grade octane) but the car just plain is a runner. Volvo's are pricey to repair so do your regular maintenance and you should not have ANY issues until the 65,000 mile mark when you need to check tires, brakes and have a general check up. I traded out my run of the mill radio/cd player for a Panasonic top line with GPS -this slipped right into the same hole as the old radio and could be taken with you if you choose when you sell this car. This little sleeper is a sport vehicle in a Safe Soccer Mom shell. Sticker for this car was in the high 20's but it's resale value is high also. A little care and you have a 5 year vehicle (the styling has no major changes - a little rounding of the top) and a big resale or just keep it and run. My other Volvo ( a 1985 240 GL is still alive and well-although it sits outside in the Texas sun so there is the fading and dash crack effect, but runs like a top, a/c goes down and frosts the inside of the windshield and it has over 200,000 miles. All I can say is go VOLVO!
Owner for 8 years, 3 months
Miles Driven per Year:15,000
Boolie125

writes:
1998 Volvo S70 4 Dr T5 Turbo Sedan
Review
Pros
Build quality and mechanicals
Cons
It's a European car and therefore not cheap to maintain

Best Car I've Ever Owned — I am the original owner of this now 12-year old car which boasts 277,000 miles. Fit, finish and paint all outstanding. Never owned a car past 80,000 miles or 7 years but this one won't quit -- extremely well built. It is a bit pricey to maintain but I'll hang on to it until the engine or tranny go but I've never had a problem with either so this may take a while. I've heard that these can last for 300,000 miles (which should be no problem for me) or "indefinitely" if they are serviced regularly. I would still like a new car since I need a change of pace (!) but given the quality, I would opt to keep this as a second car since it is a real gem.
HBreck

writes:
1998 Volvo S70 4 Dr T5 Turbo Sedan
Review
Pros
Good power that comes on in a surprisingly aggressive surge, comfortable seats, smooth ride, decent handling, lots of luxury options.
Cons
Cost of parts and labor, mediocre fuel economy, resists being pushed hard, though that might currently stem from needing the atmospheric pressure sensor replaced.

Turbobrick — I just acquired the car, so I'm still learning about it. However, 2 weeks in, I can say I'm impressed overall. 167000 miles, and it drives as smooth and strong as if it were new. Has a few issues, mostly involving a sensor and some minor electrical problems. When pushed about 75%, the car responds with vigor, though it feels a bit sluggish when merely cruising around town. Some of that may be due to the dynamics of a turbocharged engine, and the resulting lag that comes from turbos. The car is comfortable and well-appointed, and I look forward to taking it on a road trip this summer. I miss having a manual transmission, though the automatic in this car has performed fine thus far. I look forward to learning more about my Volvo and reporting on it in the weeks to come. A year and half after purchase, my S70 finally blew up. Or, more accurately, it blew out seals (the rear main seal, a return line seal) while driving from Kansas City to Chicago. It took 14 extra quarts of oil to actually get between St. Louis and Chicago, but it made it. The cost of repair and the time needed forced me to sell it to a salvage yard, so the Volvo is no more as of Memorial Day 2014. The car was smooth, fast, comfortable, and always started, no matter what. It was surprisingly competent in deep (more than a foot) snow. It also had lots of small problems, and was expensive to repair and maintain. Much front suspension work was needed in the 14 months and 17,000 miles I owned it. It also had multiple sensor failures, and went through two sets of spark plugs. I still would recommend the car to others, provided they have the time and money to maintain it. Purchasing one with fewer than 150,000 miles might help, too.
Primary Use: Commuting to work
syedbukhari

writes:
1998 Volvo S70 4 Dr STD Sedan
Review
Pros
Reliable, Very Safe, and it is an amazing condition. AC/Heater is very good and the stereo is great.
Cons
Front seats are a little messed up but all the back seats are good. It has a few bumps and scratches but it's not bad at all.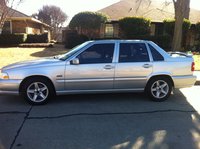 Clean Title — The brakes are a little hard but overall it is a very great car. It has been good to me for 4 years it was my first car and I could not have chose a better car to drive. It is a fair price and very safe and sturdy.
Primary Use: Commuting to work
Tylander

writes:
1998 Volvo S70 4 Dr GLT Turbo Sedan
Review
Pros
Lots of goodies and it's a Volvo so it's safer than anything short of driving a giant brick.
Cons
It's shaped somewhat like a giant brick. Cheap plastics that crack and break with age. Items that should have been recalled by the company have not been.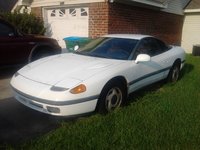 I Think You Need A Flat Cap And Driving Gloves, Because You Just Became Old! — A car suits your mood. There is nothing exciting about Volvos, and hasn't been since the late 1960's. That said, it is a good daily driver, to work where you don't want to go and to the Wal-Mart, where you don't want to go. This is from the era when Volvo thought they could get into BTCC and TOCA racing, so the ride is a bit harsher, the engine is turbocharged, and the wheels... well at least they are aluminum alloy. The main faults of the S70 are all electronic in nature. The instruments stop working daily. The ABS light comes on because the ABS pump sits against (and vibrates) the electronic control unit, which also causes the speedometer to go out. The plastics are cheap German bits, so they break and crumble to dust. The door leather is stretched so tight from the factory (to save $$$$) that it peels off and shrinks down to where it no longer fits. Finally, crap breaks behind the dash so when you go over a speed bump or a railroad crossing it sounds like someone took a sledge hammer and hit the center of dash with full force ... Ka-crack!!!! Mine is dark blue, it's a box shaped car, and nothing works right in it. My wife calls it "The Tardis" for obvious reasons. But I like this car because a Volvo saved my family's life once. We were involved in a head-on collision in my sister's 1985 240 DL sedan. My sister was driving, I was in the passenger seat and we had three children, all under 6 years old (at the time) in the back seat. We were hit by a 4X4 Ford 3/4 ton Pickup pulling a car trailer. The truck had lost control going over the top of a hill doing roughly 60 MPH and crossed into our lane. We ended up beaten battered and bruised but alive. There wasn't much left of the Volvo, but what was left of it saved our lives. We all would have been dead if we had taken my sister's Accord or my Celica that day. I still have a copy of the 240 DL's key on my keychain as a weird sort of good luck charm. Someday, when I review the 240 series, I will upload photos of the accident.
Primary Use: Family transportation
Gabriel

writes:
1998 Volvo S70 4 Dr STD Sedan
Review
I Love It ! — This car is very good, engine is powerful but not enough (cause I don't have the turbo ;) ) The pieces worth a lot too , but it dosn't broke all the time like dodge neon lol Driving is really good, very silent inside , great engine noise.
Primary Use: Commuting to work
dantona222

writes:
1998 Volvo S70 4 Dr STD Sedan
Review
Pros
Able to buy the car for $500
Cons
I had to do a head job on it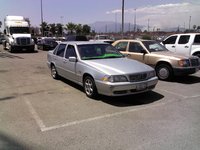 The Body Style I Like A Lot — Very easy maintenance plenty of room to work on very simple and easy'''''''' nice and smooth ride, after you replace struts.... but for $500 with do you expect.... have not finished with it yet plan on doing a lot more to it I will keep you informed on my progress.............
Primary Use: Commuting to work
Displaying 1 - 10 of 36 1998 Volvo S70 reviews.
Reviews From Other Years
Love It.
This car defiantly has a learning curve for repairs. Handling is superb. Quality is outstanding. Reliability and economy wise is amazing. Safety is outstanding and has lowered my insurance by 50%. I ... Read More
Great Car
Good reliable car, long lasting,mine has 227,000 miles. It has pretty good acceleration for a car of its size. Cost of ownership is expensive because it takes premium gas. Its ok to drive, nothing... Read More
Read all

8

1999 Volvo S70 reviews
S70 Glt Se
5 cylinder 190 horsepower engine is quick! The interior is awesome - leather heated power seats, dual climate control, sunroof...I plan to put tires and some suspension upgrades on it within a ye... Read More
Great Car I Think You Should Check It Out...
Great car very safe probably the safest car on the road, I really love the handling it handles like a civic or something small. The car has a lot of trunk space and a ton of options. This car is loade... Read More
Read all

5

2000 Volvo S70 reviews
Looking for a Used
S70
in your area?
CarGurus has
127
nationwide S70 listings starting at
$1,700
.