1998 Pontiac Sunfire
User Reviews
Average Ratings from

32

reviews
Performance:
Appearance:
Build Quality:
Overall:
Review Highlights
Click to filter reviews below
Displaying 1 - 10 of 32 1998 Pontiac Sunfire reviews.
Cam

writes:
1998 Pontiac Sunfire 4 Dr SE Sedan
Review
98 Sunfire — its a pontiac. what more needs to be said. however a great first car. insurance is RELATIVELY cheap and gas is dirt cheap. and hell you wont find a better car 800 bucks certified. ill keep you posted on it
Primary Use: Commuting to work
sle37643

writes:
1998 Pontiac Sunfire 2 Dr SE Convertible
Review
Pros
Been a great little car ~ had no issues!

Great Little Convertible! — This has been a great little car. Handles smooth, no noises w/convertible top, never any mechanical issues, gets great mileage, is dependable & fun to drive. If you are looking for a fun little convert to drive around in, this is the one.
Primary Use: Commuting to work
Kevlar

writes:
1998 Pontiac Sunfire 2 Dr GT Coupe
Review
Pros
It is a terrific little sporty commuter and is still very good looking after being introduced nearly 20 years ago.

The Sunfire coupes are great for finding aftermarket parts and customizing. Still relatively plentiful and not too expensive to buy.
Cons
The build quality could have been better and they are not cheap to fix especially if you have to pay a garage their shop rates.

I also feel that they could be better on gas but there are also parts on the market to help with this along with making sure that the O2 sensor is working properly as that will eat at your fuel economy in a hurry.

The water pumps are known to go and on the GT models the engine has to be removed from the car to be able to get at it to be replaced. It is a minimum $821.00 and can cost up to $1131.00 to fix as there are other parts that usually need replacing when the pump goes and are (GM) only parts.

It pays to shop around for the right car and always ask about the repair history as well as receipts for the work or it could get expensive. "These cars are getting older and if they were not maintained properly then it is to be expected".

"When buying I strongly recommend you check the rocker panels and look for any signs of rust as these cars have been known to break in half if the rockers have been destroyed by rust".

If you see any signs of rust poking up around the rocker moldings (right and left side) ("on the regular coupe") walk away because it means that the rust has already eaten through the rocker where you can't see and has probably destroyed the inner structure.

It is roughly ($967.00) per side to fix minimum if the whole outer panel has to be replaced and the inner structure is needed to be repaired.

The GT is harder to check due to the size of the body molding. You have to reach in directly behind the molding on both sides and you want to do it in front of both rear wheels and behind the front wheels and or try to look underneath to see signs of rust and again if the rockers look rotten walk away.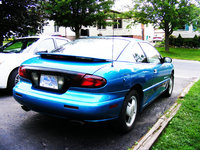 Good Looking Sporty Commuter. — I like the fact that they still look as good today as the first day they were introduced in 1995. They have a great variety of aftermarket parts available and there seems to be enough parts to make them better then they were from the factory so there are many different ways to build these cars. To me the Sunfire Coupe is what the GTO, Chevelle, Mustang, Camaro are for younger generations to buy and customize as they are cheap to buy and again there are lots of parts available so it leaves you to your imagination to do what your tastes desires. They are stylish enough to want to own one and can look amazing when they are built or customized with keeping shot lines straight and the use of body filler is kept to a minimum or if they are just maintained properly. What I dislike is that they were built for the cheaper car market so the build quality was not as good as it could have been to save build costs for GM to pass the savings on to the potential new car buyer. The filler neck for the fuel is behind the right rear wheel and is prone to rot after a short period of time so I recommend using the rubberized rocker guard and spraying them well to prevent rust . Also I feel that there should have either been a seal or gasket and/or shield stopping water and mud being pushed around the fuel filler cap and into the filler door. This would stop it from running out around the door/opening causing extensive rust over a period of time.
Primary Use: Family transportation
Brenton

writes:
1998 Pontiac Sunfire 2 Dr GT Coupe
Review
Cons
Needs more power, better fuel economy
My Car — I really like my car but i wish it had more power and that the gas mileage would be a bit better. It needs some body damage repaired. People keep rubbing up against it with their cars in the parking lot lol. The interior is roomy but I wish it was set up a little bit better.
Randy Heather

writes:
1998 Pontiac Sunfire 4 Dr SE Sedan
Review
Pros
Great mpg, manual trans., durable, decent leg room in back seats.
Cons
Slight interior quality whoahs..... that's pretty much it.
'98 Pontiac Sunfire (fuel Saver) — It's a pretty good car. The engine has nearly 200,000 miles on it and no issues. Doesn't leak, doesn't smoke, doesn't burn oil, doesn't burn antifreeze, nothing.I manage to get an average of 32mpg (hwy and city combined) in the summer and about 30mpg in the winter (which is quite lovely considering fuel prices). A couple problems are that the a/c doesn't work, and the passenger door locking mechanism makes entry difficult. I had to replace the manual transmission in it because some yahoo overtightened a bolt to the transmission, which cracked the case and cause it to leak out all of it's lubricant. Which of course I didn't realize and I drove it around probably the entire time I owned it (prior to break down) without any lubricant in the gearbox. Just know this. American cars are just as reliable as foreign cars. You just have to make sure they were taken care of properly when you purchase them
Ben

writes:
1998 Pontiac Sunfire 2 Dr SE Convertible
Review
Pros
convertible, quality equalizer for radio and CD player, good feel to the handling, cool-looking car
Cons
damage to weather strip along driver side window causes water leakage in the rain, ride can feel a bit bumpy at times, not so bright head lights when not using high beams
An Awesome Car, That Has Held Up Well For Ten Years — All top of the line accessories included when I bought it, most of which I use all the time. The fact that it is a convertible is awesome, I get to brag about it to my friends. The body of the car is great, looks like a minor sports car. The circuitry is tarting to get old though and some things have needed replacing. the headlights are a little weak in the dark without the high beams. The original upholstry is still in the car and doesn't look bad at all for its age. The gas mileage is ok; in the city it gets around 17 miles per gallon, maybe more, and I haven't measured the mpg on the highways.
Sunfire2012

writes:
1998 Pontiac Sunfire 2 Dr SE Convertible
Review
Pros
nice ride, good mpgs,

First Car — I think this is a good first car for people who dont really want to pay alot of money for one, it gets around with good gas mileage, it definitely isnt a drag car, its pretty fun to drive though. I have had this car for 1 1/2 years and i really do like it. the fastest ive gone in it was 110 mph but it shuts down at 111 it has the gt engine and ive been thinkin about puttin money into the engine cause it does have the room to grow.
Primary Use: Commuting to work
Ryan

writes:
1998 Pontiac Sunfire 2 Dr GT Coupe
Review
Carlos

writes:
1998 Pontiac Sunfire 4 Dr SE Sedan
Review
Pros
The liftoff when you gas it... pedal to the floor!
Cons
Its thirsty... very thirsty when you accelerate it.
Niceeee... — The only thing that makes my car constantly in the garage is that I dont have spare parts in my country anymore. But with the propper technical service, this Pontiac would be as fast and powerful than that day i bought it. Its a wonderful and fun ride to have. and very powerful too for the money.
Primary Use: Commuting to work
Alex

writes:
1998 Pontiac Sunfire 2 Dr GT Coupe
Review
Cons
interior colour- gray D:
Displaying 1 - 10 of 32 1998 Pontiac Sunfire reviews.
Looking for a Used
Sunfire
in your area?
CarGurus has
525
nationwide Sunfire listings starting at
$999
.