1998 Jeep Grand Cherokee
User Reviews
1998 Jeep Grand Cherokee
Review Ratings
Average Ratings from

64

reviews
Performance:
Appearance:
Build Quality:
Overall:
Review Highlights
Click to filter reviews below
Displaying 1 - 10 of 64 1998 Jeep Grand Cherokee reviews.
Matt

writes:
1998 Jeep Grand Cherokee Limited 4WD
Review
Pros
Nice V8 power and sound, comfortable interior, reliable, inexpensive to repair
Cons
Poor gas mileage around town
Love The Zj — This was my wife's car, though I got to drive it for work. The G.C. never let me down. Gas mileage was rotten (13, 14 in the city...it'd do 18-20 on the highway, though), but with the 318 V8 I really didn't care too much. Plenty of power for any situation...and it sounded great with the Flowmaster muffler. Handling was about what you'd expect out of an SUV...you're not going to go looking for any curvy roads to blast down. It never felt unsafe, though. I've always loved the styling of the 1st gen. Grand Cherokee. It's standing the test of time well, I believe. The interior was very nice...comfortable, soft leather seats with heat (I miss this a lot!), nice Infinity stereo, and the build quality was good. Only a few cheap trim pieces here and there. We never had to do much to the Jeep, but when we did, replacement parts were inexpensive. It was starting to get a little worn out by the time we got rid of it, but it never let us down and was fantastic in the snow. I miss this car very much. The only thing that could possibly top it is if I could find a relatively unabused 5.9 for sale somewhere...
Primary Use: Family transportation
Looking for a Used
Grand Cherokee
in your area?
CarGurus has

56,701

nationwide Grand Cherokee listings starting at

$795

.
Justin

writes:
1998 Jeep Grand Cherokee 5.9 Limited 4WD
Review
Pros
power, sound, 4wd, comfortable on long trips
Cons
noisy at high speeds
Will Never Sell This Jeep! — Performance- until the 4.8L X5 came out in 2003 it was the fastest SUV. Brakes could be better, it handles good with some of the upgrades I've put on it. Not going to win any races though. Build quality- repairs have been limited to only a new waterpump at 80,000 miles. Interior- can't beat leather, heated seats! Accessories- heated mirrors, Alarm, starter kill immobilizer. Gets only 17mpg avg and 20 on the freeway. But who cares. I have a street bike for gas mileage.
Michael

writes:
1998 Jeep Grand Cherokee 5.9 Limited 4WD
Review
Pros
great power and good look for an suv with lots of room and comfort.
Cons
if you need mpg's, go somewhere else.
Great For The Winter, Like A Tank, Awesome Cruiser And Sporty For The Summer, Great Suv... — well the only thing to dislike is the 12.3 average mpg i get, but on the other hand what i love is sitting in front of Aamco on columbia turnpike and having a new ford mustand come along side me and rev his engine so we go from the light to the light in front of k-mart and i kick his butt...lol
Primary Use: Commuting to work
Nomikos1982

writes:
1998 Jeep Grand Cherokee Laredo 4WD
Review
Pros
If you love the outdoors and need a reliable SUV to pack all that gear around.
Cons
Some parts are hard to find

Would Be Another Of The Same Make But A Bit Newer Once Mine Dies. — Over all performance is great. The jeep I have is the strait six 4.0L. Its torquey as heck and has a very decent turning radius for a vehicle of its size. The braking seems pretty standard it has callipers front and back. All Jeeps are some what in need of taking corners better. The Build quality is pretty good I have a 98 and am in no means gentle with it off road and it is in sound condition. Rattles a bit on the front but thats due to the rough ride from a solid front axel. Appearance is fantastic no rust at all on the body I have nicely tinted windows all around except for obviously the windshield, its also black so it looks sharp when its all clean and shiny. Gas mileage is rather decent for an SUV on the highway I seem to be getting around 25ish mpg. I believe this is due to the strait six engine I have been told its more fuel efficient. It requires the obvious regular maintenance that any SUV used for off- loading would. Fun Factor is huge with this vehicle because of its lift and short length it gets into a lot of places that are suitable for fly fishing, camping, hunting and rock climbing ect.
Primary Use: Sport/fun (spirited driving, track racing, off-roading, etc.)
Blakslee

writes:
1998 Jeep Grand Cherokee 5.9 Limited 4WD
Review
Pros
Power, comfort, reliability
Perfect Blend Of Performance, Luxury, Off-road/snow Capability For Less Than $5k — Performance Now granted I've never driven a serious sports car but in comparison to my old Wagoneer, the '98 5.9 grand cherokee absolutely flys. The best it mashing the throttle from a stand still or getting onto the highway on ramp: kicks back into 1st gear and I'm thrown into the back of my seat. I can hear the intake kick in at about 3500rpm and the noise increases substantially while I'm flung to 60 in under 7 seconds. As exciting as this car is I can't even imagine what a new ferrari or veyron must feel like being 2 or 3x as fast. I also love how the gas pedal feels. There's a small range of motion where there's no resistance in the pedal feel where I hold it for cruising but anything beyond that and you get going very quickly. The brakes are magnificent A: because the pedal is so much firmer than my last jeep and they have a lot more stopping power. My foot is still used to having to push the brake further and any time I push it down more than an 1.5 inches or so, my face comes off. They're superb. Now I can't speak for the stock suspension for this vehicle because the suspension isn't stock. The previous owner installed Edlebrcock IAS shocks which in short are firm on road and loose off-road. I have yet to go off-road but on road there is no body roll. The wagoneer was veeery wobbley which made it very comfortable however any time you turned the wheel you thought "are the wheels actually turning" partly because the steering was loose and there was a decent amount of play but also because it had a soft off-road suspension. Because my 5.9 has half the miles of my wagoneer, everything is tighter, especially the steering: it's heavy and i can really feel taht the front end is working. Build quality: Same as my last car which now has 250,000miles on it and it never had any real problems. The only thing that doesn't work that i want to work is the cd changer and that has nothing to do with the car itself Appearance: I love the way the ZJ looks, the 98 limited most of all. Silver w/5 spoke 16" alloys and I really like looking down at the hood louvres when I'm driving along. It's quietly aggressive. Cost: repair bills i expect to be low because they were on my last car. Gas on the other hand: the 5.9 takes only premium and gets worse gas mileage than the wagoneer because it's a bit heavier, has a bigger engine and I don't drive in the same thought process of economical. Fun Factor: This car is incredibly fun, especially because it is such a huge upgrade from my last jeep. It's very powerful, handles great, makes an unbelievable noise and has a sunroof, everything a growing boy need in the summertime plus a hott girl of course.
ste1963

writes:
1998 Jeep Grand Cherokee Laredo 4WD
Review
Pros
This car is a good functional everyday vehicle. It is also good for long trips and light off road
Cons
the gas mileage could be better but it's not terrible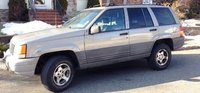 Reliable Family Car — I like the fact that it had 4 wheel drive when you need it and not always engaged like some of the newer vehicles. It also has a part time mode for when it's a little slick out with rain or snow
Primary Use: Commuting to work
Marty

writes:
1998 Jeep Grand Cherokee Laredo 4WD
Review
Cons
couldn't pass a gas station
Unstoppable — It could do anything! Always started, always pushed through sand, snow, water couldn't stop it. It could haul things, tow things, It was comfy. Even when it was on it's last legs - 264000 miles - it still ran1 It had a "frozen" Tensioner, Rear Transmission was seizing, Oil was leaking. We were still able to drive it to the dealership!
Primary Use: Sport/fun (spirited driving, track racing, off-roading, etc.)
Nathaniel

writes:
1998 Jeep Grand Cherokee Laredo
Review
Pros
useablity... trailer gears (gears other than over-drive) are Very responsive.
Cons
gas mileage and suspension gets a little loose
'98 Jeep Cherokee — most definitely keeps me on the road when i want it to be. great for off-roading and has absolutely zero problems getting through mud w/ intermediate and narrow tires. Although the gas mileage could certainly be improved, it's a... slight... chic-magnet..
David

writes:
1998 Jeep Grand Cherokee Laredo 4WD
Review
Pros
Handles great, comfortable, and is pretty reliable
Cons
Drinks gas like its going out of style
Pamela

writes:
1998 Jeep Grand Cherokee Laredo 4WD
Review
Pros
This car has some serious "get up and go!" power. Steering is very sturdy, not loose like with some cars where you have to keep both hands on the wheel to keep the car in line. The braking system is excellent and this car can stop on a dime, unless it's slick on the road, then you've got to be careful. This car is very roomy and can hold a lot of stuff in the trunk.
Cons
This particular model sometimes has problems with the 4WD where when you change from 4WD back to 2WD (rear-wheel), the system takes a while to fully change back. Which basically means that if you take it from 4WD to 2WD on the main roads, then try and park the car, the 4WD makes the car jerk a bit when turning slowly into a parking spot. It's not a big problem, but can get a little annoying. Also, this model Jeep gets 14 city, 17 highway, on average so it's not the best with gas prices as current, but if you're doing mostly hwy driving, it can get 17-20 mpg on long trips!
Great Performance Suv With 4wd, Ready To Take On Any Weather. — This model Jeep is one of the easiest to take care of. Low maintenance, great performance and endurance, easy to clean interior, roomy, and ready to go just about anywhere. Add a nice lift-kit and other offroading add-ons and this model would be perfect for driving in the dirt!
Displaying 1 - 10 of 64 1998 Jeep Grand Cherokee reviews.
Looking for a Used
Grand Cherokee
in your area?
CarGurus has

56,701

nationwide Grand Cherokee listings starting at

$795

.