1998 Honda Accord
User Reviews
1998 Honda Accord
Review Ratings
Average Ratings from

65

reviews
Performance:
Appearance:
Build Quality:
Overall:
Review Highlights
Click to filter reviews below
Displaying 1 - 10 of 65 1998 Honda Accord reviews.
mh207

writes:
1998 Honda Accord EX
Review
Pros
Reliability overall
Moonroof on the EX
Decent highway mileage
Decent AC
Child safety locks on rear doors
5-speed manual transmission (if that's what you want)
Cons
High-ish purchase price
Major problems with remote control (see Review)
Flimsy rear bumper
Poorly designed visors
Side mirrors don't retract

Reliable Overall — Something wrong with remote control fob from the very beginning. Both original remotes have had the same problems: even with a fresh battery you don't know if remote will work or not, which defeats the purpose late at night in the dark. If anything accidentally touches the Panic button, it will set off the car alarm which is embarrassing and scary when you don't know how to turn it off. (Press the Unlock button.) Door locks are kind of unpredictable, too. They sometime lock themselves soon after you exit the car--so you'd better make sure you have the key with you. It's a pain when doors lock and you still have lots of stuff to unload from the car. Other weird issue with the locks/alarm system is that if the windows are down but doors locked and you stick your arm through the window, that might or might not triggers the alarm. So as far as I'm concerned, Honda should have offered to fix the problem for free (I asked dealerships); being potentially locked out of your car is beyond mere aggro. Whoever designed the visors should be shot--you practically have to wrestle them open, which is distracting and dangerous when driving. And the visors themselves are too long or the pull-out visor extensions are, because there is no way to completely shut out glare if you want to be able to see the whole rearview mirror, let alone reposition it. Major annoyance bordering on defect IMHO. The rearview mirror is adequate, but again, you practically need the strength of Atlas to flip the lever that shifts the mirror angle for night driving/headlight glare. The whole mirror actually fell off around age 12 when I pushed the lever. Something about the design (where door edge or window trim is positioned?) also limits visibility in some way, making it super-critical to doublecheck for blind spots when moving left a lane. Rear bumper should be sturdier. Both sides have developed cracks, which a body shop can glue underneath, but come on. Plastic for a rear bumper? Probably doesn't help to live in a cold climate, but still. Speakers are fine, but enough highway noise gets through enough to make it hard to hear the highs and lows if you're a music buff. Replaced tires at age 11; had to replace catalytic converter around age 12, which was expensive of course (over $1000 if I remember correctly). Now as the car approaches year 16, I worry that transmission will be the next major expense despite being pretty good about laying off the clutch. Car has great legroom but that makes car longer than most sedans and thus takes up more space to park. (More of an issue now that the trend is toward smaller cars.) The Accord was the same length as our Volvo 240 DL wagon, which had about the same amount of legroom but a lot more cargo space. See "Comments" section for more info about trunk and back seat features. Speakers are fine, but enough highway noise gets through enough to make it hard to hear the highs and lows if you're a music buff. The Accord has a nice throaty engine, but the horn? Ridiculous. Practically sounds like a toy. And the horn is very poorly designed, because you almost have to pound it to make it go off. W-a-a-y too hard to press. There is no separate button on the steering wheel for the horn, not even a label on the center panel indicating where to press. Which says to me: Press anywhere, or at least aim for the middle. Right? But more than once I've hit the horn and nothing happened, which is *not* a good thing when a distracted driver is plowing toward you. I'd be very interested to know if others have had the same experience. I'm no car mechanic so I can't cite specs; all I can say about performance is that it's decent for a 4-cylinder engine. The only time I've had problems are on very steep hills--but since I have a manual transmission, I just downshift. Sometimes when I' take the car in for an oil change, the mechanic forgets to reset whatever it is he's supposed to, meaning that the oil light on the control panel goes off. Scared me the first time it happened. Whatever it is that is supposed to be reset should do so automatically. (Another design flaw IMO.) Since moving to a cold clime, I've notice little glitches that might be caused by extreme cold. Probably a lot to do with the age of the car, too. One morning last winter the heat decided not to work despite the fan being on full blast. Mechanic said it's not uncommon (at least here in MN) for the sensor under the temp knob to detach, and the fix was fortunately quite easy--just pop on a new knob that cost around $15. Deep glovebox but almost too deep--wish it were less vertical and more horizontal so you could see at a glance everything in there. Dealer replaced the seatbelt anchor or whatever it was that was recalled several years ago. I've only had to replace headlamps twice, I think, in 16 yrs which is pretty decent.
Primary Use: Commuting to work
Looking for a Used
Accord
in your area?
CarGurus has

60,326

nationwide Accord listings starting at

$1,299

.
Josh

writes:
1998 Honda Accord LX
Review
Pros
Pretty much everything.
Accord — I never thought I would ever buy a Honda. This car is amazing! It was pricier than my Mustang and Eclipse combined, but it is definitely worth it! The only problem I've had with this car is that the Power Steering pump went out. I'm the second owner and it has 136xxx miles on it. The car is beautiful inside and out. Maintenance is very inexpensive, I get around 33 MPG. It is a stick so I have fun driving it. It has a very straight forward style to it, not my favorite body style by Honda, but it does the job. I'm more of a sports car guy, but being a college student, thats not the best option right now.
Primary Use: Commuting to work
Steven

writes:
1998 Honda Accord LX
Review
Pros
Very easy to drive, acceleration is sufficient enough, stylish, low maintenance, nice-sized cup holder, deep glove box, decent highway MPG
Cons
Road noise (its not a cadillac), no 60/40 folding seats, old style trunk hinge, uses up more oil than normal
This Is A Very Great Beginner Car To Teach Beginners How To Drive! — I have owned a 1998 Honda Accord LX for nearly 4 years now (May 2007) with minimal expected repair costs. Including regularly scheduled maintenance I have invested roughly $1,800 in repair costs ($800 of that in a timing belt + water pump change). I purchased the car for $6,200 + tax and title which brought the grand total to $7,000. If you calculate the 46 months I have owned the car it has cost me $191.30 a month to keep this car on the road (under $50/wk). Not the greatest in the world, but still very respectable for the reputable Honda nameplate. I cannot vouch on behalf of the 6 cylinder Accords but I heard that they had tranny problems so my personal recommendation would be to stick with the 4 bangers.
Primary Use: Commuting to work
Brandy

writes:
1998 Honda Accord EX
Review
Pros
consistently reliable
Cons
Starting to look its age
143,000 Miles And Still Going In My Accord — My Accordian now has 143,000 miles on the odometer (and original clutch) and is consistently reliable. Like its owner, it's starting to look its age. City fuel economy averages about 22-23 miles per gallon, though highway economy can be as high as 26 mpg. My current registration is overdue, but It needs to pass a smog check, and before I can do that I need to make the "check engine" light go out. And before I can do that, I need to get paid.
mwkirchner

writes:
1998 Honda Accord EX V6
Review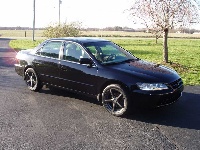 The Best Of The Best — I can only rave about this car. I have owned it now for 4 years and I have nothing but good things to say about it. The comfort, the power, the looks. All top notch. Rides so smooth. Mine is the V6 and I get about 30 mpg on a trip. Somewhere in the 24 range from city driving. I do not think that is too bad for a V6. I gladly give up a little mpg for the power that this car has. I had a 1995 Accord LX wagon prior to this car and thought it was the bomb. Once I got this car and drove it for a while I knew I was wrong. The 1995 was a nice car, but it does not compare to the room and ride I get from the 1998. If you have not driven a Honda ... your loss. They are some of the very best vehicles on the road today ... bar none.
Owner for 4 years, 0 months
Miles Driven per Year:10,000
velocity_of_chicago

writes:
1998 Honda Accord EX V6
Review
Pros
good motor and transsmission
Cons
Small for more then 4 persons

Reliable — This car were made to run longer life if you take care the vehicle oil change every 6 months spark plugs every year and good gas it will take you anywhere you want other then that is a honda this will be one of the best honda models
Primary Use: Commuting to work
Brian

writes:
1998 Honda Accord EX V6
Review
Pros
Power, comfort, trunk space
James

writes:
Pros
Fast, comfortable, reliable and matured well, looking very tidy for a 15 year old car when it came to me.
Cons
Expensive parts, and difficult to find new spares for missing interior clips and etc.

Expensive to insure if you've got an 'at fault' in the last 5 years, but shopping around brought the cost down.
Loved It. Gutted When I Wrote It Off. — All in, if I was looking to buy another mid-size family saloon for medium to long distance work, I'd think seriously about another Accord. It was very comfortable, behaved well in traffic and on the open road. The Accord I had was a 2.2 V-Tec, it was plenty fast for fun and traffic light drag racing, but economical on the motorway if driven carefully.
Primary Use: Family transportation
virtualfreak

writes:
1998 Honda Accord EX
Review
Pros
Great on gas mileage; very comfortable ride for commuting. Enough bells and whistles for its time that it still feels modern. Easy DIY for minor fixes.
Cons
Manufacture defect regarding clear coat causes it to peel off after several years leaving the appearance unattractive. Honda has never been willing to recall and fix (to my knowledge).

Reliable And Dependable — The car handles great; has a nice fit and finish; and looks attractive. It has lasted me 14 years and only had a few major unexpected repairs such as had to replace the radiator after it sprung a leak and had to replace some of the smog components (catalytic converter) and sensors after they failed.
Primary Use: Commuting to work
Eddie

writes:
1998 Honda Accord LX
Review
Pros
love everything about it cause it was my first
Cons
well i can't think of any so ill just put because its FWD lol
The One That Got Away :( Lol — This car has always been close for me & my dad our first car ever we bought at a used car lot it was just imported from Singapore Performance: yall all know about honda's and vtec's yea i love the 2.0 vtec braking was spot on for this ride , handling wasn't that bad cause its FWD Build Quality: well me & dad had an accident that's when everything started to go bad from there nearly all our money went into this accord cause it was part of the fam but parts were hard to get and expensive so yea wish-bone broke and because it was a auto-transmisson after the accident it always had problems switching gear the car would rev and wouldn't change gear for a few minutes, sometimes you might just have to turn off the engine and turn it back on... Apperance: well in my opinion i love the look of the Accord LX has that sporty sedan look ...interior was really okay for me loved the black leather and not to many buttons on it which was just good for me mileage was great fun to drive especially when VTEC KICKED IN YO! ;) lol jks jks this car has always got a special place in my heart! was kinda sad when Dad sold it...and he didn't even told me after being from my country for almost 6 years i came back to see an Indian man bought it and is driving it proudly ....i see he fixed her up and she also has a new spoiler happy to see she okay :)
Primary Use: Family transportation
Displaying 1 - 10 of 65 1998 Honda Accord reviews.
Looking for a Used
Accord
in your area?
CarGurus has

60,326

nationwide Accord listings starting at

$1,299

.