1998 Honda Accord
User Reviews
1998 Honda Accord
Review Ratings
Average Ratings from

62

reviews
Performance:
Appearance:
Build Quality:
Overall:
Review Highlights
Click to filter reviews below
Displaying 1 - 10 of 62 1998 Honda Accord reviews.
Josh

writes:
1998 Honda Accord LX
Review
Pros
Pretty much everything.
Accord — I never thought I would ever buy a Honda. This car is amazing! It was pricier than my Mustang and Eclipse combined, but it is definitely worth it! The only problem I've had with this car is that the Power Steering pump went out. I'm the second owner and it has 136xxx miles on it. The car is beautiful inside and out. Maintenance is very inexpensive, I get around 33 MPG. It is a stick so I have fun driving it. It has a very straight forward style to it, not my favorite body style by Honda, but it does the job. I'm more of a sports car guy, but being a college student, thats not the best option right now.
Primary Use: Commuting to work
Looking for a Used
Accord
in your area?
CarGurus has

81,660

nationwide Accord listings starting at

$1,900

.
Steven

writes:
1998 Honda Accord LX
Review
Pros
Very easy to drive, acceleration is sufficient enough, stylish, low maintenance, nice-sized cup holder, deep glove box, decent highway MPG
Cons
Road noise (its not a cadillac), no 60/40 folding seats, old style trunk hinge, uses up more oil than normal
This Is A Very Great Beginner Car To Teach Beginners How To Drive! — I have owned a 1998 Honda Accord LX for nearly 4 years now (May 2007) with minimal expected repair costs. Including regularly scheduled maintenance I have invested roughly $1,800 in repair costs ($800 of that in a timing belt + water pump change). I purchased the car for $6,200 + tax and title which brought the grand total to $7,000. If you calculate the 46 months I have owned the car it has cost me $191.30 a month to keep this car on the road (under $50/wk). Not the greatest in the world, but still very respectable for the reputable Honda nameplate. I cannot vouch on behalf of the 6 cylinder Accords but I heard that they had tranny problems so my personal recommendation would be to stick with the 4 bangers.
Primary Use: Commuting to work
Brandy

writes:
1998 Honda Accord EX
Review
Pros
consistently reliable
Cons
Starting to look its age
143,000 Miles And Still Going In My Accord — My Accordian now has 143,000 miles on the odometer (and original clutch) and is consistently reliable. Like its owner, it's starting to look its age. City fuel economy averages about 22-23 miles per gallon, though highway economy can be as high as 26 mpg. My current registration is overdue, but It needs to pass a smog check, and before I can do that I need to make the "check engine" light go out. And before I can do that, I need to get paid.
mwkirchner

writes:
1998 Honda Accord EX V6
Review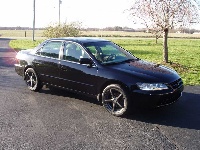 The Best Of The Best — I can only rave about this car. I have owned it now for 4 years and I have nothing but good things to say about it. The comfort, the power, the looks. All top notch. Rides so smooth. Mine is the V6 and I get about 30 mpg on a trip. Somewhere in the 24 range from city driving. I do not think that is too bad for a V6. I gladly give up a little mpg for the power that this car has. I had a 1995 Accord LX wagon prior to this car and thought it was the bomb. Once I got this car and drove it for a while I knew I was wrong. The 1995 was a nice car, but it does not compare to the room and ride I get from the 1998. If you have not driven a Honda ... your loss. They are some of the very best vehicles on the road today ... bar none.
Owner for 4 years, 0 months
Miles Driven per Year:10,000
James

writes:
Pros
Fast, comfortable, reliable and matured well, looking very tidy for a 15 year old car when it came to me.
Cons
Expensive parts, and difficult to find new spares for missing interior clips and etc.

Expensive to insure if you've got an 'at fault' in the last 5 years, but shopping around brought the cost down.
Loved It. Gutted When I Wrote It Off. — All in, if I was looking to buy another mid-size family saloon for medium to long distance work, I'd think seriously about another Accord. It was very comfortable, behaved well in traffic and on the open road. The Accord I had was a 2.2 V-Tec, it was plenty fast for fun and traffic light drag racing, but economical on the motorway if driven carefully.
Primary Use: Family transportation
virtualfreak

writes:
1998 Honda Accord EX
Review
Pros
Great on gas mileage; very comfortable ride for commuting. Enough bells and whistles for its time that it still feels modern. Easy DIY for minor fixes.
Cons
Manufacture defect regarding clear coat causes it to peel off after several years leaving the appearance unattractive. Honda has never been willing to recall and fix (to my knowledge).

Reliable And Dependable — The car handles great; has a nice fit and finish; and looks attractive. It has lasted me 14 years and only had a few major unexpected repairs such as had to replace the radiator after it sprung a leak and had to replace some of the smog components (catalytic converter) and sensors after they failed.
Primary Use: Commuting to work
Eddie

writes:
1998 Honda Accord LX
Review
Pros
love everything about it cause it was my first
Cons
well i can't think of any so ill just put because its FWD lol
The One That Got Away :( Lol — This car has always been close for me & my dad our first car ever we bought at a used car lot it was just imported from Singapore Performance: yall all know about honda's and vtec's yea i love the 2.0 vtec braking was spot on for this ride , handling wasn't that bad cause its FWD Build Quality: well me & dad had an accident that's when everything started to go bad from there nearly all our money went into this accord cause it was part of the fam but parts were hard to get and expensive so yea wish-bone broke and because it was a auto-transmisson after the accident it always had problems switching gear the car would rev and wouldn't change gear for a few minutes, sometimes you might just have to turn off the engine and turn it back on... Apperance: well in my opinion i love the look of the Accord LX has that sporty sedan look ...interior was really okay for me loved the black leather and not to many buttons on it which was just good for me mileage was great fun to drive especially when VTEC KICKED IN YO! ;) lol jks jks this car has always got a special place in my heart! was kinda sad when Dad sold it...and he didn't even told me after being from my country for almost 6 years i came back to see an Indian man bought it and is driving it proudly ....i see he fixed her up and she also has a new spoiler happy to see she okay :)
Primary Use: Family transportation
areunotentertained

writes:
1998 Honda Accord LX
Review
Pros
Quick, fits anywhere when parking, great cargo space, inexpensive to fix, still good on gas after 15 years
Cons
Transmission is suspect, boring to look at

Bland But Incredibly Reliable — Overall, this car is outdated and could use a different transmission. Beside that, it's a reliable machine that works really well as a daily driver. Even in the snow, I trust this car completely. I would recommend it to anyone who needs a second car as a winter beater or a daily driver.
Primary Use: Commuting to work
Josh

writes:
1998 Honda Accord LX
Review
Pros
Its reliable. parts are cheap to many online website and you can build for looks
Cons
not built for power. only 150 horses stock not very strong got a little zoom zoom though
Brianna

writes:
1998 Honda Accord LX
Review
Pros
The interior is very spacious and it has a low maintenance cost.
Cons
The power and acceleration could be better, but it is only a 4 cylinder - 2.3L engine.
1998 Honda Accord Lx — Since I got my car in 2010, it's been very reliable. It handles exceptionally well for a sedan, decent acceleration, and very good braking. So far, it hasn't needed any repairs. It has a lot of leg room, both in the front and the back. It has decent gas mileage; much better than bigger vehicles. Overall, it is very fun to drive.
Primary Use: Commuting to work
Displaying 1 - 10 of 62 1998 Honda Accord reviews.
Looking for a Used
Accord
in your area?
CarGurus has

81,660

nationwide Accord listings starting at

$1,900

.