1998 BMW 3 Series
User Reviews
1998 BMW 3 Series Review Ratings
Average Ratings
from 70 reviews
Performance:
Appearance:
Build Quality:
Overall:
Review Highlights
Click to filter reviews below
Displaying 1 - 10 of 70 reviews
Abagail

writes:
1998 BMW 3 Series 328i Review
Pros
makes me smile to think about it, premium sound enhances the experience
Cons
would like heated seats, steering wheel as well as radio controls on the steering wheel
Ultimate Driving Machine — Performance-exeptional. If you have never driven a BMW and you enjoy truly motoring, it is quite a pleasure. Quality? Outstanding, I have been through tons with BMWs and they perform well. My last one had a tree fall on it and was fine. Appearance, sexy as hell. I have the sport wheels and that Alpine white with black leather is classic. Cost of ownership...worth it. Must be precise with maintence, periodic costly repairs. Rare repairs, end result; out weighs the means. FUN FACTOR the ultimate driving machine, need i say more?
Looking for a Used

3 Series

in your area?

CarGurus has

36,545

nationwide 3 Series listings starting at

$1,000

.
ks2013

writes:
1998 BMW 3 Series 328i Review
Pros
Incredible handling and steering feel, fun to drive, still a head turner 15 years later
Cons
Costly to maintain if not mechanically skilled, some aspects of the car are of questionable quality/durability, cooling system prone to failure

An Incredible Machine — I have owned an alpine white on beige E36 328i since September 2009. This car is nothing short of spectacular in almost every conceivable way. This is a very fun car to drive and I can't help but smile sometimes wh I juen driving. The handling is razor precise and the steering feedback is amazing to the point of being telepathic. Ultimately, this car is made for the highway where it's power truly comes alive. The ease of passing makes it seem like the other cars aren't even moving, the rev-happy inline six humming away, the exhilaration of feeling one with the road and car seem to come together to create something that is truly unique. However, it isn't all peaches and cream. If you buy this car expecting carefree Toyota-like maintenance and think it's German and not going to break you are very wrong. This is a very needy vehicle maintenance-wise- especially since the newest E36 non-M sedan models are now 15 years old in 2013. This is a car that requires PREVENTATIVE maintenance. You need to KNOW and UNDERSTAND this car in order for it to not drive you insane, which if you don't attend to its needs is the ONLY place it will be driving you. None of that matters though when everything is squared away. Every time I get in the car to go somewherest want to keep driving until I run out of roads.
Thomas

writes:
1998 BMW 3 Series 328i Review
Cons
Its starting to rust a bit now.
Toms 328i — Awesome car, totally under-rated. 90% of an M3 for 50% of the cost! I love the understated looks, but it is starting to look a bit dated now. Really nice to drive, proper rwd sideways fun! Just wish I'd bought one years ago.
Sean

writes:
1998 BMW 3 Series 328i Review
Pros
High performance, braking amazing (abs), airbags, handling brilliant.. build quality solid! Appearance... its bmw...!!
Bmw — The performance is amazing.. in its speed, the braking is abs.. and handles brilliantly. It has never been for repairs, but goes in to bmw for its regular service. The car colour is arctic silver, with 17inch motorsport rims and sunroof. Interior i have dvd player and dvd screen. The seats are a grey leather. The petrol consumption is quite high as it is a 328i .... ( 3 litre motor)... 180kw. The car is adrenaline and exhiliration all in one package! I love BIMMER!
king444

writes:
1998 BMW 3 Series 328i Review

Sweet — the way it looks and drives. really a great car, first BMW and will not be the last the front seats are very relaxing all upgrades on this car have never faulted on me , takes a lot of oil tho for a small car
Primary Use: Commuting to work
Jamie

writes:
1998 BMW 3 Series 328i Review
Excellent!! — The performance of this car is outstanding for what it is. It is a solidly built car. It has classic BMW looks and the M kit and wheels really make it look sporty. This car costs a bit in fuel but gets 30 mpg reasonably easy. It is also amazingly good fun to drive.
Primary Use: Commuting to work
rwtimmons

writes:
1998 BMW 3 Series 328is Coupe Review
Cons
Expenses, can't fit carseat :)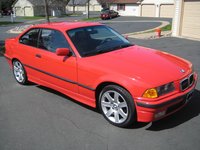 Ultimate Fun Machine — Tight precise steering makes for great agility. Responsive throttle and good acceleration are a testament of the excellence of the drivetrain. Maintenance is actually not bad if you can do it yourself, but having a shop work on the vehicle can get expensive.
Primary Use: Commuting to work
Andrew

writes:
1998 BMW 3 Series 323i Convertible Review
Pros
Gearbox and day-to-day performance
Much Quicker And Sportier Than You'd Expect — At first glance, not the most exciting looking car but the 2.5 litre engine, coupled with a great gearbox on this version, really does perform with a top speed of over 140mph that is definitely achievable. More relevant to day-to-day trips, though, was the way it shot off at traffic lights with a brilliant 1st and 2nd gear ratio. Lighter than the 5 series, it seemed lots sportier too, just a bit boring inside, even with the SE trim and lacking the classy feel and panache of its bigger brother. Damn cheap to run, though, and easy to fix almost everything.
Primary Use: Commuting to work
deKub

writes:
1998 BMW 3 Series 328i Review
Pros
50/50 weight distribution, great driving feel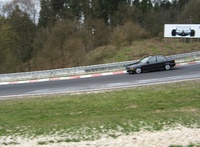 Amazing Mechanical Work Of Art. Become The Most Skilled Driver On The Road. No Kidding — Performance - I have driven the Neurburgring 10-15 times in it. During two laps in August '08 with bald winter tires in the rain, I attempted to improve my drifting technique. Out of the four times I spun out, I slid off the track three times, never damaging the car. I have so much control and confidence in the ability of this car. I December '06 I participated in the ADAC safety course. The final "obstacle" is to hit a spinning disk at 50 kph which throws the cars sideways onto a wet, slick surface which you are to attempt to straighten out and regain control. I hit the disk hard enough so that there was no way I was going to put the rear end back where it was supposed to be. I floored it and spun a 360 and while still slightly sliding at the other end of the course I punched it again to do another 180 to bring the car back to the end of the line. I received thumbs up from the instructor's daughter. I don't think they had ever seen that happen before. Build Quality - Earlier this month I past over 200k miles on the odometer while driving through Tuscany and then thrashed it on Stelvio pass coming back home to Germany. Appearance - I'm sure you know what it looks like. Judge for yourself. Cost of Ownership - It has been a little needy lately. The trunk rusted from the inside, so that was replaced last month and gave it another alignment. Also, one of the fans was making excessive noise. Replaced that. Fun Factor - This car was born on the "Ring" and is comfortable to drive many miles at a time. I also drift traffic circles when it rains. Pretty fun:)
Primary Use: Commuting to work
minnesotanate

writes:
1998 BMW 3 Series 328i Review
Pros
Has always started and ran just like it was new. Handles better and rides smoother than even new audis and the reliabliity and comfort put mercedes to shame. Satey features, from top notch emergency handling, to side impact air bags and elecctronic traction control that actually works really well on ice, snow and gravel. Quiet ride, fun exhilarating drive due to responsive throttle and powerful L6 E36 Engine. Everything is over engineered and so durable. car NEVER needs servicing except routine maintenance . best Car I;ve ever owned, it'd be worth all the trouble in the world but it has never given me any trouble at all.
Cons
The Air Filters have problems on this model year, but if you have a K&N cold air intake it fixes this and improves power greatly. Price is a bit steep but worth it. The built in computers on these can produce false alarms about needing to check the brakes, and re-programming the computers is impossible without paying the BMW Dealership quite a bit to look at. but the brakes NEVER have issues anyway, with such large rotors and strong calipers.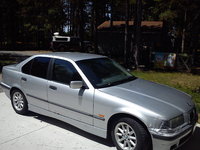 Fast, Nimble, Sleek, Overengineered. Luxurious, Reliable. Ultimate Machine. — Drives like a dream, power and handling like no other car. every part appears to be built to milityary grade durability specifications. Apples and Oranges above the so called competitors. Agreed to be one of the longest lasting best buys of all time. The '98 is the peak of the 3rd Generation of the BMW 3 Series, and the final year of the "E36" in the 4 door category. A true pleasureto look at and to own and to drive, built to last a lifetime if not abused too hard. I believe the '98 328i with all the options and the sport package is the Ultimate Machine.
Primary Use: Family transportation
Displaying 1 - 10 of 70 reviews
Ask CarGurus about the 1998 BMW 3 Series
Average response time:
8.5 hours
,
# of BMW 3 Series owners:
24,467
Looking for a Used

3 Series

in your area?

CarGurus has

36,545

nationwide 3 Series listings starting at

$1,000

.