1998 Audi A4
User Reviews
Average Ratings from

55

reviews
Performance:
Appearance:
Build Quality:
Overall:
Review Highlights
Click to filter reviews below
Displaying 1 - 10 of 55 1998 Audi A4 reviews.
Rdstallone

writes:
1998 Audi A4 2.8 Avant Quattro
Review
Pros
Really nice, quality car. Handles smoothly. Steering is solid.
Cons
Not great on gas but it is a v6.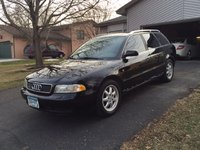 Cute Car — Nice car that is reliable. A tad expensive for repairs but nice car in general. The car is comfortable and roomy. Cargo area has more room than you would think! Lots of room for bringing anquiqes home. It handles super in snow!
Primary Use: Commuting to work
Looking for a Used
A4
in your area?
CarGurus has
10,388
nationwide A4 listings starting at
$1,795
.
Lloyd

writes:
1998 Audi A4 2.8 Quattro
Review
Pros
very tight and you can feel the entire car just by sitting upfront. easy to handle, i think its just a great car to have but the year is lacking what i need in a vehicle and that is multiple options on the dashboard.
Cons
i dont know if its the fact that i drive all day but i would say im usually visiting the gas station frequently.
Very Good — i like the kick it gives off when i press the gas, this car really picks up speed when needs to. This is a great car for someone who is just starting out driving or just needs a vehicle for a year or a few months to get from point A to Point B without problems.
Javier

writes:
Pros
Fun to drive, gas mileage, handling
Steve

writes:
1998 Audi A4 2.8 Quattro
Review
Pros
Solid, no-nonsense German engineering, surprisingly roomy trunk, quattro AWD, nimble handling, very smooth highway ride, DIY maintanence not bad
Cons
Limited space in the back seat, repairs requiring a specialty shop are frequent and expensive, short gearing (70 mph = 3000+ rpm in 5th on the highway) contributes to less-than-stellar mileage on the highway
This Car Is A Tank, If You Can Pay For It — I "inheirited" this car when I was 18 years old. This was my mother's car since new, and he didnt want her commuting in a then-7-year-old car with 104,000 miles. So for her 50th birthday, he bought her a Mini Cooper S (which, by the way, is fantastic to drive). I took over this car, and my previous car, my beloved 1987 Jeep Wrangler, went back to my cousin because the insurance cost was unbelievably high. I had been driving this car since I was a junior in high school because, before I got the Jeep, this was usually the car I drove because my older sister had priority over the car that we shared. I learned how to drive stick, and she didn't, so I would always get to borrow Mom's car. She's a beautiful 1998 Audi A4 2.8 Quattro that my parents bought new when we moved back to the US from France. My mom wanted a stick shift, and my dad wanted AWD, a combination that was exclusively provided by Audi in the late 1990s. The 2.8-litre V6 engine was updated that year, going from a single-overhead-camshaft (12-valve) configuration to a dual-overhead-camshaft with 5-valves-per-cylinder (for a total of 30 valves) and variable valve timing, which boosted output from 172 to 190 horsepower. This particular Audi was bought off the lot of Pray Audi in Greenwich, CT and came equipped with a standard 5-speed manual transmission. Optional extras included: leather interior, 6-disc CD changer, and optional Hibiscus Red Mica metallic paint. All for $30k. You can't buy a base FWD A4 for that nowadays. It also came with a free 3 year/50,000 miles service plan which included a loaner car, which is also something Audi doesn't offer anymore. Now, 10 years (and 9 Northeast winters) later, the car is still with us. It's a tick shy of 130,000 miles, and as a testament to its German engineering, it still feels very much as solid as day 1: not a squeak or rattle can be heard on the road, unlike the various American and Japanese cars that I drive at my place of employment (Enterprise Rent-a-Car). This is surprising given the fact that for the first 104,000 miles, the car was beat on by my mother; thankfully, the Mini hasn't been driven all that much to have been given such a beating. It has also taught both me and my brother how to drive stick, and is still on its original clutch, which is surprising given that its an AWD car with 130,000 miles. More praise can be extended to the interior, which is simple and remains in original condition with routine cleaning. The all-weather quattro system attributes to nimble handling in most conditions, and is very handy in the snow. The highway ride is spot-on: it rides like a bigger A6 (it has the standard suspension). It surprisingly has handled the many roadtrips we've thrown at it, and is a very comfortable traveller. Now, my relationship with the car hasn't always been filled with sunshine. Because of the car's rough history with my mother, when I inheirited the car, it came with a faulty Mass-air-flow sensor, something that has been replaced on the car 3 times since I've taken over it. The wheel bearings are an Audi sore-spot, and despite having replaced the rears at 90,000 miles, they are once again beginning to make noise not even 40,000 miles later. This past fall, there was a major service done at 126,000 miles where the technicians diagnosed many oil leaks (among other things), and recommended that the car have a valve job done because it was burning oil. The other repairs were too expensive, so the valve job was not done. The exhaust system has a few leaks here and there, but the rest of the system is still in good condition. DIY maintenance has been fairly decent: due to Audi's notoriety amongst driving enthusiasts for having its engine mounted forward of the front axle, the oil drain plug and filter are conveniently located right behind the bumper. Other nitpicks: performance has decreased noticeably in 10 years (can't keep up with my friend's 2000 BMW 528i which has similar power, more weight, and an automatic tranny), trim panels have started to fall off (which i've noticed happens to other A4s of the same vintage), electronic gremlins (seat belt/headlight warning buzzer stopped working so I sometimes leave my lights on; radio works intermittently, sunroof pops open sometimes). Overall, I appreciate the car for what it is. My parents have picked up the maintenance tab; I otherwise wouldn't be able to afford this car. From a personal standpoint, I need a car that's rugged and simple to work on (ie cheap), something that I won't worry about when I haul all my gear around or tow a 500 lb. race car, or carry a couple kegs (hey, I'm a college student). This car is too nice (even at 10 years old) to be able to do any of that, which is why a Jeep Liberty or Wrangler is more appropriate for me. But if I had a legit job, or needed to impress people, then this car is tremendous value, if you don't abuse it and you're able to pay attention to the upkeep.
Neill

writes:
1998 Audi A4 2.8 Quattro
Review
Pros
high-end styling, comfortable ride, smooth (manual) transmission, many comforts for passengers.
Cons
Lacks performance of other German cars by today's standards, outrageous repair bills if anything goes wrong, which it will.
Yuppy Car With Decent Performance, A Cramped Cabin, And Nightmarish Repair Bills. — I bought this car after selling my Mustang GT and about 7 months before buying my 3000GT VR4. The car was WAY more practical than my mustang but the power just wasn't there, I even made sure to get the 198hp version that came out halfway through 1998 (5 valves per cylinder instead of the early 1998's 2 vps). Anyway, everyone still thought I had a nice car, which it definitely is, I just should have cowboy'd up and got the S4 of the same year. Anyway, the clutch went and the repair bill was $1200 so I got it back in good shape and sold the thing for a couple grand more than I bought it for. Do yourself a favor, buy a saab, it handles just as well as the audi except for in HEAVY snow and will give you less headaches.
Deathjam4

writes:
1998 Audi A4 2.8 Quattro
Review
Pros
car runs good and handles great. the engines last quite a long time if you keep it well maintained.
Cons
Calipers tend to stick if not driven which reduces braking power. parts are expensive new like most audi's but not as bad as the later models in the 2000 range and up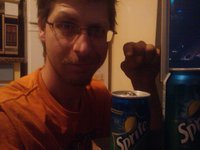 Ballsy — love the handling, love the all wheel drive. this is a car that likes to go fast and keep you glued to the back of your seat. i have not had a chance to drive a 2 wheel drive model but the 4 wheel drive model sticks to the road like glue.
Primary Use: Commuting to work
BSTAHARA

writes:
1998 Audi A4 2.8 Quattro
Review
Pros
love driving this car, absolute joy to drive
Cons
i bought it used, prior owner obviously didn't do the basic maintenance so i have put a lot into getting it into shape, have had quite a bit of downtime getting it fixed, not to mention cost

Love It When It's Running — back seat leg room is poor, oil leaks and break repairs were costly at first; fun to drive; fuel economy is good for a 6cylinder, AWD car. front seat/driving comfort very good; handling/power very good also; parts are fairly easy to find
unk703

writes:

Take 90 Degree Turn With A Downward Slope At 95mph And Yyou'll Love Wet Undies — This car is not for the evo lovers, or the porsche fanatics, but for bimmerphiles who are sick of the higher prices, or vw officianados who need to step up, this is the package. The ride (feel) is unique to a handful of vehicles, last i can recall was a vw corrado or a sport tuned 330ix, and though power is a little lackluster off the line, even 300 hp is not enough anymore, nowadays anyways. Once rolling however, behind the wheel, you can almost claim the world is yours. Not bad for a vehicle that is less than $8000 at current. The a4 v6 is just so responsive in a left right left slalom without the harsh ride, overweightiness (oversteer), and definitely no mudiness in the feel. At 3100 lbs, it picks up once rolling. And the bottom line...balance! You get 23 mph on average for semi-performance, and awd! You just can not beat the value.
Owner for 2 years, 4 months
Miles Driven per Year:15,000
Craig

writes:
1998 Audi A4 2.8 Quattro
Review
Pros
quattro AWD, decent acceleration, great Audi interior (as expected)
Cons
I can't say reliability because it never left me stranded, but wear-and-tear items seemed to wear and tear more often than usual if you're on a budget
Quattro Power! — Overall it was a very good car. I bought it with 140k on the clock and traded it in with 180k for a newer 3-Series. However there were tons of suspension issues ranging from control arms to tie rods to shocks and springs (front and rear for those last two). Power was decent (more than my new 325!) and the low-end torque was pretty good as well. Best part? quattro!! (see picture). That thing was never bothered by even 6 inches of snow on the roads where I live. Usually averaged around 22-23 mpg combined. Personally I think it is a great looking car for 1998 and it held up well to my continued abuse. I also loved the clutch... perfect take-up and feel for heel-toe downshifts.
Allen402

writes:
1998 Audi A4 1.8T Quattro
Review
Pros
Performance, handling, comfort, highly capable in snow.
Cons
Cost of upkeep and repair. Timing belt failure rate early on.
Great Car! High Maintenance Though. — This has by far been the most capable, most satisfying, and most technologically advanced vehicle I have ever owned. It is solid, well thought out and very well built. However, keeping it in top condition is not cheap. This is a maintenance intensive car, and while most parts are reasonable in price, the overall cost of frequent maintenance and service can be quite expensive. The 1.8 Turbo engine has been troublesome to Audi. The original timing belt change interval was reduced from 90,000 miles, to 60,000 miles by Audi after numerous belt failures resulted in destroyed engines. Unfortunately, mine was part of that number. Thankfully I had a good warranty and a VERY good dealership (Carousel Audi in Minneapolis). This car is a blast to drive. Very solid on the road. And with the AWD, the car has excellent grip in rain and snow (it's outstanding in snow), and it even resists pulling out of the lane when the wheels on only one side of the car hit water puddles. Overall I would recommend Audi and the A4. Just be aware of the cost of ownership and if you own a car with the 1.8 Turbo engine... have your timing belt changed regularly without fail!
Displaying 1 - 10 of 55 1998 Audi A4 reviews.
Looking for a Used
A4
in your area?
CarGurus has
10,388
nationwide A4 listings starting at
$1,795
.