1997 Mercury Cougar
User Reviews
Average Ratings from

9

reviews
Performance:
Appearance:
Build Quality:
Overall:
Review Highlights
Click to filter reviews below
Displaying all 9 1997 Mercury Cougar reviews.
davescougar

writes:
1997 Mercury Cougar 2 Dr XR7 Coupe
Review
Cons
alot of luxury power reductions were put on this car from the manufacturer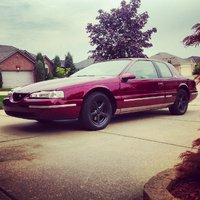 Cougarcoupe — i like what ive done to it personally but i did not like it at first. done some minor yet appealing changes to it. new wheels, changed corner light, replaced mufflers with pipe and tip. looking for a CAI that i have not been able to find, removed air silencer
Primary Use: Commuting to work
xr7man

writes:
1997 Mercury Cougar 2 Dr XR7 Coupe
Review
Pros
Very great gas mileage for a 4.6 V-8,it's not a hot rod but it will get up and go with authority.Rear independent suspension makes for aggressive cornering,with a 5 star stopping, i personally think.Tachometer reads around 2000 rpm's at 65 21 to 2200 at 70 mph.I one time got 28.3 coming from DE to PA approx 230 one way where i went.I did change to a cold air intake $130 1hr to install and what an unbelievable mpg.I was maintain 68 mph 2000 2050 rpms.
Cons
High beam switch to have to push it forward on and then pull it back to dim.The switch it like a electric breaker switch to switch high and low.I still miss the old chevy's on the left upper floor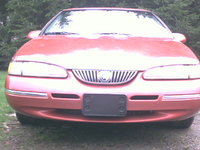 Love Mine .*30*th Anniversary Edition — Mine is a 1997 XR7 has the 4.6L 281ci 8 cyl factory 205 hp i replaced the factory square air box and filter with the cone K&N cold air intake,$130 and 1 hr to install,you'll notice a huge savings in mpg if you began recording before and after upgrade.Power notice? Not noticeable,perhaps on a dyno it might show,but not noticeable.I replaced all my front end moving parts and bushings,then brand new Michelin Defender Tires.WOW!! That's how it felt brand new. F/R and F/R alignment done all in one day,My brother did he's ASE,I highly recommend it,but mine is rust free frame to roof including krevisis. If you found one like that i would jump on it,any other yr is just another car.This is the last and final full size Cougar anniversary edition .Of course they're out there but i wanna see what it's worth in 20yr when i'm 59 : ) Avoid the 6cly if possible at all cost,but 97 if in great cond 6cly is still gonna be worth something several yrs from now.I use mine on dry roads only.Rides very well,like it's on rails.If you're a really big person,it's not the car for you,if you're planning a family or have small children great car.People over 4'-8" tall would be uncomfortable in the back for long drives.It sits low,so it can be tricky for older folks to get in and out of,my grandmother and i drove from her place to mine,i picked her up about 215 mi one way averaged 28.3mpg one time,she's 82..She was laughing and cursing at the same time lol i love her.Awesome car,1st car for an irresponsible or a young person with a heavy foot and parents that worry like mine did when in was 16,no i don't recommend it.It will do 120 i did it.From there idk.Gets there fast to,if you're going about 40 and stomp it to the floor,it'll down shift into 1st till it gets to it's highest out put of hp with rpm ratio ed to shift into 2nd,then repeat,3rd then repeat when it shifts into O/D (4TH) you'll be going aproxx 110,finally when it starts to climb in rpm again you been hit 120,i personally think it could go 130 135. Doesn't take long either.After 100 mph it starts to get floaty feeling,without a spoiler which i don't have i wouldn't go over 70 highway with it,but if you decide to,BE careful and have all the front end parts checked including tires but have fun.
Joe

writes:
1997 Mercury Cougar 2 Dr XR7 Coupe
Review
Pros
I love this vehicle .
Cons
I don't drive it in the winter.
Awesome — Car was built very well & has very little rust on it after15 years. The Cougar was built as a performance car & it has not let me down yet. I love the way it looks & it has great lines. Car has not cost me very much over the years & the Mpg average out to be 24 to 26 on my cougar. I love driving it & I like to take it on long trips.
Primary Use: Family transportation
Leon

writes:
1997 Mercury Cougar 2 Dr XR7 Coupe
Review
Pros
V8 american engine, with a sporty newer look
Awesome — The acceleration is good. Car is fast by it self. Brakes are very quick, and can be the savior from an accident waiting to happen. Handling feels nice, not the best but you just love it either way. Build Quality is great. Beautiful Car. Gas is the only downside. And maintenance is great. EXTREMELY FUN CAR
Primary Use: Family transportation
Francis

writes:
1997 Mercury Cougar 2 Dr XR7 Coupe
Review
This Car Is Awesome — Its a 97 coustang ssssssssson whats not to like. Its black V8 that knocks but refuses to blow up, a/c works, power everything. Its slightly rusted has a leather interior and i beat the crap ouy of it and its smiles and says MORE PLEASE
Primary Use: Sport/fun (spirited driving, track racing, off-roading, etc.)
James

writes:
1997 Mercury Cougar 2 Dr XR7 Coupe
Review
Pros
that big ol' american v8
William

writes:
1997 Mercury Cougar 2 Dr XR7 Coupe
Review
Pros
Fun, comfortable, stylish, fast
Cons
Hard to park, not much fun on narrower city streets, some fit / finish issues
1997 Mercury Cougar "tethys" — This is probably one of the most ridiculous things I've ever purchased, but I love it. It loves wide boulevards and highways. In terms of fit and finish it's coming apart a bit, but it's a 13-year-old car (a 1997 purchased in July 2009), and for my price range it's a great blend of performance and comfort. Just got it, so I can't say a whole lot about it yet. I'll probably have a whole lot to say after this winter! This car has the 4.6L V8, which is just a fantastic engine - it will probably long outlive the rest of the car!
Primary Use: Commuting to work
Jason

writes:
1997 Mercury Cougar 2 Dr XR7 Coupe
Review
A Ride To Enjoy — 1997 Cougar XR7 (30th Anniversary Edition) 4.6L OHC V8 Great Driver, Top Speed 120mph 20 mpg Fun to drive, i think it has a sleek design. the only bad thing is that ford doesn't make 'em anymore. there should be a comeback. hey, the camaro had one.
Primary Use: Commuting to work
Brian

writes:
1997 Mercury Cougar 2 Dr XR7 Coupe
Review
Pros
4.6V8 Dual Exhuast, beautiful exterior and interior, definitly a sleeper at the light
Cons
In its day it was the same as the Mustang Gt in performance, but not now, weight
Decent Sized Modern Muscle Car — Appearance-Very nice appearance package, great, state-of-the-art electronics, classy, but undeniably sporty Performance- the 4.6L in a smaller car is definitly a plus, the handeling is great with sport-suspension, and you can throw the back end out easily enough (thats a good thing lol), great pickup anywhere at anytime. I personally don't have ABS (which is kinda cool, kinda like an old muscle car) but I also don't have trac-loc which sucks Reliability and durability- great first car, safe, strong (as far as accidents), the car is always there unless there is a rare serious problem, just regular maintenance is required
Displaying all 9 1997 Mercury Cougar reviews.
Looking for a Used
Cougar
in your area?
CarGurus has
264
nationwide Cougar listings starting at
$1,750
.