1996 Mercedes-Benz C-Class
User Reviews
1996 Mercedes-Benz C-Class
Review Ratings
Average Ratings from

15

reviews
Performance:
Appearance:
Build Quality:
Overall:
Review Highlights
Click to filter reviews below
Displaying 1 - 10 of 15 1996 Mercedes-Benz C-Class reviews.
Robert67

writes:
1996 Mercedes-Benz C-Class C220
Review
Pros
Low fuel usage, good looks, good space
Cons
Not as much street cred as an E Class
C200 - Better That Anything From The Asia Auto Makers. — Just look at this cute, medium sized thing. Its what every family needs, not to big, not too small, its just right. It has enough power to overtake and scramble up hills, but at the same time it has wallet-friendly fuel usage. Lots of little extras make driving more fun, and as always, Mercedes build quality leaves nothing to be desired.
Primary Use: Commuting to work
Lance

writes:
1996 Mercedes-Benz C-Class C280
Review
Pros
Handling, Midrange, High speed stability, braking power
Cons
0-60, gas mileage, no anti-knock system (won't tolerate low octane), no steering feedback (good for some, bad for others)
Late 90's Compact German Luxury — This was my first mercedes. This isn't a particularly fun car but it does handle very well for what it looks like. Most of this because its german and was designed for constant daily high speed and also accounting for the possibility of emergency maneuvers at its governed speed of 130mph. Acceleration is crap but once it gets up to highway speed the midrange is surprising (191hp). Gas mileage sucked, and it ran bad on anything but premium. the only problem it ever gave me was misfires because of badly worn/aged spark plugs. After new plugs it ran flawlessly at 100+mph with nearly 160k miles on it. The 4 wheel independent suspension in this thing coupled with RWD and traction control make this thing NUMB at 130mph. The steering feels like the car is at a dead stop and it glides from lane to lane even over bumps at those speed like its floating. The brakes are fantastic and will make the needle fall sharply with only a small tap of the foot. I miss this car and might someday buy another, hopefully a C36 or C43, somehow i love this older boxy body-style more than the one that came after it.
Frank

writes:
1996 Mercedes-Benz C-Class C280
Review
Pros
Good on gas, handles well, comfortable, great trunk capacity, peppy engine, driver friendly, advanced premium sound system
Cons
Takes high octane gasoline, expensive to maintain, only 2 power down windows :(
I Love It — Quietly tuned engine that is good on fuel. High Revolutions add that performance sound and feel that you would expect from a race car. roomy interior and comfortable seats. Fantastic BOSE sound system with BOSE subs. The cars over all appearance shows the great engineering feats made by Mercedes-Benz. The boxy look is classic and is sure to draw attention where ever you go.
jessedeefy

writes:
1996 Mercedes-Benz C-Class C280
Review
Pros
Aesthetically pleasing, comfortable seats, good storage space.
Cons
Low MPG, breaks are tough, expensive repairs.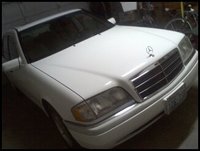 Love My C280 — I love my 96 C280. It really is a beautiful car and I love driving it around. It accelerates very well and, while the breaks are a little on the weak side, it gets me where I need to go and I enjoy getting there! I wouldn't want to have any other car.
Marko

writes:
1996 Mercedes-Benz C-Class C220
Review
Pros
All best expirience for car
It Is The Best Car For Theat Price — performance- good acceleration and braking build quality- the best car i ever had apperance- amaizing exterior styling, good interior styling cost of ownership- gas consuption is super, he has pass over 280 000 km and is still like i have bought him fan factor- this car is best for fan when the rain is starting... I would recommend this car to all my friends.... It is the best car for theat price
Jonathan

writes:
1996 Mercedes-Benz C-Class
Review
Never Owned A Car I Didn't Like And This One Was Certainly No Where On The List Either. — 1996 MB C200 Esprit, 5-sp, sedan, bought this one when I thought I had grown up a bit, only to find it lacking in power, guess I wasn't quite finished with speed yet.
Heigo

writes:
1996 Mercedes-Benz C-Class C220
Review
Nice — Sporty, but not as comfort to ride as an e-class. Has loads of power. Looks and feels really new. Great interior design. A bit low. Has oversteer. Fast drive-by. 3rd gear to 120km/h. This is all about this car, really good car. But would reccomend E-class 124 more.
Primary Use: Commuting to work
Graham

writes:
1996 Mercedes-Benz C-Class
Review
Nice Car — Total quality, the drive is second to none, sports mode is awsome. Fuel consumption is brill, average 31 mpg, Insurance is low, Auto box is smooth, the growl is very comforting along with the very responsive engine. Alot of car for little money......I will next get an avantgard.
Primary Use: Family transportation
Dan

writes:
1996 Mercedes-Benz C-Class C220
Review
1996 Mercedes Benz C220 — The Mercededs C220 was the successor to the popular 190e and provided Mercedes Benz with an entry model to the brand. While providing many amenities, this particular lacked power. Ride quality is great (even now at 200,000+ miles), but handling is somewhat compromised at the limit. Arguably some would say that this type of vehicle is not used to such adventures. On the brighter side, fuel economy is great. The vehicle is 12 years old, and gets a decent 30-32 miles per gallon.
Nick

writes:
1996 Mercedes-Benz C-Class C220
Review
Pros
Sexy, comfortable, great fuel economy, power everything, good sterio.
Cons
Silver, automatic, not a BMW, 148hp, says "ELEGANCE" on the side. Ew.
I'm A Bmw Man At Heart, But I Jumped The Fence For This Baby. — Lives up to the Mercedes reputation for excellent build quality and comfort. This car hardly sniffs the gas, but when you put your foot down you can tell why. Still, I'm no drag racer, and all the bells and whistles make up for it. It handles well in the dry and the wet, but you have to get used to a bit of understeer and some shaky response from the power steering. When pressed it stops on a dime with comparatively smooth ABS. Some things in the design of this car confuse me, like the button that makes the rear headrests collapse, or the one that fires the ashtray over your left shoulder (seriously), but for the most part it has been a pleasure to own and drive.
Displaying 1 - 10 of 15 1996 Mercedes-Benz C-Class reviews.
Looking for a Used
C-Class
in your area?
CarGurus has

20,954

nationwide C-Class listings starting at

$2,850

.