1994 Toyota Pickup
User Reviews
1994 Toyota Pickup
Review Ratings
Average Ratings from

25

reviews
Performance:
Appearance:
Build Quality:
Overall:
Review Highlights
Click to filter reviews below
Displaying 1 - 10 of 25 1994 Toyota Pickup reviews.
Monica

writes:
1994 Toyota Pickup 2 Dr SR5 V6 4WD Extended Cab SB
Review
Pros
Looks, Style, Durability, Construction, Strength, Low Maintenance, Super Fun Drive, Gets you out of a tight spot when you need it to! Great for road trips and dogs!
Cons
gas mileage, windshield, turn radius,
Mine Mine Mine 94 Toyota Pickup 4x4 — ummmm whats not to love. She's my baby, never done me wrong... had her since I was 17!! If I ever replace her it'll be with one just like her! hehehe Peformance wise, braking is decent, acceleration is suprisingly speedy, handles like a truck should- definitely doesnt feel like a sports car! Durability inside and out- my truck is 15 years old and has held up so nicely people often dont believe its a 94! Appearance - people seem to love her, get tons of notes asking to buy her off me.I think she's the pertiest. Gas mileage isnt the best so more expensive in that department but well worth it if you love your trucks.Other than that its been a suuuuuper low maintenance truck- not a lot of costs outside of routine care. Insanely fun to drive... take it absolutely anywhere with no worries, love love love it!
Looking for a Used
Pickup
in your area?
CarGurus has

139

nationwide Pickup listings starting at

$2,995

.
pickupman

writes:
1994 Toyota Pickup 2 Dr STD Standard Cab SB
Review
Pros
22re fantastic engine, 28 mpg, reliability, very low maintenance, great vehicle, very light weight takes off quickly and stops quickly
Cons
comfort level not real high, you feel any imperfections in the road, sore butt on long trips, need to be strong to steer it,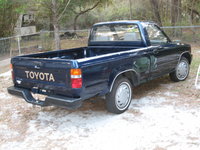 Most Practicle Truck In The History Of Truckism — I purchased this truck in 2000 and it is by far the greatest vehicle I have ever own. I've put 100,000 miles in addition to it's 50,000 it had. It doesn't ride that comfortable, it doesn't handle fantastic, but there is just something about the greatness it has. The 22R 2.4L motor could be as everyone should know one of the best motor ever made. Well maintained it is unlimited, which more than makes up for it's small downfalls in comfort. If up north in the snow and salt sure it will rust out but in florida mine has zero rust and the under carriage looks new. It is a one of a kind great vehicle for the person who wants to get to where they are going. No other truck could come close in the areas Toyota excells beyond all others during this year of manufacturing. I have actually owned more rangers then any other, sure they are more comfortable and handle slightly better but fall short in my eyes. I have nothing better to do then thuroughly check out consumer reports before ever buying even a used truck, and a toyota this old, sure you need to really check it out very well but could still be an excellant purchase to someone want lastability. It is as flawless as when I purchased it. Checking out what other consumers have said about mpg's I get a little better 28 avg all around and 30 on long trips. Has never broke down or gave me any trouble. In other reviews I saw theirs only went 97 mph, he must need a tune up because my toyota does way more is all i'll say. If reliability is the most important thing to you as it is to me then I firmly recomend it. Oh yes if you are over 6 feet you may not fit in this truck easily. I pretty well max it out at 5'11". If ever I sold this vehicle it would be only to a very close friend who needed it more then I do.
Primary Use: Family transportation
Jonathan

writes:
1994 Toyota Pickup 2 Dr DX 4WD Extended Cab SB
Review
Yota! — This truck is awesome in the mud, not so good in the water, the parts seem to break when water is consumed so thats not good, the truck is awesome to drive, 5 speed standard blast in the snow. Yota Power
Primary Use: Sport/fun (spirited driving, track racing, off-roading, etc.)
James

writes:
1994 Toyota Pickup 2 Dr STD Standard Cab SB
Review
Pros
Fun and easy to drive, built with quality and nearly indestructable.
Cons
Large familys, unable to drive manual transmissions.
Love It, No Regrets. — I love this truck to death, it is a die hard, steadfast, workhorse, will take anything i throw at it and more, the engine and drivetrain are of bulletproof design, torsion bar front with dual control arms, and leaf springs out back mounted to an solid 7.5" ring gear, which i find is the only weak point of the truck, this is easily fixed by getting a 1 ton toyota axle off of a 2wd to retain the 5x114 lug pattern, one piece driveline, no carrier bearing to drag down power, the 22re by far is toyota shining jewel of engines, the only ones to match its quality if the 5vzfse or the 3.4L DOHC in the tacomas, and the new 5.7L in the new tundras. The only weak point of the 22re is that it is a single overhead cam with only 8 valves instead of going to a DOHC 16 valve configuration, the 2.4L makes outstanding torque and makes a moderate amount of power for this little 2500lb truck, it has a top end of around 112mph but can be pushed to do more, the only other lacking is no power steering in the base model this is easy for someone who is in decent shape but not good for others, makes parking somewhat difficult as well. The interior is simple, some luxuries being carpeted floors and A/C came stock with tape deck player and AM/FM very simple, but can easily be modified with an aftermarket deck and have all the modern commodities, the interior pieces are very hardy to all kinds of damage, simple to clean, and easy to disassemble and reassemble. The cost of this vehicle is very low, minus normal maintenance and one lifetime replacement of the head gasket this little truck will last for 500,000 miles plus more, and gas mileage depending on how you drive it is very good. Finally this rig is a blast to drive, small and nimble, can fit into many small places and do things other vehicle just cant.
Primary Use: Sport/fun (spirited driving, track racing, off-roading, etc.)
Randy

writes:
1994 Toyota Pickup 2 Dr DX Standard Cab SB
Review
Cons
small- would not like to wreck in it
Great Little Pickup — rock solid little pickup with more than enough gusto for a crazy person like me (I've gotten her up to 100 mph) bought it for 500 after a buddies wife fried her, put a new motor in her and have had few issues since
Primary Use: Commuting to work
Nam

writes:
1994 Toyota Pickup 2 Dr DX Extended Cab SB
Review
Pickup Summary — Love it, torquey, smooth, and tackles corners :D It's easy to maintain, everything is easy to fix. Gas mileage is awesome, and the bed carries alot. I love to drive it wherever I go, and I can't deny how great this truck is.
Ian

writes:
1994 Toyota Pickup 2 Dr DX 4WD Standard Cab SB
Review
Pros
never got stuck off road, never had any problems
Cons
Lacked power with a 4cyl
Incincible — Lacking with a 4cyl but indestructible. This little thing never got stuck. The 4wheel drive was the best part in the winter and it was so easy to have fun in. Never had any problems with the engine except for the weak little 4cyl wasnt quite enough for me. However it did get good gas mileage.
Barry

writes:
1994 Toyota Pickup 2 Dr DX 4WD Extended Cab SB
Review
Cons
Slow, not great on gas.
Tough, Reliable, Slow. — Great vehicle, no frills.. Great 4WD, cheap insurance, awesome in snow, ultra-reliable, easy to work on, I've owned it for three years and put 30,000 miles on it. (140,000 currently) Absolutely zero problems, just routine maintenance. It's a 22R-E 4 cylinder with a 5-speed so I dont have all the problems and super-weak gas mileage and power the 3.0 V6 is plagued with. Although the truck is under-powered, it still gets up to speeds of 70+ MPH on the freeway and averages between 18-20 MPG. Not exactly great gas mileage, but could be a lot worse. The extra-cab is nice and I'm definately glad I went that route. Owning a standard cab would really suck. I have lots of room to haul stuff around if I need to, hey maybe I'll even help you move...
donsaxman

writes:
1994 Toyota Pickup 2 Dr STD Standard Cab SB
Review
Pros
Dependable, dependable, dependable. The A/C (knock on wood) still has the original R134 and still blows ice cold. The gas mileage is great for a pickup.
Cons
Typical rear leaf spring suspension ride but the heavier the load in the bed, the better the ride. It's a standard cab so there's very little room in the cab for 'stuff'.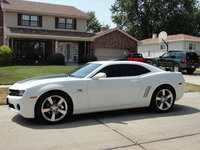 My Best Friend. — Other than routine maintenance and wear items, this has only been in the shop for a single repair (reconnect speedometer cable). The truck weighs in at less than 2700 pounds and with the rear leaf suspension, rear wheel drive, sticky tires, and the 5 speed manual transmission, this truck is a blast to drive. The wider tires really gives the truck a nice stance.
Primary Use: Utility (towing boats, transporting cargo, etc.)
Displaying 1 - 10 of 25 1994 Toyota Pickup reviews.
Looking for a Used
Pickup
in your area?
CarGurus has

139

nationwide Pickup listings starting at

$2,995

.