1994 Saturn S-Series
User Reviews
1994 Saturn S-Series
Review Ratings
Average Ratings from

35

reviews
Performance:
Appearance:
Build Quality:
Overall:
Review Highlights
Click to filter reviews below
Displaying 1 - 10 of 35 1994 Saturn S-Series reviews.
John

writes:
1994 Saturn S-Series 4 Dr SL2 Sedan
Review
Pros
Gets better mileage than most 08 models.
Cons
Mine is an automatic, I wish it were a stick.
cold_steel90

writes:
1994 Saturn S-Series 4 Dr SL1 Sedan
Review
Pros
Great gas mileage, long lasting, cheap parts, and not what was expected. Fun to drive, comfortable ride, and good looks for the year and price.
Cons
Few complaints on it, it is a compact car all in all, but the back seat could use an extra inch or two of leg room.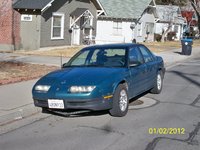 Awesome Car, I Would Buy Another One. — Great acceleration for a 1.9L, and braking work great especially since the car is so light. Lastly, safety... I met another fellow Saturn owner, same model as mine, who had rolled his a few years ago. The car rolled three times and stopped on the roof, upside-down. He still drives it today. All he did was put duct tape on the front and rear quarter-panel, I'd say its a very safe car. Before owning my 1994 Saturn SL, I always looked at them as cheap cars. The truth is they are great quality, cheap cars. I have over 300,000 miles on mine, and I still get 40mpg city and 45+ MPG highway. My weekly 200 mile drive only costs me less then 20$'s at 4$'s/gallon. 5speed manual transmission makes it fast as well. My sisters 2000 Pontiac Grand Am, 4cyl. 2.0L can't keep up with it... <3 My 1994 Saturn SL. =)
Primary Use: Commuting to work
Dimers

writes:
1994 Saturn S-Series 4 Dr SL1 Sedan
Review
Pros
Mileage, handling, low cost to buy and own
Cons
Anemic performance -- so very NOT a hot rod

A Graceful And Friendly Car — First car I owned, though I'd driven several extensively before. She didn't have much pickup (2-cylinder engine, IIRC) but she handled like an angel even under terrible circumstances. I could drive circles around SUVs and pickups in the snow -- outstanding ability to handle ice, and I have no idea why. Turns were super-smooth. I bought manual transmission and really enjoyed the improved control and the feeling of feedback. Not much in the way of options, just A/C. I didn't even have power windows. The only modification I made was a sound system upgrade. Maintenance and repairs: I took her in to Saturn dealerships for regular checkups more or less when I was supposed to, and maintenance was cheap. She did need some preventative repairs now and then, but nothing I couldn't handle on my just-over-minimum-wage income. I went to three different dealerships (I moved a lot back then), and all three were competent and friendly. Only thing I couldn't get fixed was a ticking sound that they said was due to a piston not quiiiiiite fitting, and that never hurt performance anyway. Got amazing gas mileage. In mixed use, it was only about 32 mpg, but on the highway I could get 55 or 60. Modern hybrids often advertise less than that.
Primary Use: Family transportation
Ethan

writes:
1994 Saturn S-Series 2 Dr SC2 Coupe
Review
Pros
Handling, smooth shifter, good looks, good gas milage.
Cons
Regular maintenance required, burns a half quart of oil every tank of gas.
A Poor Man's Performance Car. — Fun car to drive, handles like it is on rails. Acceleration is mediocre for a car of this age, but poor considering the HP rating and light weight of the car. It could just be the age and 150k miles it has been through, but I expected it to be noticeably quicker than my previous car (which was 150 lbs heavier and had 12% fewer ponies), but it is not. Torquey and holds speed on hills, but doesn't like to rev past 5500 rpm. Parts have been cheap and easy to get (so far, I hear Saturn is going under), but it has needed more work than I would have liked, especially the cooling system. Honestly, practicality would dictate ditching this car in favor of something more reliable, but it is just so fun to drive with its smooth shifting, flat handling, and aggresive looks that I refuse to give it up.
Primary Use: Commuting to work
Craig

writes:
1994 Saturn S-Series 4 Dr SL2 Sedan
Review
Pros
Gas, fun and potentially good looks
Relyable And Faster Than My Friends Cars :) — a faster econobox when equiped with manual trans. faster than cavileers, civics and others, it runs 10.6 in the 1/8th mile so respectable. looks way better than anything else cheap form the 90's and good gas milage with little maintance.
Primary Use: Commuting to work
SaturnSL1Sedan

writes:
1994 Saturn S-Series 4 Dr SL1 Sedan
Review
Pros
Cheap to own and buy, can take a lot of abuse and will still work great, plastic panels!

Great Old Car! — Fantastic little beater, 370,000kms and still going... never had problems starting it on even on the coldest of days. Bought it for $1000 5 years ago, put 100,000kms on it and put less than $300 into the car in that time in maintainence. Gets excellent mileage, feels responsive when turning and braking. Car rattles pretty heavy sometimes. Although it lacks horsepower, it was peppier than expected. Fun to drive, since you can drive it hard and it never complains. It looks pretty nice for an older car too!
Christian

writes:
1994 Saturn S-Series 4 Dr SL2 Sedan
Review
Pros
Cheap basic transport with enough fun factor to keep the new car bug at bay.
Cons
GM Build quality, age, lack of refinement.
A Decent Daily Driver. — This was a fine little commuter car. Suprisingly spritely with the twin cam, but lacked refinement. Road holding was completely acceptable, and it cornered well enough, for a basic sedan. Not a sporty car, but it was involving enough (with a 5 speed) to keep the drive entertaining. Quality? I can't say it was great, but it wasn't awful. The car lacked refinement, was pretty loud and lacked many creature comforts even at that time. Looks? All things considered, not an unattractive car. Not beautiful, either though. Cost of ownership was completely acceptable, though I had one suspension repair (from a very low speed impact with a curb due to ice) that was ungodly expensive.
Primary Use: Commuting to work
Christopher

writes:
1994 Saturn S-Series 2 Dr SC1 Coupe
Review
Pros
good handling, good on gas, comfortable, compact, fast
Cons
small, issues with coolant leakage
culton

writes:
1994 Saturn S-Series 4 Dr SW1 Wagon
Review
Pros
Great 1st Time Car for Student, Spacious, Ageless, Great Family Car, New Battery, New Tires, New Windshield, New Brakes, Good Gas Mileage, Functional Cruise Control, Power Locks, Automatic Seat belts, Horn, Two Privacy Lights (Front & Back) Tons of Cargo Space, No Blind Spots, Clutch Replaced, Smooth Shifting, No Rust Body, by Original Owner
Cons
Minor Body Damage above passenger wheelbase, Head gasket needs to be replaced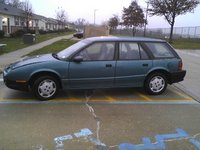 Timeless Beauty — For a 18 year old car this Saturn looks in good condition, always started up, Nov '11 took road trip to KY and to St Louis, with absolutely no problems, great for commuting, 1st car for a college student, Will grow to Love.
Primary Use: Commuting to work
ssauto

writes:
1994 Saturn S-Series 2 Dr SC1 Coupe
Review
Pros
This is a great little car. Awesome for someone who drives any kind of commute to work, whether it be 5 miles or 30 miles it's great on gas, handles well and is really comfortable.
Cons
It is a true compact car, if you like small vehicles this is the car for you, you can park it anywhere.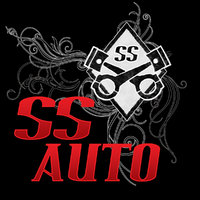 Great Buy! — Excellent condition for a '94, moonroof and leather scream luxury but at the price it's a steal. It's loaded with power everything, handles and runs great. In this economy gas is a precious commodity and this is definitely a gas saver.
Primary Use: Commuting to work
Displaying 1 - 10 of 35 1994 Saturn S-Series reviews.
Looking for a Used
S-Series
in your area?
CarGurus has

1,168

nationwide S-Series listings starting at

$1,295

.