1994 Honda Civic
User Reviews
1994 Honda Civic Review Ratings
Average Ratings
from 58 reviews
Performance:
Appearance:
Build Quality:
Overall:
Review Highlights
Click to filter reviews below
Displaying 1 - 10 of 58 reviews
Rejean

writes:
1994 Honda Civic CX Hatchback Review
Pros
the car isnt great stock, but SO MUCH FUN to play around with aftermarket parts!
Civic Cx — I love the Civic CX, now, stock.. personally i don't like the car too much at all, but once you get into the after market parts, its amazing. theres so much you can do to a civic its mind blowing! That, along with the amazing fuel mileage, and low cost of maintenance, made the Civic CX or any Civic a great first car.
Primary Use: Sport/fun (spirited driving, track racing, off-roading, etc.)
Alex

writes:
1994 Honda Civic CX Hatchback Review
Pros
I love the fuel efficiency and that nothing has broken on it yet.
Cons
i don't like the lack of power once you're at speed already it gains speed very slowly. and i don't like how little space there is inside if you have more than 1 passenger with you.
I Definitely Recommend This Car To Anyone. Its Super Cheap To Own And Maintain. — Not very fast acceleration, its not made for speed though. its made to be as economical as possible. The dx model has over 30 more horsepower from the same engine. I personally like the look of the hatchback, interior quality is nothing special. Its a super cheap car to own/drive. It can be fun to drive, but i doubt it would be any fun if you had an automatic.
Brandon

writes:
1994 Honda Civic EX Review
Pros
good fuel mileage 20-25 in town and 25-27 highway, good car with a reasonable amount of room in it for the size of the car.
Cons
for the size of the car it has a decent size of trunk but not exactly what I needed, with factory speakers I would have replaced them because they had a tendensy to rattle with any song that had a little bass.
Civics Are Good Cars — The car was built well and for it being a stock VTECH engine it excelerated pretty good. It was a 4 door car but the only thing that I didn't really like about it was there wasn't really that much room in the trunk. It was a good car up untill I wrecked it slightly after i turned 17 but considering the way that I hit the car held up really good and didn't really push up into the cab of the car.
Hongeik

writes:
1994 Honda Civic EX Review
You Can Grab Two Rabbits! Sport Driving And Family Ride — In Australia, the trim of the model is little bit different. I used to own EH9 VTi model. It has D16Y motor which has SOHC VTEC! It show 129hp @ 6500rpm! It was awesome. Also, height of the car is little bit low. It helps drivers to drive the car more tough! It was good at winding. (Better than Hyundai Elantra J2. :) ) The most merit point of this car is fuel efficiency! It provides 13km/l when you drive it normally, 11km/l when you use A/C system and 10~9 km/l when you use VTEC!
Primary Use: Commuting to work
Robb

writes:
1994 Honda Civic EX Coupe Review
Pros
Fuel Economy but, still having fun.. :)
Cons
not directly tuned for wisconsin roads.. especially in the winter :(
94 Civic Ex — I love this car, ever since I bought it for a record time low price... It's obnoxiously easy to work on, and parts come penny a dozen... OF course, if you drive a honda, it should be a 5 speed... It's a blast! 1.6l SOHC w/ Vtec that kicks in at about 4800rpm.... redline at 7200.. of course I never take it that high lol. Being that it was rebuilt, it has a few quirks, but overall.. nothing worth getting worried over. Slidin on 16in low pros.. looking nice. could use a paint job, but nothing major..
Primary Use: Commuting to work
Rose

writes:
1994 Honda Civic LX Review
Pros
energy efficient, roomey, lasts longer, gets me where i want to go
Cons
airconditioning, doesnt tell you when your low on gas
Honda 4 Door Civic White — My air conditioning has problems but other wise it's a good car, Honda anyways will last forever. Both my interior and exterior are in good condition, my bumper is a little out but barely noticeable. My car is fun to drive if your good to her. New breaks, hopefully will last me a while....whooey expensive. Shes has a couple things changed like her breaks, tires, a leak, a thing that holds the tire on. Good on gas. 25-30 mpg.
Tyler

writes:
1994 Honda Civic DX Review
Pros
Fun, good handling, fuel effecient(35-40mpg) car
Cons
Poor acceleration, not much room in the back seat.
Good Little Car... — This car has some of the best handling i've ever delt with. but its acceleration falls behind. I bought it with 170 k miles on it. But only 80k miles on the engine. There are not to many repairs needed, only very minor things. It has both driver and passenger side airbag. It is very low to the ground, but that may see that way because i have only 13 inch rims (I will soon be going to 15 inch). In general I like the appearance of the car. My car is a Manual Transmission, and i think it is quite fun to drive.
Adam

writes:
1994 Honda Civic Si Hatchback Review
Pros
handling, braking, pretty clea body
Cons
speed and shineyness of paint
1994 Honda Si Hatchback — It handles like its on rails and can stop on a dime. I wish it had a lot more power though. Honda's last a long time but when you get in a wreck it crumples pretty easily. I like the stance it has and the rims, but i wish the paint was in better shape. It is as much fun to drive around curvy roads as my dads TT 300zx. But the Z smokes it in straight line speed.
lovejdmlife

writes:
1994 Honda Civic EX Coupe Review
Pros
it looks nice when i primered it and looks good overall
Cons
broke a piston baring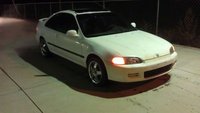 Hondaaaaaaaaaaaa — good car just slow to be honest i wouldnt trade it for the world it my baby and i am about the jdm life and its a really good gas saver and you can custim it how ever you want
Primary Use: Sport/fun (spirited driving, track racing, off-roading, etc.)
PJ

writes:
1994 Honda Civic Si Hatchback Review
Cons
when you put after market parts on it something is always gonna go wrong
Great Play Toy But You Should Also Have Another Vehicle To Use As A Commuter — the blue wheels say it all aceleration is amazing for being only four cylinders and the best feeling is when you can out corner just about anything on the road oh yea my vtec goes bwaaaahh! DOHC is the only way i roll
Primary Use: Sport/fun (spirited driving, track racing, off-roading, etc.)
Displaying 1 - 10 of 58 reviews
Ask CarGurus about the 1994 Honda Civic
Average response time:
8.5 hours
,
# of Honda Civic owners:
23,291
Looking for a Used

Civic

in your area?

CarGurus has

57,011

nationwide Civic listings starting at

$1,495

.