1992 Honda Accord
User Reviews
Average Ratings from

75

reviews
Performance:
Appearance:
Build Quality:
Overall:
Review Highlights
Click to filter reviews below
Displaying 1 - 10 of 75 1992 Honda Accord reviews.
CarLover4313

writes:
1992 Honda Accord EX
Review
Pros
Not much to say here.
Cons
Always breaking down on me.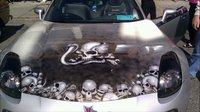 Could Work If Kept Up On Better Than Mine Was. — I don't have a lot of great things to say about this car. I bought it for $1,000 and it was the worst car I have ever spent money on. Although I have to say that it was my first car and I can't say I would never by a Honda again since I have learned from this one what to look for.
Primary Use: Commuting to work
Looking for a Used
Accord
in your area?
CarGurus has
61,592
nationwide Accord listings starting at
$899
.
jo698888

writes:

Great Car — good gas milage,car runs great i wish it was a little larger but all in all a fine running auto and i would buy another one . I have always been a honda lover but never owned one . i will continue to search for newer one soon.
Primary Use: Family transportation
silvershadow

writes:
1992 Honda Accord LX Wagon
Review
Pros
My first wagon was a charm! I did a few mods ..sadly it was stolen and never found. I loved it so much I searched and found another 1992 LX with even better options. As stock this Accord Wagon is awesome! I have the 5speed that even though a bit temperamental at times, is a joy to have. Everything on this wagon was made with the idea of beauty. The wagon at day looks nothing like a mom and pop lug along; Sporty comes to mind when looking at it. And driving it confirms the notion. By night, it's long stance gives it a luxury look that fits in at any venue. At over 20years old, I still can pull into a fancy place with it. So reliable in all areas and superior looks after 20 years..what's not to love. That is why I'm part of Accordwagonclub.com I share my love with others who do too!
Cons
After some time, some parts fail ...Mostly the power windows. Honda made the wire tab guides that control the window regulators out of plastic. They snap and the wires become slack. Hard to remove regulators. Changing manual transmission fluid is a major mechanic job! Main relay gets cracks and "message" to fuel pump not made.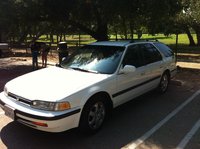 Most Reliable And Perfectly Styled Asian Import Car Ever Made, Yet It Is Made In The Usa! — Love how it looks in the day or nite! Love how dependable it is until it can run no more after 25 years! I have owned 2 and on the way to getting another! A fantastic wagon that needs to become an American classic despite it being viewed a Japanese wagon. It was designed in Japan and some made there, but the majority of the ones were made in the United States and most sold in the States too. The wagon design team for the Accord Wagon Department, can be awarded for producing a almost flawless wagon from 1990-97!
Primary Use: Family transportation
adamsonnett

writes:
1992 Honda Accord EX
Review
Pros
Great gas milage, perfect first car, reliable
Cons
Needed to replace everything as the car got older

Great First Car — This was a great car to have in college. Was easy to maintain and was great for long and short trips. Gas mileage clearly a plus when younger and broke. I had the car for almost 10 years and was happy to see it go to another first time car buyer.
Primary Use: Commuting to work
jodham

writes:
1992 Honda Accord EX
Review
Cons
Rust prone arpond fenders, door

Dependable — This car drives and handles great. 312, 000 miles. Probably keep it forever. I drive it as everyday car and keep my newer ones for road trips. It has been better to keep up maintainence and repairs over the years than by a new one. Bought it new. It rides and drives better than later model hondas.
Primary Use: Commuting to work
Brianna

writes:
1992 Honda Accord EX
Review
Pros
Many miles, over 250k, and therefore a good first car.
Cons
Boxy styling and a tendency to rust.
1992 Honda Accord Ex Sedan. — My 1992 Honda Accord EX was my first car. It had decent performance and fairly good handling. It ended up needing a few repairs in the long run, which were expensive. It had adequate interior room, but the outside styling was boxy. It had over 250,000 miles on it and therefore was a pretty reliable first car!
Primary Use: Commuting to work
jp826

writes:
1992 Honda Accord EX
Review
Pros
Enduring style, well built, fuel efficient, many accessories (EX trim), mechanically solid. adequate trunk, comfortable seats, great ergonomics.
Cons
Rust around rear wheel wells showed up at about 15 yrs old. Power antenna needs lubricating or will get stuck, CV boots and radiator need mid-life replacement.
92 Honda Accord - Love This Car! — This has been fantastic car for me -- expecially since I got it with just under 100K on it for $5400 and have driven it for 10 years. Now nad just 161k on it and I'm planning to sell it for expected $2500. Car has adequate power (16 valve engine still is strong and even quick with 5 speed stick ), it runs great and gets good gas mileage. On a long trip, I once saw close to 500 miles on one tank of gas. After nearly 20 years, (with diligent upkeep) everything still works - and things that do need replacing after regular wear and tear are reasonable to fix. I put all-season performance tires on it and they made a huge difference -- it will really hang on through exit ramps and back roads. A little more body roll than a true sports car, but this is a 92 Accord after all! Fifteen spoke alloy wheels still look clean and distinguished - but admittedly are a pain to keep clean with all those cavities for dirt to build up. Overall I love this car! Highly recommended if you can find one that's been well maintained.
Primary Use: Commuting to work
Стефан

writes:
1992 Honda Accord EX
Review
Pros
Reliability, great handling, winter abilities
Cons
The weak metal that rusts like mad in salty winters.
A Great Family Car That Is Fun To Drive And Reliable. — Obviously not a race car, but for a family sedan the wishbone suspension and light weight provide some great handling for twisty roads. The steering is crisp and tight. It's not a stunning car from the outside, but still looks good after 20 years and is one of the best Accord models that Honda has put out if not THE best. It's never left us stranded after 20 years of daily driving apart from an oil seal that blew out in the driveway. That car has been all over and after 350,000km and 19 years, is still reliable.
Primary Use: Commuting to work
Larry

writes:
1992 Honda Accord LX
Review
Pros
fun, fast enough to have tons of fun and not push it too far.
Awsome Car — this car has been nothing but a tank and a champion. its taken every beating that ive thrown at it, including a beating at autox when it comes time again, and the motor has not given me any issues but when i tried to do some majior stuff it finally gave out. rip-f22
Primary Use: Sport/fun (spirited driving, track racing, off-roading, etc.)
Ravery

writes:
1992 Honda Accord LX Coupe
Review
Pros
Cheap to operate, Very Reliable, Will last forever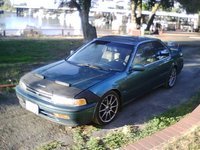 Great Car, Mileage, Fuel Consumption And Maintenance Cost Were Low. — Performance: This car had the largest engine available in the Accord of this year. The Acceleration was great, I had a 5 speed manual. It had a pretty high top speed, I could do 120 on I-80 and not worry about losing control. it felt like a sports car without the sticker price of a sports car. The handling was great, the aftermarket suspension allowed the car to tun on a dime, no body roll. it floated like a butterfly and stung like a bee. Braking was excellent, I could come to a stop easily without locking up the tires and losing control. Build Quality; I bought this car at 16 years old, it was definitely showing its age. The plastic components, like door handles were giving out, the window motors went out more than once, the windows would also fall off the track. There were many interior components that gave out from regular use, the car was 16 years old, but I was irritated that the materials were so cheap that they could not hold up to heavy use. Appearance; This car was beautiful, one of the reasons I bought it, the Suspension kit gave it a aggressive lowered stance, the color was nice, The Enkel rims had low profile tires that really added some class to the cars appearance. The tinted windows were functional in the way they kept tha car from heating up in the hot Sacramento sun. The Bra looked great and kept the front end from rocks that would chip the paint. Overall, I loved the looks of this car. Cost of ownership: The Accord got great gas mileage, routine maintenance kept the total cost of repairs down, the brakes needed replacement more often than most other cars, but may have deteriorated at an accelerated rate from the hilly area where I lived. Fun Factor: The stock Accord is not fun to drive, I have driven one, and it was like any other commuter car. The modifications that were made raised the level of satisfaction and enjoyment of driving this car. With all the mods this car out-handled any car I ever driven.
Primary Use: Commuting to work
Displaying 1 - 10 of 75 1992 Honda Accord reviews.
Looking for a Used
Accord
in your area?
CarGurus has
61,592
nationwide Accord listings starting at
$899
.