1992 Honda Accord
User Reviews
1992 Honda Accord
Review Ratings
Average Ratings from

74

reviews
Performance:
Appearance:
Build Quality:
Overall:
Review Highlights
Click to filter reviews below
Displaying 1 - 10 of 74 1992 Honda Accord reviews.
lundays

writes:
1992 Honda Accord LX
Review
Pros
Quality and reliability
Cons
needs to be about 15 years newer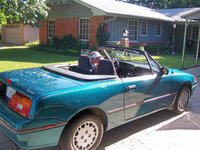 Best Car We Have Ever Owned. — Best Car We Have Ever Owned. We have owned it for 14 years and it still runs nearly as perfect as when we bought it. We had the timing belt changed at around 90K as suggested by Honda and regular oil changes etc. Car now has around 156K and is holding up very well.
Primary Use: Commuting to work
Looking for a Used
Accord
in your area?
CarGurus has

61,665

nationwide Accord listings starting at

$999

.
Joshua

writes:
1992 Honda Accord LX
Review
Pros
Economical daily driver - 29.1 MPG super low insurance premium
Cons
Needs more power... I can see why the newer models are mostly the V6 engine.
Comfortable Economical Daily Driving And Reliability — Overall its a good travel/daily driver. Lots of space for what it is, nice size trunk and back seat. Leg room in the back isnt so good if your more than 6' tall though. MPG 29.1 Average (I do more highway than city driving) Has a massive fuel tank - 17 US Gals - the largest capacity of any Honda I've owned. The up side is that on a trip you dont have to stop for gas often. Repairs done: Standard stuff really, valve cover gasket, axles after 200k miles, brakes disks, and routine oil changes. Still on stock engine/transmission/clutch and well over 200k miles. Its the F22 engine in this one. What could be better: The car could use a little more power - I can see why the newer models are mostly the V6 engine - once your over 30MPH it pulls pretty good getting on the interstate. from 55MPH to 80MPH its just fine - so highway travel is cake. There is no light to light speed though - it likes smooth starts.
Primary Use: Family transportation
Vincent

writes:
1992 Honda Accord LX Wagon
Review
Pros
Storage space, Honda reliability and residual value
Cons
If you don't like wagons or hatchbacks it's not the car for you.
It's The Best Daily Driver I've Ever Owned. — On the performance side it could be better. It is a Honda, after all. But the build quality and reliability of this car is what makes it shine. Despite the mid-range performance and wagon design (which is well executed, by the way), it is still a very fun car to drive and the manual transmission version is has a lot of pep in daily traffic.
Primary Use: Commuting to work
James

writes:
1992 Honda Accord EX
Review
Pros
Apperance, Through gears performance, Refinement, Very good condition
Cons
it's age (1992), and Lack of parts in case something nasty happens to it!!
My Honda Accord — Well, this is my Own car, a 1992 Honda Accord. I bought it 2 years ago by pure coincidence, but never regretted doing so. Soon after I started the process of having it restored to a very acceptable state. Hopefully it will be nearer to perfect after a few other mods. The car has a 2.0ltr engine (F20B for those in the know) which produces 130bhp, and what feels rougly like 150nm of torque at least (I simply can't find torque figures for the engine). Acceleration isn't mind blowing, around 9 sec to 60mph, however it's performance through the gears is eager and very responsive. Once in 2nd gear, at around 3000rpm, the fun is guaranteed, and can blow out of its way a lot of more powerful cars. The ride is very refined for it's age, and also has a really sporty feel (even for a big car) once you give it a go. Build quality is second to none, and still in perfect condition (still has it's original interior). I simply love it's apperance. The spray colour is brilliant apart from rare, and if you ask me, the front is it's most lovely part. Exterior wise the only mods for now where the front lip, Accord/prelude original rims, and sprayed bumpers and skirts. And yes it is fun to drive, even around corners... It's a car i'd love to own and maintain forever.
Julian

writes:
1992 Honda Accord LX
Review
Pros
High gas mileage, fun to drive, easy to maintain.
Cons
Clearcoat fades, moderate/high understeer, too many automatics and high mileage (over 160k miles, average).
1990-1993 Honda Accord (cb7) — The CB7's an overall good car. The F22A1 equipped in the LX like mine has some torque into it and revs smoothly. Build quality, like most Hondas well kept, is very good. Nothing has gone wrong with this car, yet. Appearance like my '92, resembles a car that grandma drives and slow. But hey that just means it'll throw people off and at times it gives off a mean, aggressive look to it. The cost of ownership is somewhat low. Gas mileage on average for me is 30 mpg, in the city (yes city driving) with some lead foot driving characteristics in it. Despite the fact that it is an autotragic... automatic, it is a fun car to drive. I'd recommend a CB7 to anyone. Just get a 5-speed. =] Buttttt just watch out for the rear windows... mine died on me.
jodham

writes:
1992 Honda Accord EX
Review
Cons
Rust prone arpond fenders, door

Dependable — This car drives and handles great. 312, 000 miles. Probably keep it forever. I drive it as everyday car and keep my newer ones for road trips. It has been better to keep up maintainence and repairs over the years than by a new one. Bought it new. It rides and drives better than later model hondas.
Primary Use: Commuting to work
Brianna

writes:
1992 Honda Accord EX
Review
Pros
Many miles, over 250k, and therefore a good first car.
Cons
Boxy styling and a tendency to rust.
1992 Honda Accord Ex Sedan. — My 1992 Honda Accord EX was my first car. It had decent performance and fairly good handling. It ended up needing a few repairs in the long run, which were expensive. It had adequate interior room, but the outside styling was boxy. It had over 250,000 miles on it and therefore was a pretty reliable first car!
Primary Use: Commuting to work
Стефан

writes:
1992 Honda Accord EX
Review
Pros
Reliability, great handling, winter abilities
Cons
The weak metal that rusts like mad in salty winters.
A Great Family Car That Is Fun To Drive And Reliable. — Obviously not a race car, but for a family sedan the wishbone suspension and light weight provide some great handling for twisty roads. The steering is crisp and tight. It's not a stunning car from the outside, but still looks good after 20 years and is one of the best Accord models that Honda has put out if not THE best. It's never left us stranded after 20 years of daily driving apart from an oil seal that blew out in the driveway. That car has been all over and after 350,000km and 19 years, is still reliable.
Primary Use: Commuting to work
Ravery

writes:
1992 Honda Accord LX Coupe
Review
Pros
Cheap to operate, Very Reliable, Will last forever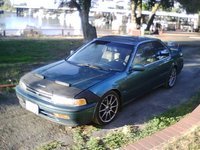 Great Car, Mileage, Fuel Consumption And Maintenance Cost Were Low. — Performance: This car had the largest engine available in the Accord of this year. The Acceleration was great, I had a 5 speed manual. It had a pretty high top speed, I could do 120 on I-80 and not worry about losing control. it felt like a sports car without the sticker price of a sports car. The handling was great, the aftermarket suspension allowed the car to tun on a dime, no body roll. it floated like a butterfly and stung like a bee. Braking was excellent, I could come to a stop easily without locking up the tires and losing control. Build Quality; I bought this car at 16 years old, it was definitely showing its age. The plastic components, like door handles were giving out, the window motors went out more than once, the windows would also fall off the track. There were many interior components that gave out from regular use, the car was 16 years old, but I was irritated that the materials were so cheap that they could not hold up to heavy use. Appearance; This car was beautiful, one of the reasons I bought it, the Suspension kit gave it a aggressive lowered stance, the color was nice, The Enkel rims had low profile tires that really added some class to the cars appearance. The tinted windows were functional in the way they kept tha car from heating up in the hot Sacramento sun. The Bra looked great and kept the front end from rocks that would chip the paint. Overall, I loved the looks of this car. Cost of ownership: The Accord got great gas mileage, routine maintenance kept the total cost of repairs down, the brakes needed replacement more often than most other cars, but may have deteriorated at an accelerated rate from the hilly area where I lived. Fun Factor: The stock Accord is not fun to drive, I have driven one, and it was like any other commuter car. The modifications that were made raised the level of satisfaction and enjoyment of driving this car. With all the mods this car out-handled any car I ever driven.
Primary Use: Commuting to work
jo698888

writes:

Great Car — good gas milage,car runs great i wish it was a little larger but all in all a fine running auto and i would buy another one . I have always been a honda lover but never owned one . i will continue to search for newer one soon.
Primary Use: Family transportation
Displaying 1 - 10 of 74 1992 Honda Accord reviews.
Looking for a Used
Accord
in your area?
CarGurus has

61,665

nationwide Accord listings starting at

$999

.