1991 GMC Sierra 1500
User Reviews
Displaying all 5 1991 GMC Sierra 1500 reviews.
Cells555

writes:
1991 GMC Sierra 1500 K1500 4WD Standard Cab Stepside SB
Review
Pros
I like the way it feels when I drive, I like the sound of it, I like the way it looks, and with the off set wheels it looks mean.
Cons
The fuel milage kinda sucks and there is usually something small that needs to be fixed, but its cheaper than a lease.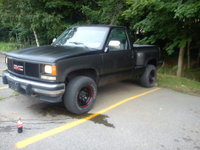 Daily Driver With A Little Attitude. — When I got this truck it was a rust bucket, with potential. I think Ive done a pretty good job bringing some of that potential out. Ive replaced the front fenders, inner fenders, full body job, removed all emblems that I could, custom painted wheels, two tone flat black and galaxy grey paint job, numerous mechanical parts have been replaced, opened up the exhaust, and lots of other things I can't even remember. But Im not done with it yet. Like anybody who works on their own vehicle, it is never really done. But when your project is your daily driver, some repairs and modifications are complicated. So the project continues...
Cory

writes:
1991 GMC Sierra 1500 K1500 SLE 4WD Extended Cab SB
Review
Pros
love the room, and the 4x4 that works like it was new
Cons
the two tone paint and the leakage
Chevy Runs Deep — Well i have not gotten a chance to drive it to its full yet but from what i have seen it has the power and could be a great truck but i do not have the money to just keep pouring into my truck to make it go its a chevy so obvipously it is gpoing to leak all the time but this one is bit i mean tthe oil pours out of the valve cover gaskets and the rust that gm developes on the cab corners and box just blows me away maybe its patially the previous owners but whatever it will lokk great when i am done with it 15mpg doesnt bother me either it is a fun truck to do whatever i want with
Primary Use: Commuting to work
Joseph

writes:
1991 GMC Sierra 1500 K1500 4WD Standard Cab LB
Review
Pros
people get out of the way when u rev a straight piped chevy with a plow.
Decent Beater — truck was built well, but they deffinately chose a poor power plant for a truck of its size. even a 1/2 ton needs more than what the 4.3 liter can put out for torqe. the horsepower claims are higher on the v6 than the v8, but the 350 or even the 305 have way more in both the top and bottom end.
Primary Use: Sport/fun (spirited driving, track racing, off-roading, etc.)
Chris

writes:
1991 GMC Sierra 1500 C1500 SLE Extended Cab LB
Review
Great Work/fun Vehcile — 350 small block throws out more than enough, frame and body in great shape for being almost 20 years old, interior and exterior starting to wear. Needed to replace piston rings after 110k miles. Great fun because of not having ABS or Traction control
Primary Use: Utility (towing boats, transporting cargo, etc.)
Denise

writes:
1991 GMC Sierra 1500
Review
Pros
small and handles great
Cons
too small for a big family
Good — For just a plain truck it was great for the three of us, went to the states and handled well on the road, is great for around town, then we became four and it was too small but it has never owed us anything , never had a problem, it's a five speed transmission.
Displaying all 5 1991 GMC Sierra 1500 reviews.