1990 Chevrolet Corvette
User Reviews
1990 Chevrolet Corvette Review Ratings
Average Ratings
from 21 reviews
Performance:
Appearance:
Build Quality:
Overall:
Review Highlights
Click to filter reviews below
Displaying 1 - 10 of 21 reviews
Logan

writes:
1990 Chevrolet Corvette Convertible Review
Pros
amazing performance, suck-your-eyeballs-to-the-back-of-your-skull acceleration and passenger ejecting handling
Cons
very difficult to drive. even with super wide tires, if you even look at wet road, you spin out
Great Car. Well Worth The $$ But Not For The Faint Of Heart — i once had a dream of owning a corvette. i spent my money on a porsche 944 instead. the porsche broke, and set the stage for my new story here... This car was hard to find, even in a highly urbanized area, finding a black corvette coupe with removable hardtop and six speed manual transmission was something of a miracle. i had to settle for one that wasn't a ZR1 (thank god. as much as i'd have liked one, turns out they don't make a lot of LT4 parts these days), and red leather interior. Looks good, actually, few dings on the paint (as can be understood from a car old enough to drink) but said interior takes some getting used to. Squeaks a bit sometimes, going over big bumps, but with over $4000 into sport suspension, it's my own damned fault for trying. Driving? there is no driving this car. It's more like wrangling than anything. not a car to own on a rainy day. if it snows? guess who's walking. this vehicle is aggressive, unforgiving, and acts like a jilted teenage girl on crack. It'll snap you around in a heartbeat just for thinking you had control. at least, untill you get used to it. Accelerating is an art. there is no Wide Open Throttle (WOT) on take off. if you try it, you won't go far, but you'll make some pretty smoke for a few minutes. with propper clutch control, however, it's possible to fire this 2600 lb vehicle to 60 mph at an astounding rate. i can honestly say this is one of the fastest cars i've ever driven, and by far the fastest i've owned. it pulls hard through first. through second, shift to third and feel it pulling. fourth gear is still rough, but i wasn't able to test it all the way through, going over a buck fourty at this point. with its six gears and a slightly modified (ha ha) v8, gas milage is actually not as bad as you'd think either. looking at 35+ highway, and 20+ city, it's almost twice as good as my camaro. now if i can just keep my foot off the pedal long enough to acheive such numbers for more than the week or two i took to test actual MPG. fixing this car? a headache at first, since it's all electrical and primitive at the same time. the good news is, there's no engine with cheaper parts than a good ol' bowtie 350. as long as it's a part for the motor, you can breathe a sigh of releif. if it's induction or chassis related... well it's a corvette. what do you think? handling is amazing and disappointing at the same time. This car is built for high speed turns and with a bit of practice, you can pull stunts that make every fastandfuriouswannabe jealous. the disappointing part? the fact that this car wasn't made for a parkinglot is painfully obvious when trying to get a spot. the turn radius is horrendus. there's been more than a few times i've wanted to just dump the clutch so i could whip out the back end and turn sharper. all and all, worth the money, but unless you're a hardcore driver or running from the cops, you'll probably want something else a bit less 'car.'
Primary Use: Sport/fun (spirited driving, track racing, off-roading, etc.)
Looking for a Used

Corvette

in your area?

CarGurus has

9,132

nationwide Corvette listings starting at

$3,199

.
vl5150

writes:
1990 Chevrolet Corvette Convertible Review
Pros
Interesting car with lots of torque and great handling. Ability to grow with the car and improve performance.
Cons
These cars are getting old and maintenance will need to be performed. May be hard for some to get in and out of. Should be able to turn a wrench sometimes.

Excellent Car For The Money. Fun, Fun, Fun! — This is my second "play car" so I drive just for pleasure and something to tinker with, For that purpose and giving the cheap price, it fits my purposes very well. I paid as much for my C4 as it would have cost to turbo one of my other cars and tune it. That being said, it's a unique and interesting car. The L98 engine is a classic Chevy 350 underneath so there's cheap power and modification options. The car responds well to modification as well, but is fine as-is. The powerband of the engine is narrow, but very good at the same time because of the torque. I love the clamshell hood which makes servicing a breeze. It feels much faster than it actually is and will keep you entertained around town. Handling is very good. The car rides firm, which I like, and turns very flat. This car begs for sticky tires. I also like the subdued styling and the "older" C4 body style. Other nice additions are the forged aluminum bits both front and rear. Paint is very good and better than a new Camaro SS I examined. The engineers put the money where it counts. The 6speed shifter is not very good and the ring that locks out reverse is not durable. The Hurst shifter is a worthwhile upgrade and is a traditional American modification to cars like this. The interior is loaded, but the materials are typical GM. For the convertible, the storage is not good. There's some room under the top when it's down, and more when the top is up, but you have to hold up the rear of the top with your shoulder to get access. The brakes are good, not great but I may need to bleed them. I'm able to get in and out of the car no problem and prefer the strapped in feel. Older folks will have a real tough time living with this and should look at another car or try one 1st. Car is also hand built with fasteners like torx head or screws used all over the place. I love this feature as it simplifies things for me, but have locktite handy or the screws will fall out. The engine runs out of breath at 4500-4800 RPM. The power is excellent until that happens though, but it should be noted. Factory Bose audio system have amps on the speaker that have capacitors that are now dried out. Budget for repairs of this system or replace with a standardized sound system. Overall if you like to hod rod or modify, this is the car for you. Nice big hood and no sheet metal to rust. If you like it as it is, it's a great car too. Just budget for complete fluid flushes at this point and perhaps weatherstripping to get it up to snuff.
Primary Use: Sport/fun (spirited driving, track racing, off-roading, etc.)
JBsvette1

writes:
1990 Chevrolet Corvette Convertible Review
Pros
Nice looking and handles great. The ride is not bad for a Corvette. Could drive it anywhere.
Cons
Not alot of room once in seats, and there is not alot of storage.

Nice Car For It's Age And Wouldn't Be Afraid To Drive It Anywhere. Short Or Long Distance. — I like the looks and the gas mileage is not bad. Rides good for a Corvette. They are not made for alot of room. Iam 62 and we don't drive it much. We need more room now days. So we bought a clk Mercedes Convertable. My wife really wanted the more room. And I have had Corvettes for 20 years,. All in all, it's a nice car. Never had to do much maintance to it. Keep your oil changed and greased and everything should be fine for a 1990 Corvette. Acceleration and braking are good. It's alot of fun to drive, and you will get alot of looks. I think it's a eye catcher.
tcxd40

writes:
1990 Chevrolet Corvette Base Review
Pros
Fun, fast, handles well.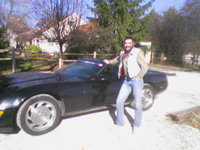 Like The Last Two C4 Corvettes So I Bought Another One, Speaks For Itself. — Another Vette to the stable. This 1990 is eqpt. with the FX3, sport seats, tire press system, oil cooler, CD cassette, electronic air, and is one of 813 in steel blue. In good shape for the most part. Does have typical problems with de-lamination of the body in a few areas. Most rubber seals need replacing. For a 20 year old car it still handles well and looks good. For a 20 year old performance car fuel mileage is respectable at 21MPH in and around town.
Primary Use: Sport/fun (spirited driving, track racing, off-roading, etc.)
Royce

writes:
1990 Chevrolet Corvette Base Review
Pros
Great Performance - Lots of torque
1990 Corvette C4 — 1990 Competition Yellow, C4, Greenwood ground effects, L98. This car is awesome. A real "eye catcher" and one fast machine. Handles great and lots of torque. Great performance, awesome sound, about 25 - 30 mpg. This car is a lot of fun to drive and show well at the car shows. Pros: Great Performance Cons: Nothing
Riverider

writes:
1990 Chevrolet Corvette Base Review
Pros
For the best in looks, cause it still looks like the a Corvette should. It's alloy wheels, the style, & the great response, makes it a joy to drive.
Cons
Not really made for driving on dirt roads
A Great Way To Drive — The feel, & comfort when driving long distances. The looks, & sound running is a one of a kind, & true to life experience. The ladies love it when remove top so they get the feel of traveling in a convertible, and with the option of the rear window lift, there's no wind resistence. I use it in parades to haul our Lions Club Sweetheart, and she loves it with all her friends showing their jealousey.
Primary Use: Sport/fun (spirited driving, track racing, off-roading, etc.)
kelinamartin

writes:
1990 Chevrolet Corvette Convertible Review
Pros
less than 53,000 miles, Hard top convertible
Cons
Salvaged title even though frame was not damaged.

1990 Hard Top Convertible Corvette — I used this car for only driving the Miss Quartz Hills in parades and have not driven it for 3 years. It's salvaged title was obtained because the fiber glass was slightly damaged, I immediately had it repaired, it runs great and looks brand new.
Primary Use: Commuting to work
Ryan

writes:
1990 Chevrolet Corvette Base Review
Pros
Power on tap, it had a Jasper Class 1 performance 300hp motor.. L98 TPI based. But all that low-end, tire burning torque was very nice!! Also the color, handling, seating.. all very nice.
Cons
Gas, Gas, Gas.. it was the motor and tuning.. but 12mpg city is rapage!! Poor electronics.. hard to get in and out of the car.
Great Car, But It Was Poorly Takin Care Off By Previous Owner. — My old vette was beautiful, rare factory Steel Blue Metallic paint. Only downside.. it was 18 years old, and the previous owner did NOT take care of it as it should have been. Otherwise it would have been an excellent automobile. It ran great mechanically after I invested alot of $$$ into the neglected maintaince of the car. Changed and flushed all fluids.. etc. The only unreliable componet of these cars is the electrical system. GM has always made the vette with the most up-to-date high tech toys. Unfortunatly, sometimes these toys were still in "beta" testing. They go out easy and are extremely difficult to diagnose and repair.
matador

writes:
1990 Chevrolet Corvette Base Review

90EXP

writes:
1990 Chevrolet Corvette Base Review
Pros
Power, sound, handling, looks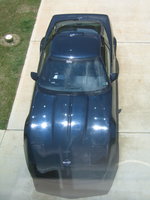 Loved It! — Owned for over 10 years loved it for the most part and I learned a lot about cars from working on it. Most issue were just do to wear as it had over 150K on it when I sold it. I and my son do miss it and I'll have to get another one down the road. I want something older next time though like a chrome bumpered C3 :D
Primary Use: Commuting to work
Displaying 1 - 10 of 21 reviews
Ask CarGurus about the 1990 Chevrolet Corvette
Average response time:
8.5 hours
,
# of Chevrolet Corvette owners:
10,705
Looking for a Used

Corvette

in your area?

CarGurus has

9,132

nationwide Corvette listings starting at

$3,199

.