1989 Geo Spectrum
User Reviews
Average Ratings from

3

reviews
Performance:
Appearance:
Build Quality:
Overall:
Review Highlights
Click to filter reviews below
Displaying all 3 1989 Geo Spectrum reviews.
TheHorror

writes:
Pros
Low ownership costs; Fun to drive; More brand cachet than a Geo
Cons
Feature content of a cattle car; Potentially a death trap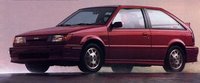 Cheap Thrills With A Quirky Foreigner — ***This review is for an '89 Isuzu I-Mark RS, which was a higher-content version of the Geo/Chevy Spectrum. Cargurus does not have the I-Mark listed on the site.*** My first car was an Isuzu I-Mark RS, chosen simply because a neighbor was selling it for a song. I was an ignorant 16-year old, and just wanted a vehicle with four wheels and a functioning motor. The fact that I stumbled into a rare, sporty, Isuzu-exclusive trim level, only offered for the '89 model year, was just dumb luck. I didn't understand the significance of the "DOHC 16-Valve" and "Handling by Lotus" badging, but it gave me the sense that there was something unusual there. The quintessentially '80's styling by Giugiaro made the car I look like it might be a Gobot in disguise. What I had found myself was a multinational mongrel -- a Japanese car, sold under an American brand, with suspension by the British and dressed-up by Italians. The I-Mark offered little in the way of creature comforts; it was tinny and crude; It rattled and creaked; The seats were taken from a school bus; The rear passengers were packed in like sardines; The list of features didn't include much more than wheels, windows, and lights. Lacking features also included modern safety features like airbags, crumple zones, and a modicum of structural integrity. But if one could tolerate all that, it was an easy car to live with. The gas mileage was in the high 20's - low 30's for city driving. And the car was reliable for it's age (110k+ miles at purchase) -- it burned oil, and the idle became erratic when the engine grew hot. But a clutch replacement was the only thing the car ever needed beyond basic maintenance. Maybe not up to the standards of Ricardo Montalban, but I saw it as just less stuff to break. The real joy of owning the car was the fun it was to drive. The car had a respectable 125 horsepower in a body that weighed no more than one ton; while it wasn't a sports car by any means, it could get out of it's own way. The engine was also a screamer, and loved to be flogged. More importantly, the low weight (and those Lotus badges!) made it an extremely tossable car. Much fun was had, flogging the car along winding mountain roads. It was a great parking lot opportunist, too. The I-Mark was not a car that could accomodate your family, impress your date, or shuttle your business partners to lunch. And that is all just as well, as it would probably have them all killed in the event of an accident. The I-Mark was a perfect car for someone who wanted a little bit of character in their poverty-spec appliance. It's a bowl of generic corn flakes with chocolate sprinkles on top.
Looking for a Used
Spectrum
in your area?
CarGurus has
thousands of
nationwide listings and the tools to find you a great deal.
Nick

writes:
Pros
Great acoustics, Hatchback, great gas mileage.
Cons
When the timing belt went so did the motor.
My Boom Car — The acoustics of this car was incredible. I actually took this vehicle to several car stereo competitions and hit 145 db. I'm actually surprised I still have my hearing after all the times I listened to the radio in the car and insane levels.
Bobby

writes:
Cons
Weak, clutch burned out
Displaying all 3 1989 Geo Spectrum reviews.