1989 Ford Escort
User Reviews
Average Ratings from

19

reviews
Performance:
Appearance:
Build Quality:
Overall:
Review Highlights
Click to filter reviews below
Displaying 1 - 10 of 19 1989 Ford Escort reviews.
David

writes:
Its A Van — its great for carrying tools and getting me there and back ! the poor od man is not the best looking van around but he starts in the morning which is more than can be said about me, doesnt drink too much again better than me.
Primary Use: Commuting to work
Paweł

writes:
Pros
Really good performance.
Old Cab? Why Not. — Performance-stock 1,6 8valve makes 105bhp so its quite nice... mine does around 134bhp now, aiming for 150-160bhp, good brakes, nice handling. Built quality-not bad, some rost after 21 years of working, but I got rid of it... Interior, litlle bit too plastic, but recaro seats are magificent. Exterior-last escort that looked good, anything more to add? Costs, quite a lot, my engine with really light feet drinks about 10l/100km, but with mine feet and mods it does about 15-20l/100km, besides this it's only about fluid checks... And yep it's fun to own ppl with this car, 130bhp with 950kg says much :D
Primary Use: Sport/fun (spirited driving, track racing, off-roading, etc.)
Chris

writes:
Uhhhh...... — As far as performance goes, this car accelerates nicely (four speed manual) and brakes well too, but this car turns like a dump truck... no handling t all... It is fun to drive though... No problem with durabilty (several cosmetic issues but not at the fault of Ford)... It gets between 30 and 40 miles per gallon and is very cheap to own... Overall? It's not an awful car but it's not top of the line either.
Primary Use: Commuting to work
Chris

writes:
Rs Non Turbo — Well freinds, this is one crazy little car, the handling is so funny it leans everywhere, the body roll is ammusing. But it can all be sorted ;) Its only a 1.3 so it aint all that. But give it time and it will blow your socks off. :)
Primary Use: Sport/fun (spirited driving, track racing, off-roading, etc.)
Matt

writes:
Cons
Power, Gears, Engine, Handling etc....
Escort — My first legal motor vehicle, not much I can say bought for 500 quid, smoked like a chimney, only had a 4speed box and was white and shabby on the outside and pretty stark on the inside but hey its my first motor so there! To be fair it was only the 1.3 popular
Primary Use: Commuting to work
Stephanie

writes:
Cons
just lacked that certain some thing?
Renee

writes:
My Baby — This car was my baby. I bought it brand new for 6000. It had 3 miles on it, and it smelled AWESOME! The pic isn't the one I bought, I cant find a pic of it. I got an Escort Pony, it was a 4 speed and had no radio. I had it custom pin striped and a honkin' Sony stereo in it. When I traded it in 8 years later, I had only put tires, brakes, and a timing belt on it. It still had the origional exhaust on it.
pickupman

writes:
Pros
most praticle, reliable. and structually sound vehicle of the 80's
Cons
You will feel right at home riding your grandma around in the passanger seat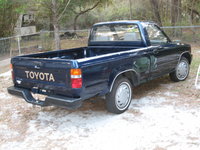 The Only 20 Year Old Car I Would Trust To Take On A Road Trip — Having owned more than 10 escorts I know them very well. The 1.9 liter was faster better on fuel and done better than the 1.6 of 86 and older. The engine went forever in both with 35+ with the 1.9 and 28 with the 1.6. I preferred the station wagon over the other models for extra room without hurting mpg's and in the early 90's mazda started making them for ford but I never owned on of those I just know used models were the biggest bang for the buck in their day, if you didn't mind being seen in one. One of the most practicle cars of all time. With today's economy I would even consider hunting up another one with lowish miles and in decent condition. Then when the economy picks up you can pass it down to a your neice so they can experience a piece of american history, what a nice gift it would make for just a couple hundred.
Daniel

writes:
Pros
performance/power. looks
Cons
there reputation and fuel consumption
Shreks Escort Rst — i have a escort rs turbo i love the way it looks an the way it goes. only thing i dislike is there rep of going wrong and the fuel consumption its still a lovely car. its fun to drive i love it. cant think of anythin else to right just that i havent had it long but in the time i have i cant get enough
Alan

writes:
Pros
small engine but has a lot of tuning capabilities
Cons
the chassis is very prone to rust and the electircs aren't the best in the world
Its A Ford — ok if you went out and asked someone about a Series 2 escort RS Turbo one of the first words they come out with would be Rust buckets or horrible cars, now me i personally think that they are amazing cars its a small 3 door hatch back car with a small 1.6 litrefront mounted engine with a turbo charger running around 135 bhp standard now one thing on these that you need to check for is rust under the battery tray under the car, above the rear wheel arches and on the bulk headan other thing is to check the wiring other than that the car drives like a dream handles even better and once the brakes have been up graded it will stop even quicker too.
Displaying 1 - 10 of 19 1989 Ford Escort reviews.
Looking for a Used
Escort
in your area?
CarGurus has
537
nationwide Escort listings starting at
$1,695
.