1989 Ford Bronco
User Reviews
Average Ratings from

15

reviews
Performance:
Appearance:
Build Quality:
Overall:
Review Highlights
Click to filter reviews below
Displaying 1 - 10 of 15 1989 Ford Bronco reviews.
TERMINATOREX

writes:
Pros
Very strong runner,accepts fairly large tires before needing to add a lift.
Cons
Rust in an issue if your not a person who cleans you truck.....was not an issue for me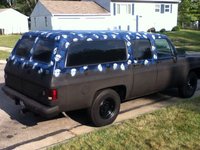 Veey Reliable Vehical — Durable workhorse truck. I have the inline V6. After buying it as a toy to drive around and listen to music, i realized what a great buy it was. The gas milage is great after air filter,exaust and TBS (custom add-ons). I recommend this truck to anyone.
Chris

writes:
Pros
The ability to go where most can't.
Cons
The gas mileage is very bad especially once the truck is modifies with bigger tires and a suspension lift.
Bronco, A Classic Suv That Can Handle Anything You Throw At It. — The Bronco for me is a wonderful vehicle. When you need to get away from the fast times in the city the Bronco will take you there. There is a very strong cult following of the Bronco and you can see numerous amounts of them at every offroad rally and meet. One of the top SUV's in the American market in its hey day the Bronco still survives and is loved by many!
Primary Use: Sport/fun (spirited driving, track racing, off-roading, etc.)
Josh

writes:
Lifted Mud Slinging 1989 Ford Bronco — 351 w with a edelbrock torker 2 intake 750 Demon Carb edekbrock PERFORMER RPM HYDRAULIC ROLLER CAMSHAFT headers and dual pipes and msd 4 INCH BODY 3 INCH SP 36 inch tsl mud swampers posi rear going to paint and finish the body work this summer
Primary Use: Sport/fun (spirited driving, track racing, off-roading, etc.)
Garrett

writes:
Tows Anything Out Of A Hole — Build Quality: only been stuck once from high centering it, and the truck has needed different things over the years ive had it but over all its a work horse and i love it Car Comparisons: i just love broncos and i had one before and this one was worth the money
James

writes:
Pros
would take me where i wanted 2 go!!
Cons
the tiwn track beam front end need a soild axle in it!!!
Got It Cheap Then I Beat It And Broke It And Fixed It Did It All Over Again!! — what can i say it was the best time of my life didnt have a care in the world. every one loved it when they hoped in with no top on it and i took off the doors!!!! that was a time taking it 4wheeling all of the time working on it i wish i could find another one 2 rebuild!! i put a 4 speed in it from a 1982 ford bronco and 208 transfercase took the top snd doors off put in a set of 33x12.5x15 tires and just took it out drove it around untell i broke it and then fixed it !! gas mileage sucked but u have 2 think i did alot of things 2 it so it was my falt on that one!!
Primary Use: Sport/fun (spirited driving, track racing, off-roading, etc.)
Stephen

writes:
Cons
it's not in great condition
1989 Full Size Bronco — It needs some tlc, but it's a tank... the passenger window doesn't work, the rear door and windows don't work... but it's lifted and the 4x4 works after 21 years. On top of it, the engine has to be pretty out of spec with no signs of quitting... I love it
Primary Use: Sport/fun (spirited driving, track racing, off-roading, etc.)
Karl

writes:
Pros
Strong/ sturdy, turning radius, fun
Cons
fuel economy, acceleration
1989 Ford Bronco — It is a 302 ci/ 5 liter with a little under average acceleration but the turning is amazing because of its truck turning and car wheel base. I would suggest a 351 ci engine for it but a 302 still does fine for anything from daily driving, off-roading and even towing. The body is built strong and the only rust problem I have had on it was the typical bottom of the tailgate which i did not have to replace even after 20 years but did anyway because I repainted it. The fuel economy is pretty awful: 10 to 15 miles to the gallon. But on the bright side there are so many different things you can do with it, like putting a lift kit on it and going off-roading with it, or towing things.
Primary Use: Commuting to work
Chase

writes:
Its A 89 Ford Bronco — the rust, the wheels, the dashboard,the the interior plastic is falling apart, it not having a radio,it using so much gas,the paint job this is all that i dont like on the 1989 ford bronco but other than that i like it
Primary Use: Family transportation
Jesse

writes:
Cons
you might need to make repairs more often then you want.
With Some Tlc An Awesome Ride. — Reliale although running very poorly. But had a clean interior and stunning exterior. I drove it to school everday, and was still able to take it off-roading on the weekends. Wasnt to bad on gas, it probably cost $160 a month on gas... so maybe it wasnt to good on gas either, but i was able to make enough money working fast food and going to school to drive it. :)
Primary Use: Sport/fun (spirited driving, track racing, off-roading, etc.)
Alex

writes:
Pros
Too many to list. Everything, really.
Cons
Some more balls would be nice.
Blazers Suck. — Not the fastest thing on the face of the planet, but in something that tall with a shorter wheel base than a honda civic, who needs accelleration and top speed? Ford did a good thing in the 80s, doing better in almost every way than the competition. The standard features, reliability, and modern design of this Bronco towered over Chevy, and had put Dodge's full size SUV out of comission.
Primary Use: Sport/fun (spirited driving, track racing, off-roading, etc.)
Displaying 1 - 10 of 15 1989 Ford Bronco reviews.
Looking for a Used
Bronco
in your area?
CarGurus has
165
nationwide Bronco listings starting at
$2,988
.