1989 BMW 3 Series
User Reviews
1989 BMW 3 Series
Review Ratings
Average Ratings from

46

reviews
Performance:
Appearance:
Build Quality:
Overall:
Review Highlights
Click to filter reviews below
Displaying 1 - 10 of 46 1989 BMW 3 Series reviews.
Quazar911

writes:
1989 BMW 3 Series 325is
Review
Pros
Well maintained, strong engine, oem/aftermarket parts still available
Cons
Fairly expensive to maintain.

Awesome Car — Overall a great car, hard to find used in good condition, but the ones that are will be fairly expensive. Parts for the 87-91 E30's aren't too hard to find and quite a few options available for engine/suspension upgrades.
Primary Use: Sport/fun (spirited driving, track racing, off-roading, etc.)
Zachary

writes:
1989 BMW 3 Series 325i
Review
Pros
Drive-type, Engine, Engineering, Accel, Braking, Handling
Cons
Costs a good bit of money to repair and maintain
Bmw 325i (e30) — This beautifully engineered compact executive saloon from Bavaria is an excellent car. I bought it in the Summer of 2008 with 165,000 miles on it. The previous owner had installed a solid stainless steel short shifter, replaced the steering with an M3 rack, replaced brake rotors and lines with ATE components, and added Bilstein sport struts. The car drives superbly and quickly with these additions. Although the performance is the most important factor in my mind, what I really love about this car is the "Germanness". BMW designed the car to have classic sedan shape with conservative German lines, but still managed to make the car look powerful and aggressive. Consistent with German logic, the front axle steers the car while the rear propels it forward. To help achieve its 50/50 weight balance, BMW moved the axles forward, placed the battery in the trunk and added a full size spare with a matching steel wheel. In the owner's manual they've included procedures and warnings to adhere to when driving "enthusiastically" or when exceeding 110 mph. Overall, this is an excellent driving machine from Germany.
cdsmith_2002

writes:
1989 BMW 3 Series 325i
Review
Pros
Old, rarely seen one at this point.
Cons
Cylinder head rebuild is expensive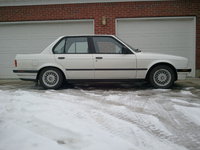 Great Drivers Car, Looks Unassuming — I'd like to say I miss my 1970's 2002, but I don't. The E30 is so much more. The E30 is aging well and gets alot of looks, according to my wife. Power is still contemporary and handling is excellent, improved by simple traditional modifications.
Primary Use: Commuting to work
Teddytrout

writes:
1989 BMW 3 Series 325ix Coupe
Review
Pros
Really fun to drive and very dependable in any weather
Cons
Hard to find parts as they are getting very rare to find.

Sweet — This is getting to be an old car, 293,000k and still runs very well. It has a bit of rust starting to show and I hope to refinish it this summer. I have 2 Jeeps Grands Cherokee's and they are used for driving to work. This is a very fun sports car and still makes some Mustangs do a double take when I leave them in second gear.
Primary Use: Sport/fun (spirited driving, track racing, off-roading, etc.)
Matt

writes:
1989 BMW 3 Series 316i
Review
Pros
Fun, reliable and retro
Reliable Retro Fun. — Solid, rwd and unfortunately with the 8v 1.6l m40 engine a little bit underpowered and not massively economical either. Externally one of the most recognisable designs of all time and the interior quality and comfort rivals many modern vehicles. Most parts are still available through BMW and of course there are plenty of clubs and information on the internet if you spanner yourself.
Primary Use: Commuting to work
Vanessa

writes:
1989 BMW 3 Series 318is
Review
Pros
handsome looks, 2 doors, great to drive.
Cons
potentially costly repairs, never-ending problems associated with an old car.
Overall It Gets 4/5 For Being Enjoyable To Drive, Look At And Live With. — remember! this is the 318i i'm referring to. Performance: 3.5/5 great handling, loves beating more powerful cars through corners. pretty good braking from the puny 4 wheel disc-brakes (i had to make a smoking emergency stop once and could actually smile after that). acceleration? lolwut? but he has his moments when he feels the need to get going. otherwise, this laid-back Bavarian enjoys just cruising along. Build Quality: wanted to give 3.5 for the solid construction and toughness all round but then i quickly remembered all those repairs. oh my yes. perhaps it was neglected/poorly maintained by the previous owner or maybe it was made the night before Wiesn. what seemed like an innocuous coolant leak became a head gasket, then the starter motor, then the gearbox wanted out and now there's a rust problem in the most inconvenient of places. and a slightly unnerving shaking when driving and idling. and... Appearance: well, it's an E30, it's a coupe, it's teh sex. pull up next to an E36 in this and you can hear the other car cringe. it's that cool. wasn't too sure about the bright red at first but it's grown on me. interior is a your typical dull black plastic BUT the dashboard has got that nice driver-oriented design. everything functions as it should. seats are comfortable and will make traffic jams more bearable. back seat space? no point pretending you can fit people in there, sorry. it will however fit a stuffed kangaroo, 3-way sunshade, your entire hockey stick collection and a helmet. boot space is quite reasonable but is of the top-loading design without the rear cutout. bad news if you like taking your spare tyre out for fresh air frequently. i almost forgot the neat toolkit you get under the bootlid. i had to buy the missing tools to make it complete but believe me, it's cool and it matters. Cost: BMW claims L/100km was about 10 when new. i'm getting about 13 (as calculated by the VehiCal). the mileage isn't something i'm overly concerned about. insurance isn't a worry either, and it still holds its value decently. cost of maintenance is okay as the price of parts in general are reasonable, but some parts are more rare/expensive. captain obvious tip: don't bother getting it serviced at a dealer. that said, it's still rather reliable. the only time i couldn't start it was when the starter motor failed to live up to its name. however i still wouldn't recommended it to anyone but the most hardcore of car bores. you do have to be really in love with this car in order to put up with all the things that will go wrong.
Primary Use: Commuting to work
Lebogang

writes:
1989 BMW 3 Series 325i
Review
Pros
Interior & Exterior is marvelous
Cons
Nothing @ All is perfect
It's A Genuine Classical Bmw Ever — It's a perfect killing machine with a 2.5 L engine. It takes u from here to heaven in seconds. It's the best classical BMW has ever make - A Legends. ( BOTSO-TSO) With It's rear wheel drive u can make the donuts of 360 degrees rotation. The Interior is marvelous with a genuine BMW motorsport Leather seats and a Hardtop electrical sunroof.
Jay

writes:
1989 BMW 3 Series 325ix Coupe
Review
Love It When It Runs — all wheel drive bad body lotta rust otherwise good in and out good on gas good traction low maintenance so far except for the fact that i had to rebuild everything from a shell very fun to drive and... its a bimmer...
Primary Use: Commuting to work
Jim

writes:
1989 BMW 3 Series 325ix Coupe
Review
Id Get Another — awd!!! do i have to say anymore, in line six, looks so sexy, its a bmw, i mean come on wats not to love about this car, its fast, very quick, looks sharp, and can be a nasty ride wen done right
Primary Use: Sport/fun (spirited driving, track racing, off-roading, etc.)
alt916

writes:
1989 BMW 3 Series 325i
Review
Pros
fun to drive economical good steering

Old Gem — One of the best cars i have driven really good on gas she drives like she is fresh off the shownroom in 1989 even though she has 325000 miles on the engine really great vintage model she will go to 110 no problem
Primary Use: Commuting to work
Displaying 1 - 10 of 46 1989 BMW 3 Series reviews.
Looking for a Used
3 Series
in your area?
CarGurus has

34,889

nationwide 3 Series listings starting at

$1,995

.