1988 Ford F-150
User Reviews
Average Ratings from

25

reviews
Performance:
Appearance:
Build Quality:
Overall:
Review Highlights
Click to filter reviews below
Displaying 1 - 10 of 25 1988 Ford F-150 reviews.
Geoff

writes:
Long Wheelbase — its the super long wheelbase adn it 4wd with a fuel injected 5.0 and it runs good and its fun to drive it also gets decent mileage with the 3.00 gears in both sxles and its a good work truck
Primary Use: Sport/fun (spirited driving, track racing, off-roading, etc.)
Connor

writes:
Love It — love this truck will definatley be keeping this one has great performance quick accerlation and great stopping power no squeals even from the power steering pump this truck is awesome to drive even puting in through the worst mud it has the balls to make it through
Primary Use: Sport/fun (spirited driving, track racing, off-roading, etc.)
WFC13

writes:
Pros
Good balance of power and economy/looks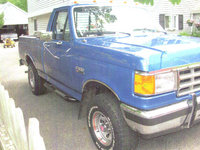 I Can't Buy A Truck Like This New Anymore, So I'm Going To Keep It For A Long Time To Come. — I have an '88 F-150 4X4 shortbed with a 302 engine and an added NP-435 to replace the mazda 5-speed. When I put 31" tires on the truck, my mileage went down to 13-15 MPG with the 5-speed still in the truck. When I replaced the 5-speed with the NP-435 4-speed, which has no overdrive, my mileage surprisingly went back up to the 18 MPG range. I even got asmuch as 19 once without using the cruise control. I can certainly live with that because I don't use the truck every day. The tourque of the creeper gear and reverse is great to have as well. Additionally, I made this clutch adjustable with this transmission, meaning when you let your foot off of the clutch pedal, the throw out bearing stops turning because the release arm does not touch the clutch fingers. I could not do that with the 5-speed. This transmission is what I feel belongs in a pickup. A true truck unit which has seen service in much larger trucks,like an F-600. I'll never regret putting this into my truck!
Primary Use: Utility (towing boats, transporting cargo, etc.)
Brian_1979

writes: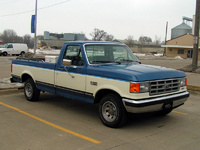 Xlt Lariat With All The Bells And Whistles — Standard cab, blue and white, all the factory bells and whistles plus bed-liner, trailer brake controller and air ride. 2WD, 302 EFI engine, 4 speed AOD auto trans. Bad on gas, ok on power but trans slips if I try towing anything. Rides good, handles like new. 54,000 miles, belonged to a long-haul truck driver so it spent the majority of it's time in the garage. Early AOD model automatic overdrive transmissions were built too flimsy for a truck but there's 3 different upgrade kits for it but they all cost money. I like the truck but to be honest I wish it had the 300-6 engine and a 5 speed manual trans. Everything else works except the gas gauge needle goes crazy regardless which tank is selected, HVAC is stuck on "floor" because the cable broke and there's too much junk under the dash to get under there and fix it with my short temper and lack of contortionist flexibility. Cruise can't hold the throttle steady so I don't use it. Strong throttle return spring requires constant pressure with foot, so it's always slowing down on me.
Primary Use: Utility (towing boats, transporting cargo, etc.)
Thomas

writes:
Pros
Suprising fuel economy on the highway and mine is loud.
Cons
Due to age, things tend to rattle.
1988 Ford F150. Good Design. Great Truck. — Has a real good corner handling, especially at higher speeds. Although it is classified as a half ton truck, the drive-train has a 3/4 ton potential. Being an older vehicle, the weight is a large factor in fuel economy. Even with downside of age, beauty, and par performance, the overall cost of ownership is very low. Repair is usually on the lower end of cost and time making this truck a favorite of my vehicles so far.
Primary Use: Commuting to work
Kyle

writes:
Pros
If it is off road, I can do it. Great suspension articulation, just enough power, loud, killer sound system, leaps large inclines and crosses muddy trails in a single bound.
Cons
If it is off road, I can drive it. Seriously, this thing couldn't pass emissions to save my life. And 10 mpg.
Daniel

writes:
Its An Awesome Truck — its an xlt lariat with 351w c6 trans fresh rebuilt 351 the power of it is amazing interior is clean exterior has a fresh paint job has 31x10.50s on it manual 4x4/ manual locking hubs the gas milage sucks i get around 12.5 MPG
Primary Use: Utility (towing boats, transporting cargo, etc.)
Josh50050

writes:
1988 Ford F-150 XLT Standard Cab LB
Review
Pros
huge regular cab and a very nice designed dash for an old truck
Cons
i find it has a lot of blind spots but it is a truck so its not bad

Work Truck — great power off the block but acceleration starts to slow heavily around 80km/hr. Swiss cheese frame makes me a little nervous. i did put a chip into the truck to improve power and fuel economy and i cant complain with how it is now. all around a 4.5 out of 5
Primary Use: Utility (towing boats, transporting cargo, etc.)
Todd

writes:
Pros
Great pick up reliable
Every House Hold Needs A Pick Up — the truck has great tq, it can out pull any v8 deisel on the road today. Best motor ford ever biult the I6 300 4.9lt. Its a tough truck if you want to go off road and looks great lifted and decked out witch is my plans for this one
Primary Use: Commuting to work
eliason37

writes:
1988 Ford F-150 XL Extended Cab 4WD LB
Review
Pros
Love this pick up. I got it from my grandfather for my first vehicle and it runs good when it runs.
Cons
when it gets hot it doesnt start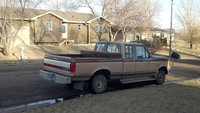 I Love This Pickup — I got this pickup from my grandpa for my first pickup. It runs good when it is cool. When you turn it off after it gets hot it wont start again. I am not sure why but it is annoying. The tranny is starting to go out as well.
Primary Use: Commuting to work
Displaying 1 - 10 of 25 1988 Ford F-150 reviews.
Looking for a Used
F-150
in your area?
CarGurus has
98,279
nationwide F-150 listings starting at
$1,500
.