1987 Ford Thunderbird
User Reviews
1987 Ford Thunderbird
Review Ratings
Average Ratings from

18

reviews
Performance:
Appearance:
Build Quality:
Overall:
Review Highlights
Click to filter reviews below
Displaying 1 - 10 of 18 1987 Ford Thunderbird reviews.
Robert

writes:
1987 Ford Thunderbird
Review
Pros
Gorgeous car, great performance, good fuel economy, just plain fun to drive.
Cons
rear disk brakes were a constant maintenance issue
1987 Thunderbird Turbo Coupe Economy, Luxury And Performance In One Package. — I owned my Turbo Coupe for almost ten years and have yet to find anything that comes close to as fun to drive. I rue the day I sold it and swear I will get another one some day.
87wtb

writes:
1987 Ford Thunderbird Turbo
Review
Cons
Its white, hard to find parts

Good Car That If Taken Care Of Can Be One Of The Best. — Had one for three years now. have put 17,000 miles on the 64,000 it had when I got it.In that time I have spent only about 500 dollars, to rebuild the transmission(5 speed) and brake pads.The car runs a three inch exhaust, a super chip, 19 pounds of boost and a k&n air filter. Got 233 on dyno. Average 17 in city.
Primary Use: Commuting to work
msaspen1

writes:
1987 Ford Thunderbird
Review
Pros
I can only state that there are so many pros, it is the reason I have kept this car for 25 years.
Cons
Gas mileage and it leaks oil, but very little.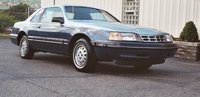 My Pride And Joy — The styling of this car was way before its time. The features this car has are amazing for the year it was built and they all work. This vehicle has only left me stranded 3 times in 25 years! There are so few of these 87 Thunderbirds in our area, that I am certain when I am on the road each week, driving it around, folks don't know what it is. Yes, it gets looks and several folks have talked to me about her at the stop light. No, it is not for sale ;-). It has new paint, rebuilt transmission, and a fair amount of body work was completed before the beautiful paint job, which several body shops said that they could not match. Finally found a shop that painted it with no problem. I am a Ford Lady,, I also own a 98 Ford Explorer as well!
Primary Use: Sport/fun (spirited driving, track racing, off-roading, etc.)
Ted

writes:
1987 Ford Thunderbird Turbo
Review
Cons
the cost of a replacement rear quarter panel.
Its A Ford T-bird. She Is An Icon — Excellent older vehicle. Fun to drive. Borg-Warner T5 tranny. Whats not to love? And my kid fits in the back! I get almost 30mpg in her and she is a blast to drive. On the highway you cant ask for a better ride!
Primary Use: Family transportation
Melissa

writes:
1987 Ford Thunderbird Turbo
Review
Cons
Not a snow car (Rear wheel drive), gas mileage
My Most Favorite Car That I Miss The Most! — While the gas mileage sucked, and it didn't do well in snow or ice because of the rear wheel drive - I LOVED this car! It was a tank! The acceleration was great, the build quality was EXCELLENT. It only needed a few small repairs over the years since it was a 1987. The car in the pictures isn't the one I had but it's the same body style. The one that I had was baby blue. Only wish it hadn't been totaled. :(
Primary Use: Sport/fun (spirited driving, track racing, off-roading, etc.)
Jared

writes:
1987 Ford Thunderbird Turbo
Review
Cons
its getting hard to find parts
I Dont Get It — Its got a 2.3 li 4 cylinder with a trubo it will run the 1/2 mile in 16.83 at like 78 miles an hour. Its great to own it gets really great gas mileage for a 87 it gets 30 highway and like 20 in town thats cuz i work a mile from home across town
stratacast94

writes:
1987 Ford Thunderbird Turbo
Review
Pros
Gorgeous, fun, reliable, classy
Cons
No cup holders, small trunk
Good Ol' Bird — My tbird is old, she's tired, needs TLC, it's hard to find special parts like headlights and stick shift knobs n such and sometimes it's easy to hate this car because when one problem is fixed, another arises. Yet, the car keeps rolling, it's the best sounding 4 cylinder I have ever heard, the turbo adds some fun for this old Pinto engine, and It is a VERY pretty car! Previous owner didn't know how to drive stick and didn't know about 5th gear...all this explains why synchros are out in the transmission and the throwout bearing is shot. I think it's leaking under the rear window (notorious for many old cars it seems), I can't find any good headlight replacements as mine are dull and interior plastics are falling apart. Despite, all of this, she's my baby, many people I know think it's a hot car (and recognize me for the one with the old Thunderbird) and there just isn't too much to say because I think this car was very well built! My review is biased, and my car needs a lot of work done so I'm not really "experiencing" the car in all it's glory, but I can't wait to drive it again!
Primary Use: Commuting to work
Mercjerry

writes:
1987 Ford Thunderbird Base
Review
Pros
Dependable runner.
Good fuel economy.
World-class looks.
Cons
Air injection reactor pump made a rattling noise, but worked.
Rear window defroster worked only temporarily.
Transmission oil pan gasket leaked at 145,000 kilometers.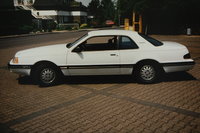 An Affordable Luxury Car With Great Style — I purchased my 1987 T-Bird in 1995 for a mere 5,000 deutschmarks and kept it through 2001. The Thunderbird was the base version, but that didn't show. All desirable options were present (automatic transmission, power brakes/steering/windows/seats/door locks/decklid relase, air conditioning, cruise control etc.) and they all worked fine. This was the most reliable American vehicle I had ever owned until then. Build quality was good and the materials used inside looked and felt classy. It was comparatively cheap to operate, got great gas mileage (25 mpg). The 3.8-liter V6 engine was not very responsive to gas pedal Input; 120 horsepower was adequate, but no more. 0-60 mph times averaged about 11-12 seconds, top speed was approx. 112 mph. Handling was typically American with low cornering power due to marked understeer. Steering was quick for an American car and the brakes worked quite well. It was not a sporty car by any stretch of the imagination, but a very nice, exceedingly comfortable cruiser and a very attractive car to boot. Had I not needed a four-door automobile back in 2001, I definitely would have kept the T-Bird. Instead, I sold it to a friend who's been getting many years of useful and dependable service out my good old '87 T-Bird since then. May the Bird fly for many more years to come.
Primary Use: Commuting to work
8t7

writes:
1987 Ford Thunderbird
Review
Pros
aggressive apperance
Cons
foot room (with manual)

Way Better Then A Grand National! — more power then you'd expect. Handles, corners and stops better then it's competitors (grand national). It also gets better gas milage and has many luxury items standard which are only options on other cars! first with 4 wheel disc and ABS!
Kathleen

writes:
1987 Ford Thunderbird Turbo
Review

It's My Husbands Car — My husband loves his 1987Ford T-Bird Turbo. So, much he refuses to give it up. It is silver with some red trim. It could use some work but it runs like a sewing maching. I brought it home for him to try and he fell in love.
Displaying 1 - 10 of 18 1987 Ford Thunderbird reviews.
Looking for a Used
Thunderbird
in your area?
CarGurus has

865

nationwide Thunderbird listings starting at

$8,550

.