1986 Porsche 944
User Reviews
Average Ratings from

26

reviews
Performance:
Appearance:
Build Quality:
Overall:
Review Highlights
Click to filter reviews below
Displaying 1 - 10 of 26 1986 Porsche 944 reviews.
Bonnie

writes:
1986 Porsche 944 STD Hatchback
Review
Cons
poor gas mileage as it's for all sports cars
Fun But Easy To Get Speeding Tickets In My Porsche 944 — Great performance and it ran great once you hit above 85mph. I loved cruising it down to LA/ Santa Barbara in this car. Fun car to drive but it's very low to a point where you feel like you are almost sitting on the ground. I mostly drove it on the weekends for fun. Not the most spacious car interior wise -- if you know how to keep it in top notch shape, this car is highly reliable.
Primary Use: Sport/fun (spirited driving, track racing, off-roading, etc.)
Andrew

writes:
Pros
Handles better than most cars on the road today, takes 87 octane gas and is capable of 30+ mpg highway, a remarkably comfortable cruiser. There is a STRONG following with these cars to date, rennlist.com, rennbay.com, clarksgarage.com, etc are some of the most helpful places to look to for help and brotherhood with the 944. These cars are track beasts, and even a beginner can use its balance to gain an edge against more powerful cars.
Cons
0-60 times rival that of today's Civics; a 22-year old motor with 163 hp at the crank makes less to the wheels than a civic, too! like any 22-year-old car, new parts can be as hard to find as reliable used parts sometimes. For this car to be affordable, you can't be afraid to do a fair amount of maintenance yourself. Finding one with a good history is sometimes a challenge -- and occasionally even a good one has its share if issues to sort out.

Oh, and some cars -- no ABS or airbags. That teaches you to be a better driver, though -- so maybe it's a pro?
Over 2 Decades Old And Still Going Strong! — I've owned this car since December of 2005. It's been tracked, it's been hit, it's been a rugged daily driver. I'm happy with it and wouldn't want anything else -- insurance is pretty cheap on account of it being over two decades old. To date, I've spent less than ten thousand dollars on the car -- and that number includes the 6100 initial purchase price, the 400 bucks to recharge the AC, the 700 bucks to fix everything from a hydroplaning accident that banged up the front pass. side pretty good, oil changes, etc etc. I could have spent $11,000 on a new Hyundai, but I didn't want to spend that much -- so I got a Porsche instead! Sure, there's some intricacies and unique stuff to the car that can be a bit of a pain every now and then -- Timing belts have to be changed religiously lest the interference engine explode on itself when the belt snaps and force a top end rebuild. Like most old cars, there's going to be stuff that needs sorted and refreshed -- rubber, seals, gaskets, etc -- but once you take care of those issues, you basically have a reliable car at your disposal. People knock the NA model in favor of the turbo variant, and while the 944 Turbo is much faster, the regular 944 can be just as maneuverable, if not more so than it's boosted bigger brother. On track days I've passed several turbos, even some Boxsters -- the best feeling I've had in my car was knowing I could do more with a less-powerful car than some folks were able to do with their $60k boxsters and $18k 951s. In addition to summer weather driving, my 944 has seen winter duty since the end of 2005, and there have been no problems to date. I purchased a set of nokian winter tires and haven't had any problems with driving in bad weather. The handling is exceptionally precise while remaining very forgiving.
16 of 16 people found this review helpful.
You found this review helpful
iban

writes:
1986 Porsche 944 STD Hatchback
Review
Pros
the car had a 50/50 weight distribution low drag fun to drive rual
Cons
it was like shifting my old type three wv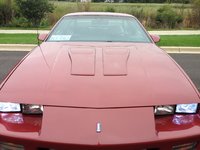 The 944 Experience — the car was not made for city traffic some nice country roads worked on it and found out more than I needed. the 2.5 l was a chopped down 8 cylinder and they had a balance problem and they used a patent from Mitsubishi they used the silent shaft 4 cylinder on Chryslers mini vans before the had there own replacement. motor had some over engineering and a list of problems don't know if the balance shaft took away some power a lot of the maintenance was done by the to owner before me and that's the only reason I bought it I have seen them in need of everything I sold it to a father and son and they will take good care of it if you are looking for one get the 8 cylinder or the turbo and keep some cash on the side you will need it and I have a z28 with the tpi fuel injection system an it's a bosch design almost the same . iban
Primary Use: Sport/fun (spirited driving, track racing, off-roading, etc.)
Justin

writes:
Pros
Phenomenal handling, great seats, eyecatcher due to relative rarity
Cons
Lackluster 2.5L NA engine, expensive repairs
Love At First Drive — I test drove a 1985.5 944 while considering it's purchase. The car was a rock. I absolutely loved it. Entry/Exit is somewhat tough due to the very low seating position, but once in place, the seats are extremely supportive and comfortable. The engine leaves a bit to be desired, but is more than adequate for a 2600 pound car, returning 0-60 times of around 7.5 seconds. Where the car really won me over was with it's handling. It drives like it's on rails, at any speed. Braking is firm and responsive, direction changes are an exercise in wishing the wheel to turn, and the car almost reads your mind when you're driving it. In 1986, Car and Driver named the 1986 Porsche 944 the best handling car in the world, and I feel that it may still have a shot at that title, especially for the price that you can pick a great one out for.
Myles

writes:
Don't Buy New Parts, Scrap Yards And Mechanic Friends Are The Way To Go — Well its engine isn't in yet, so its kinda slow (doesn't move) and it needs some body work still. This will be on par with almost any production car, including the new GT3 RS. It will however be hopeless for casual driving off the track.
John

writes:
If You Can Afford It Have It — pros a real head turner cons insurance this car was epic it had private plates was guards red bose sound system it had all i wanted and more a little tail happy but fun fun fun it was awsome on pick up and excelent, oh handling sideways best part of the time
Primary Use: Sport/fun (spirited driving, track racing, off-roading, etc.)
Patrick-Frantz

writes:
Cons
they don't make it anymore
Porsche 944 Turbo W/stage 3 Kit — This car was modified by a racing pit crew. It had a stage three kit that gave it about 75 more horse power that a regular 944 turbo. The kit includes upgrades to the clutch, air intake, suspension, exhaust and a computer chip...it had about 360 horse power and had been driven over 200 miles per hour.
Sebastian

writes:
Pros
engine, power, ride,
Cons
fuel consumption and costs
Fast Understatement Porsche — It's a black beauty with a very powerful engine. Has a very good stability on the road. Is very fast i can hold a porsche cayenne V 8 and a cayman s with the 3.4 engine. Like other porsche's it is not cheap to hold! And I have a friend since i drive my 944: the man at the gas station :-)
Paul

writes:
Pros
great performance and gas mileage. lots of fun
Cons
hard to get parts for it
Epic — we recently bought this car for about 6000 and my family could not be happyier. It has great acceleration, it goes from bout 0 to 60 in 5 seconds. My family is very tall: my dad is 6'5 my mom is 5'11 and im 6'1 and we all have plenty of head room in this car. And... this car gets nearly 30 miles to the gallon.
Michael

writes:
Pros
Performance, Reliablility, Feel good factor when driving.
My 4th Car — With a little regret I px`d my lovely Rover 800 for this Porsche 944. I had always dreamed of owning a Porsche, and the 944 was a quality entry level car. She was in good condition when I bought her, just some oxidisation on the roof and bonnet, which I got resprayed, I purchased a heater unit from Porsche, and replaced one of the fuel pipes, that`s all in four years. Due to an accident I could not use the car for around a year, and she waited patiently for me in the garage. When I eventually was okay to drive her, she stared first time. There was real sadness when I let her go.
1 of 2 people found this review helpful.
You found this review helpful
Displaying 1 - 10 of 26 1986 Porsche 944 reviews.
Looking for a Used
944
in your area?
CarGurus has
47
nationwide 944 listings and the tools to find you a great deal.