1986 Pontiac Fiero
User Reviews
Average Ratings from

40

reviews
Performance:
Appearance:
Build Quality:
Overall:
Review Highlights
Click to filter reviews below
Displaying 1 - 10 of 40 1986 Pontiac Fiero reviews.
waltford

writes:
1986 Pontiac Fiero Base
Review
Cons
Availability of parts

Sporty, Fun And Definitely Unique — Difficulty in securing parts. Trying to find a throttle cable for an '86 proved to be tough. I found a shop that custom built me one. The car has tons of style though and is unique. I enjoy cars that you don't see on the road every day.
Primary Use: Sport/fun (spirited driving, track racing, off-roading, etc.)
USA2seaters

writes:
1986 Pontiac Fiero GT
Review
Pros
sporty, fun, cheap car that is cool and unique first car for the beginning auto enthusiast. The timeless look of the GT easily allows it to remains still in style today.
Cons
Car is hard to work on,and not all that reliable due to the Frankenstein design of stealing parts from all over the existing GM fleet and trying to piece them together to make one mid-engine vehicle.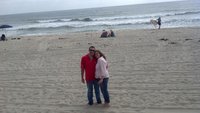 Great Looks On Gt But Sorry Performance From Gm And Poor Reliability Simply Killed It. — Loved the T-Tops and lit up Pontiac rear end. Love the overall styling of the GT to this day. HATE THE tiny, weak ass motor, the giant, absurdly tall shifter, and the fact that the radiator sits so far from the engine causing these cars to often have cooling system issues all through their lifetimes. Cool cars to look at, but after having owned 3 of them personally, and multiple friends owning a variety of them as well it got old to see how often all these cars were not working right, or back in the shop. All in all the car was a hit in sales volume due to it's good looks and edgy new design, but it was a larger, more miserable failure in both reliability and performance. The model suffered badly with the small budgets GM alloted for it and never could get off the ground high enough to avoid the axe that arrived just 5 model years in.
Primary Use: Sport/fun (spirited driving, track racing, off-roading, etc.)
tjs7antiques

writes:
1986 Pontiac Fiero GT
Review
Pros
nice american sportscar and a rare model. this car can bolt in a 305 CID chevrolet V-8 engine easily, in this year it was a factory option, Handeling is fantastic and lots of power, my friend tells me it will keep up with an 84 ferrari 308 up to 3rd gear, and then the ferrari leaves it in the dust, nice dependable GM product, maintenence is low and parts are still available and cheap, receipts available for new tires, brakes, clutch disc, pressure plate and flywheel resurfacing
Cons
not a car for tall people, not much room for cargo,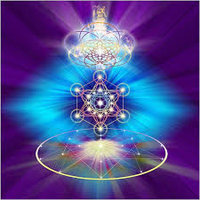 A Very Good Deal — like i said, not good for tall people, I'm 6 ft 1 in. and difficult with legroom, i wouldnt go fast in the rain, the engine has alot of tourque and the back wheels loose traction on the wet roads
Primary Use: Sport/fun (spirited driving, track racing, off-roading, etc.)
Matt

writes:
1986 Pontiac Fiero SE
Review
Pros
Quick looks cool poor man's ferrari
Sexy — Too small of a car plastic body engine compartment is too small cop magnet. Very loud. Head turner. Rear wheel drive engine is in the back front end was way to light cool looking car but only a two seater
Primary Use: Sport/fun (spirited driving, track racing, off-roading, etc.)
justin4prez

writes:
1986 Pontiac Fiero GT
Review
Pros
Fun little car. Easy to find parts. Easy to upgrade.
Cons
People who don't know what they're talking about.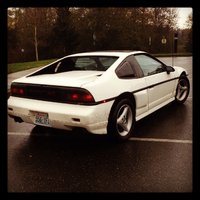 America's Only Mid-engine Sports Car. — I have wanted one of these since I was in middle school. I knew what I was getting into and I absolutely LOVE this car! It's small, fast, easy to work on, easy to upgrade, and gets looks everywhere I go. It is the ultimate project car because you can literally do ANYTHING with this car.
Primary Use: Commuting to work
Justin

writes:
1986 Pontiac Fiero SE
Review
Cons
Kind of anemic stock, some repairs are difficult for beginners
I Personally Would Drive Nothing Else. Once You Own A Fiero, You'll Be Hooked. — I love the economical yet fun spirit of this car. Performance was good for it's day, but could use an update. Cost of ownership is great, with very minimal maintenance and low initial investment. Appearance of the Aero coupe keeps it relatively modern, yet not too annoyingly new. Fun factor is the best reason to own a Fiero. It handles like very little else on the road- nothing anywhere near this price range for sure. Even the most mundane commute or task becomes driving pleasure in a Fiero.
Primary Use: Commuting to work
Bruce

writes:
1986 Pontiac Fiero SE
Review
Pros
Looks, handling, fun to drive
Cons
Build quality, engine quality, rattles, squeaks, vibrations and monthly repairs....
The Red Plastic Fantastic — OK....I'll admit it. I owned a Fiero. I bought it from a friends son, who had decided he had outgrown it. That in itself should have been a warning..... Actually, I bought it for my daughter because we had two cars already and the insurance company was going to list my son as the operator, so the car went in Vicki's name. SHE loved it. She didn't have to fix the blasted thing. Wildest memory - the heater core exploding in a cloud of green coolant and vapor that covered the windows (and me) with hot green fog, all while I was doing about 65 kph in the middle of the afternoon on Van Horne Avenue in Dryden. OR - the transmission coolant line breaking in two and dumping all of the trans fluid on the ground at 2 am when my son and his date were 40 k from town. Each and every month, we could count on the little red plastic-fantastic to cost about 150 in bits, pieces, fluids or labor. But....it was fun to drive. Sold it to a guy who was going to put a Ferrari kit body on it. Then he discovered the engine's appetite for oil. Last heard of rotting in a field, alongside two others.
86Fierolover

writes:
1986 Pontiac Fiero SE
Review
Pros
handles well. almost like a gokart. the 4 cyl engine runs well but is showing its age. the manual shifter shifts very smoothly, and the clutch engages very well. very fun to drive. and gas mileage even for an old car like it is amazing. i can go from Sacramento to San Francisco and back on a half a tank if i drive her smoothly and the 10 gallon tank is cheap to fill up.
Cons
wiring is a nightmare. currently my head lights will flip up but not turn in and aside from running a new wire circuit for the lights i dont know what else to do. that and just that the engine is showing signs of old age there isnt much more to add on the cons. maybe the lack of sun visors but as small as the car is there isnt really room for those.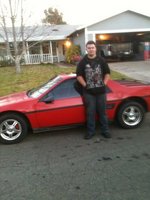 1986 Pontiac Fiero Se — for what i got it for (1600$) it has been worth every penny. very good mileage, and fun to drive. acceleration is moderate cause its only a 4cyl, but mileage is amazing even for how old it is and the clutch and shifter (although very tall compared to other manuals) work very smoothly. braking is also good as well as it handling, maybe some proper suspension to make it better but for what is has it suffices. and you can park almost anywhere, very small and manuverable Ive only had to work slightly on the car, mainly flushing the coolant system, replacing the valve cover gasket, and starter, and changing the oil, but those have been easy fixes and i enjoyed working on those. the only frustrating problem like i said are the head lights as mentioned above. and even though the radio works...... the cassette player doesnt. i am so disappointed that i cant listen to my old van halen cassettes. In the future though, i am thinking of fitting a chevy 350 in the back with a supercharger (if not that then at least the GT model V6 with a supercharger) and replacing the suspension with that of a corvette's and replacing the interior. Im hoping to keep her running as long as i can. hopefully i can pass it down to my kids one day (after i pass of course haha)
Primary Use: Commuting to work
SoundWave

writes:
1986 Pontiac Fiero GT
Review
Pros
Very good fuel economy and good handling. Cheap at the gas pump. Moves very quickly.
Cons
Only fits two people - driver and passenger. Also it's very low to the ground and has little cargo room. Mid engine can be hard to work on depending on what you need to do.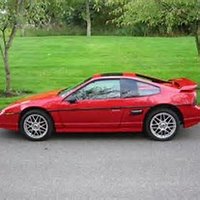 Very Unique Car Of It's Time. — I like that you can go at least two weeks without burning too much gas. I like the size which makes it easy to clean which is not time consuming. It has a very good take off from a complete stop so if you need to make a lane change that get up and go thing is nice.
Primary Use: Commuting to work
Len

writes:
1986 Pontiac Fiero SE
Review
Cons
Only room for two people and minimal luggage
A Very Enjoyable Two Seater - Good For Summer Driving Only — This was a fun little two seater, although my girlfriend (now my wife) hated this car because it did not have power steering. There also wasn't much trunk space. The six-banger with dual exhaust had lots of power to move this little car, and with the centre of gravity almost at ground level it handled like it was on rails. I loved driving it, but unfortunately it wasn't at all practical, so it had to be traded in. The only problems I ever had with it had to do with the flip up headlights - one of them got stuck open and the actuator had to be replaced.
Primary Use: Sport/fun (spirited driving, track racing, off-roading, etc.)
Displaying 1 - 10 of 40 1986 Pontiac Fiero reviews.
Looking for a Used
Fiero
in your area?
CarGurus has
59
nationwide Fiero listings and the tools to find you a great deal.