1986 BMW 3 Series
User Reviews
Average Ratings from

42

reviews
Performance:
Appearance:
Build Quality:
Overall:
Review Highlights
Click to filter reviews below
Displaying 1 - 10 of 42 1986 BMW 3 Series reviews.
Eric

writes:
1986 BMW 3 Series 325e
Review
E30 Ita Race Car 325e — I like the way it handles. very fast around corners. the car has more brakes then it knows what to do with. the acceleration leaves alot to be desired. what do you expect it came with 121 hp. for 2009 i think the car will make about 140 hp to the ground
andrewtompsett

writes:
1986 BMW 3 Series 325e
Review
Pros
- affordable
- quick
- powerful
- fun to drive
Cons
- stereo is terrible
- rev-limiter needs to be re-chipped immediately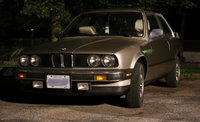 An Absolutely Amazing Machine For Those Who Love To Drive! — This is a brilliant vehicle. Loads of torque, combined with decent horsepower, means that this car will fly off the line. It handles very well in the corners, but does have a bit of an over-steering challenge. With the right tires and the optional rear wing, it will grip the road without any issue. Zero to 100 MPH is lightening quick with lots of room in the gears to have more... as long as you have the 5-speed manual. If you buy the automatic, well, don't. In terms of maintenance, this is an affordable vehicle to own. Parts are plentiful and within a decent price range. There are lots of upgrades available if you want to modify the car (first upgrade, change the rev-limiter chip). The best part, it's actually a car you can work on yourself if you want to get your hands dirty. Air and cruise control are mandatory for long trips. There's plenty of trunk space for all of your gear. I highly recommend spending the time to replace the stock radio. It's very easy to mount a sub in the truck, upgrade all of the speakers, and add in a good stereo. So, bottom line: if you want a fun car, good on fuel (when you stay off the pedal), great handling, affordable to maintain, then this is the car.
Primary Use: Sport/fun (spirited driving, track racing, off-roading, etc.)
Daichi

writes:
1986 BMW 3 Series 325
Review
Pros
(Personal) Looks, driving and handling characteristics, fuel economy.
(Other) The ease with which it can be modified to fit a variety of modern engines and transmissions, along with a whole host of other modifications. Then there's that one guy that swapped in an FORD small-block V8 and did 12.56 (or was it 13?) down the 1/4 mile.
Besides, it's the car I was being ferried around in at age 2. Now I sit in the OTHER seat......
Cons
Horse power. Just can't get mid to high end torque for acceleration without sacrificing the awesome gas mileage.
Daily Driver That Can Afford A Little Fixing Up Now And Then. — Granted the fact that we are talking about a 25 year-old car; Performance is acceptable for its age though acceleration past 60 gets tough on freeways but not impossible. A lot of low-end torque means that drifting and burning out come pretty easily so care must be taken when accelerating from a stop. Braking is good but over the years the rotors have gone wobbly and should be replaced for its longevity. The build quality is excellent for a four door sedan that weighs in at 1.2 tons. I personally haven't heard any squeaks or rattles until recently when the factory installed lower arm bushings started to give. Styling is of the old 80's theme and will probably be looked down on from most modern car fans, especially with the plastic and vinyl interior that starts to fade and crack if not garage kept. Gas mileage is a whopping 23-28 MPG CITY depending on conditions of both the surroundings and the car. Some with the same make have reported 45MPG on the highway...... Maintenance goes up like the curve on an exponential graph with age, but this probably applies to all old cars. Unusually enough, the 4door sedan variant of this car has a Front to Rear weight dispersion ratio of roughly 50:50 so is easy to handle, even on the toughest of hairpins (<-NOT me), and very easy to spin, coupled with the quick pickup on cold days makes this car a joy to drive (city) in my humble opinion.
Primary Use: Commuting to work
scootergirl37216

writes:

Wish I Knew Her Parents — bought this one used, wish it was stick rather than automatic. i like the features but hate not having an owners manual. like, what does the letter "s" on the gear shift column stand for? my mechanic couldn't even answer that one. what i love about BMWs in general is the solid feel on the highway and the turning ratio. and i prefer the older body style like this one has.
Owner for 0 years, 7 months
Miles Driven per Year:12,000
Adam

writes:
1986 BMW 3 Series 325e
Review
Pros
Moster Torque for Engine Size, Timeless Looks, Great Build Quality.
Frankenstein Eta — Best Sports Saloon ever built. Monster low end torque, leading to good trap speeds, and 0 - 100 times. If you decide to swap teh engine head to a 323i part, then it transforms the cars character into a real sport car, essentially creating a 327i. Classic, timeless looks, direct intuitive steering. SHEER DRIVING PLEASURE.
Steven

writes:
1986 BMW 3 Series 325
Review
Cons
Old + Unreliable + Hard to find parts
Cheap — It was free, but not worth it. Once you get a car this old it's hard to find parts for, and the more you put into it, the more expensive it is until you wonder if it was cheaper to buy a better car to begin with. The performance was decent, although the 2.5 L 168 hp (@ 6500 rpm) V6 engine is a bit dated compared to modern cars (28 more HP than a 2010 Honda Civic). 0- 62 in 9.7 secs isn't exactly stellar, but it's not terrible either. One important thing to note that since it was an 325xi meant that it had all wheel drive (unusual) and that it was also a coup. Since it was free, it needed alot of work done, and in the end it got junked...but if you find one in decent condition by all means try to get it functional, but remember that the cost of the car + repair probably should not equal the price of a new car if it's going to be your daily driver.
Primary Use: Commuting to work
connor_lucas

writes:
1986 BMW 3 Series 325es
Review
Cons
a little rough idle at 300000 miles...

Great Little Daily Driver, Needs Bigger Back Seats Though. — Ages well, motor is very smooth with almost 300000 miles on it and very nice interior. absolutely glides around turns and does a good job of kicking out the rears too. love the lights! geared weird, but because of that it gets good gas mileage.
Primary Use: Commuting to work
Onn

writes:
Bmw 316, 1986, Review — I loved the car so much. It used to throw it's butt from side to side very easily with a little twist on the steering wheel when you're on a low gear. It lacked some power though, and I would have been happier to have a 325.
Eric

writes:
1986 BMW 3 Series 325e
Review
Pros
great handling, reliable engine, easy to work on, rear wheel drive
Cons
AC never worked, low on power
My Beloved 325e — The 325e was the baby 6 cyclinder 3 series. 127 hp out of a 2.7 litre 12 valve inline 6. So engine performance wasn't what it could be, although the 177 ft/lbs of torque made up for the lack of power to some extent. What I eventually came to love about this car is that it was rear wheel drive (which I'm now hopelessly addicted to), and the fully independent suspension and light weight made it a very capable handler. The automatic transmission did give up the ghost shortly after I got it, but I converted it to a 5 speed which made it even better. This being my first car however I'm almost required to love it to death despite its many faults, but it did have many redeeming qualities that I still look for in new cars even today.
Primary Use: Commuting to work
playbass52

writes:
1986 BMW 3 Series 325es
Review
Pros
I just got this car from another car guy for $2400 and I love it, it's a blast to drive, easy to work on and from what I have heard so far will last forever if I do routine maintainance. It is smooth on the highway, and even though the cruise doesn't work (yet) it is easy to keep steady speed, it does run smooth though and i really want to wind it up, at 65 it barely hits 2000 rpm, even with 250,xxx miles on it everything is in really good shape and works, even the sunroof doesn't leak!!! amazing for a 26 year old car. Would love some help getting info on the display on the computer I can only read it in direct sunlight, is there supposed to be a backlight on the LCD display?
Cons
so far the only negative is it seems to be very particular as to where I get gas for it, don't know if this is typical but if i get some bad gas it takes 2-3 tankfuls before it quits surging nan rough idle, it may be the ethenol blend that everyone is using

Fun, Comfy, Great Mid-life Crisis Car (and Cheaper Than A Vette Or Viper...way Cheaper) — overall it is a really good car, just a few minor tings to repair, one light out on instrument cluster and have to get new cogs for the odometer, diagnose and repair cruise control, has the quirky intermittent short in the left tailight and brakelight, think it's the panel that the bulbs go in, and cannot read the display on computer except in direct light, I enjoy working on this car everything is easy to get to and it makes sense
Primary Use: Commuting to work
Displaying 1 - 10 of 42 1986 BMW 3 Series reviews.
Looking for a Used
3 Series
in your area?
CarGurus has
35,070
nationwide 3 Series listings starting at
$1,000
.