1984 Honda Accord
User Reviews
Average Ratings from

11

reviews
Performance:
Appearance:
Build Quality:
Overall:
Review Highlights
Click to filter reviews below
Displaying 1 - 10 of 11 1984 Honda Accord reviews.
optides

writes:
1984 Honda Accord Base Sedan
Review
Pros
I still think this was the perfect car. I had no problems, no major maintenance in 148,000 miles. If my youngest son hadn't wrecked it in 1994, I might be still driving it. Comfortable, powerful enough, enjoyable on a longer trip (DC to NH, DC to NC & SC), fine cargo capacity, and kept highway pace with two bikes on the roof, Yakima rack.
Cons
Maybe it was those two mountain bikes, but running in the Carolina's mountains in summer with A/C on challenged it -- I'd pushing the AC off button in order to keep pace.

My Perfect Car — This seems redundant, after writing Pros and Cons. But if I could have kept it (kept it from damage by a teen) I'd have it still. I always thought of it as the car I would be perfectly happy with. But simultaneously with it I've had a CRX, and 92 Accord EX sedan, a TR-8 roadster, a Toyota Supra Turbo, and my 190K mile 96 Accord EX wagon, my day to day car, and my 24K 2100 Honda S2000. All nice rides in their way; and I do really like the last two, current rides. But I comeback to the 1984 Accord sedan!
Primary Use: Family transportation
VictoriaLAlbright

writes:
1984 Honda Accord LX Hatchback
Review
Cons
Leaks oil somewhere. Rust under and on top.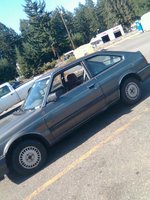 Love My First Car! — I bought this car for $500 in April 2012, couldn't drive stick yet but was the perfect car for me to learn on. It has rust spots here and there, but is not a big deal. I love this car because I get 30mpg which is great for work. I'm a pizza delivery driver so I use lots of gas. I bought it with about 260,500ish miles and now in September 2012 it has 270,500ish miles. I have spent about $1000 on it after I bought it because the previous owner did not take car of it. luckily I've found everything cheap though! New water pump, new windshield, new tires and rims.
Primary Use: Commuting to work
Matt

writes:
1984 Honda Accord Base Hatchback
Review
Pros
Manual transmission was so much fun to drive
Cons
So many problems, mainly because is was over 20 years old when I got it
Good Little Car But Not Worth Putting Money Into It To Fix It — Beat up car that needed a lot of work; I drove it till it died and it gave me everything it had. Fun to drive and sounded a lot faster/more powerful than it was. It was an 80s car so it looked like any other 80s hatchback. Good first car to have.
Primary Use: Commuting to work
Shane

writes:
1984 Honda Accord LX Hatchback
Review
Awesome Jdm Hatchback — It is a little underpowered having 260k+ miles on the original engine. 1.8L with a 2 Barrel carburetor. For a smaller car the back seats actually have plenty of room. the Original Stereo was only a 2 speaker AM/FM tape player, so I upgraded to an Alpine HU which has iPod, AM/FM, CD, and HD radio. Off of that I added two 5.25" alpine speakers in the front doors, four 6.5" alpine speakers in the rear. Finished off with a Rockford Fosgate amp and Capacitor, two 10" MTX subs in a custom box. In all my years of ownership this car has never left me stranded and has only needed normal maintenance.
Primary Use: Sport/fun (spirited driving, track racing, off-roading, etc.)
radicalsquare

writes:
1984 Honda Accord Base Hatchback
Review
Pros
Very reliable; peppy enough for urban driving; good mileage
Cons
sketchy handling at times

Spunky, Extremely Reliable No-frills Commuter Car. — Excellent commuter car. Ugly? I beg to differ--reminds me of my old 82 Scirroco! I bought it with about 120K miles for $600 in ok shape with a few cosmetic issues, mainly rust that occurred only on the top along two superfluous strips of trim. It had a tendency to stall until I found a loose air hose from somewhere under that rat's nest of carb hoses under the air filter, after which it has continued to run flawlessly for over 30k miles. The engine is very smooth and quiet and has good power for a 1.8L. The 5 speed is geared very well for both low and high speeds, making it a great car to negotiate starts and stops of city traffic. It actually accelerates well, even when keeping revs below 3500-4000 between shifts. It handles ok at low speeds but is terrible in the rain at 50 mph, though it has plenty of power to coast 85 on the freeway on dry days. I had the timing belt changed, I improvised some wiring (when the multi-switch burned out), replaced the brake booster when it blew out (the bolt under the steering was THE biggest pain EVER to remove, AND the booster itself was a chore in itself), and my driver-side window is managed by arranging 2 sections of 2x4 wood and 1 1x2 after the window regulator jammed. But hey--the car hasn't left me stuck in 30k miles! Even after I hydroplaned into a barrier on a particularly rainy day (see the handling comment above) it eventually started up with only minor cosmetic front damage. It leaks a quart of oil ever 4 months or so. It's been getting about 28mph in city driving. The seats aren't made to accomodate 6' or taller and I had to improvise the headrest. It carries quite a bit of stuff with the back seats down (and accomodates 2 in the back fine for short trips). Also, after 25+ years, there are no water leaks in the rain, heater works, AND the original analog clock is perfectly accurate!
Primary Use: Commuting to work
Payton

writes:
1984 Honda Accord LX Hatchback
Review
The 1980's Truly Was A Bad Time For Good Cars — The definitive small car of the 1980's, the 1984 Accord was just sporty enough, just comfy enough, and just stylish enough to make it the best of a bad breed. Today it would be ridiculed for it's underpowered engine, horrible interior and pathetic paint job.
Primary Use: Commuting to work
Matthew

writes:
1984 Honda Accord Base Sedan
Review
Cons
How could this even be a question when it comes to the 84 Accord?
Matt

writes:
1984 Honda Accord LX Sedan
Review
Pros
Reliable if you can find one in excellent shape (good luck with that)
Steve

writes:
1984 Honda Accord LX Hatchback
Review
Boring & Slow, But Reliable — This car ran incredibly well, burned very little gas, held a *lot*, and was very comfortable, though not luxurious. I regularly got 40+ mpg on long trips. It didn't have much get-up-and-go, but I still managed to get a speeding ticket with it.
jsnyder

writes:
1984 Honda Accord SE
Review
Pros
Ease of maintence, lack of computer tech, cheap to operate and maintain
Cons
Mine is an expetional example, I think, because of it's low mileage- but others may find that a twenty-some-odd year old car is a bit long in the tooth compared to the hi-tech gizmos on the road these days

Great Older Car — I inherited this Accord through my family- my grandparents bought it new is 84 and literally only drove it on Sundays for years; 23 years later it's got only 68,000 miles on it! Other than the inevitable paint chipping and the odd rust spot it's in remarkable condition. I like it because it's not so small that it can't compete on the road, but still it's big enough for a solid work car and casual driver.
Owner for 1 years, 0 months
Miles Driven per Year:3,000
Displaying 1 - 10 of 11 1984 Honda Accord reviews.
Looking for a Used
Accord
in your area?
CarGurus has
61,594
nationwide Accord listings starting at
$899
.