1972 Ford Torino
User Reviews
Displaying all 9 1972 Ford Torino reviews.
KWags

writes:
Pros
The Car has one of the most distinctive body styles of any car coming out of the muscle muscle car era and if set up right can cruise like a Cadillac and at the same time haul ass when you sink your foot to the floor.
Cons
Plan on putting about $25 in the tank every time you drive it, no matter the distance.
Although it is style aggressively, unless you have the cobra Jet motor, the think is a boat and that's about it when it comes to performance.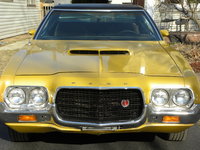 The Car Is Perfect For Anyone Looking For A Car With Good Looks And A Cheap Price Tag. — The only real negative is a lack of parts for the car. They just don't re-pop parts for 1972 Gran Torinos. the mechanics are no problem but finding trim or body pieces is a Herculean task in and of itself
Primary Use: Sport/fun (spirited driving, track racing, off-roading, etc.)
The_rok72

writes:
Pros
It is a no-nonsense car and it can back it up with the speed and power it has.
Cons
It has pretty bad gas mileage considering, but it's a classic muscle car so I didn't expect less.

This Is My First Car And It Was A Good Choice. — I like how it was a tank of a car, yet it was still agile and quite fast. Plus the seats are very roomy and comfortable so I can fit fifteen of my closest friends in there if I had to.
Primary Use: Sport/fun (spirited driving, track racing, off-roading, etc.)
norts

writes:
Pros
Rare car, one-off year. Very few out on the road.
Cons
Hard to find parts because of one-off year.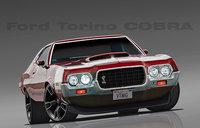 Powerful — It was fun to build and drive. Made my own Cobra version with updated parts. Car accelerates quickly and handles like a dream. Updated suspension and drivetrain makes the car compatable to new sports cars. Car is very comfortable and smooth whether on freeway or country roads.
Primary Use: Sport/fun (spirited driving, track racing, off-roading, etc.)
ramalam

writes:
Pros
Very few like it left

Like In The Movie Gran Torino, It Is A Looker — An original factory special order black paint, 400 v8 motor, bucket seats. Engine, carb, 4 brl intake, brakes, cooling, shocks, and other mechanics are new. A one adult owner since 1973, stored 20 years inside. Fun to Drive anywhere now. No pics at this timea
Primary Use: Family transportation
Kevin

writes:
Its A Ford — classic ford muscle car 2nd owner only 119k miles 351c built motor sneaky fast looks great even standing still gets plenty of looks when driving always something new to do to it its a work in progress when time permits
Primary Use: Sport/fun (spirited driving, track racing, off-roading, etc.)
Steve

writes:
Pros
classic look, you know it's a classic if the taillights are on the bumper
Cons
the money that has to be put in to it to get it to the custom ride i want it to be.
1972 Ford Gran Torino Sport — well, I got to say it's the best hand me down I could possibly get. it's got a 351 cleveland 2v, 9 inch rear, c6 tranny, it's the formal roof not the sport roof but i don't care. its got high bucket seats tan interior and harvest gold exterior. paint color isn't the best and it definately needs work, but as my first restore car, it couldn't be better. Right now it rides like a boat.
Seán

writes:
Pros
Well cmon its a Gran Torino
Cons
well if you need to drive in snow you do not want this
Very Awesome Turns Heads — as a 17 year old and owning a muscle car was my dream bought this car before the movie and it was so awesome to see it with Clint Eastwood driving it i do not have the yellow stripe but thats alrite. the car handles fairly well it is built like a muscle car(like a wall) gets looks everywhere Gas Milage 12-15 bought it for $3000 put some work into it rebuilt trans and carb the fun factor on this car is that i can easily maintain the car and when you get on it it really sounds great!!
Primary Use: Sport/fun (spirited driving, track racing, off-roading, etc.)
Vince40

writes:
Pros
351CJ engine, exterior styling, colour, everything!!!
Cons
Can only enjoy him when it's warm and sunny, which is very seldom.
Displaying all 9 1972 Ford Torino reviews.
Looking for a Used
Torino
in your area?
CarGurus has

22

nationwide Torino listings and the tools to find you a great deal.