Kennedy Used Cars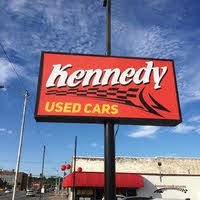 Hoy
9:00 A M - 5:30 P M
(Abierto ahora)
Mostrar horas de atención
Ocultar horas de atención
Buscar usados
Buscar nuevos
Por auto
Por carrocería
Por precio
Filtrar resultados
Otros concesionarios cercanos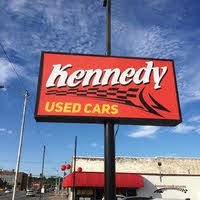 Hoy
9:00 A M - 5:30 P M
(Abierto ahora)
113 S. Main ST
Sapulpa
,
OK
74066
Evaluaciones del concesionario
Todas las evaluaciones son de visitas verificadas al concesionario. –
Más información
Very good we bought the car
Very nice and helpful. Would do business with them again.
Great family owned business!
Excellent people to work with. I did not buy the car I was looking at due to a change in my family situation but I would have if it meet our needs. I found them very Honest to work with. The one car I was interested in was as advertised and pictured. Would definitely Buy from them if they had what I needed.
Mostrar evaluaciones anteriores del concesionario
4
Kennedy Used Cars is a Family Owned, 3rd Generation Family Run Dealership. I contacted them about the Car I wanted and Yes Mr. Tony was Fantastic in Keeping in touch with me. He is a Hard Working Man who has a Full-Time Job at Night but loves selling cars as a little hobby. He's a True Salesman in every sense that He's going to ask the typical but important questions about what you're looking for in the car as well as your plan to finance the purchase. But He is truly a kind & courteous man who will respect you & your thought/decision-making process. The man is genuinely trying to take care of you since he's worked in the Hospitality industry for a Large Majority of His Career. I had the privilege of meeting the Manager Mr. Phil Kennedy who is the most honest car dealer I've found. He simply does this to make a living. The Price you see is the Price you pay, He's just looking to buy Groceries and keep things going for His friends and family. He's got a Veteran Buyer/Supplier that's been in the Auto-game for 40+ years in Tulsa,OK. The Gentlemen is very Meticulous in His Process (I've seen it). He knows the Good Wholesaler's/Auctioneer's, and Keep's an Arm's Length distance away from the Shady one's. The Gentleman Buyer Run's the Carfax, pulls the Vehicle History reports & checks all automobiles before He purchase's them for His Dealer's. If you buy a Car from Kennedy it's going to be a Reliable car. I was glad my first car buying experience was at Kennedy's.
They were very prompt in their reply and helpful.
They were very nice it just wasn't quite what we were looking for.