Only Used Trucks - Jacksonville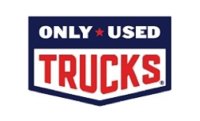 If you are looking for the best repair and maintenance services for your
diesel
engine, come to Only Used Trucks Service Center. If you own or operate a
diesel pickup truck, then you know how difficult it can be to find a
mechanic
who offers quality service. After servicing thousands of trucks for our
dealerships, the Only Used Trucks Service Center in West Palm Beach, FL
is
now open to the public!

Here at our Diesel Truck Service Center we are proud to be the diesel
experts.
There is no other diesel pickup truck center like ours because we service
any
kind of diesel engine in any pickup truck. Of course, we specialize in Ford
F-
250, F-350 ranging from the 7.3 liter, 6.0 liter, 6.4 liter and 6.7 liter engines.
Our skilled mechanics are ASE Diesel Certified, and work on Ford, Chevy,
GMC and Dodge/Ram.

Only Used Trucks Service Center will beat any written repair estimate from
any
other shop – just bring us your written estimate and let us take care of the
rest.
Only Used Trucks Service Center offers free repair estimates and a free
drop-
off service to make you diesel pickup truck repairs hassle-free. We offer a
12
month, 12,000-mile warranty on all repairs, parts and labor, along with a
free
truck wash after every service to make sure your truck always looks its
best.
Qualified customers are also eligible to receive 6 months 0% interest
payments
on all service repairs.

If you want the best diesel truck repair services around, then come to Only
Used Trucks Service Center. Make an appointment for diesel pickup truck
service, maintenance, or repair – our diesel pickup truck repair center in
West
Palm Beach, Jacksonville and Lakeland Florida is open for service now!
Show business hours
Hide business hours
Popular Used Cars
Used Ram 1500
969 Great Deals out of 109,990 listings starting at $6,700
Used Ram 2500
148 Great Deals out of 31,474 listings starting at $6,680