CarGurus Midlife Crisis Car Search
Get Started
(While You Can!)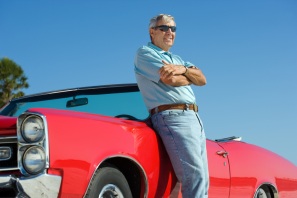 Did you wake up this morning wondering why you are here and what you have accomplished? CarGurus has the answer to return meaning to your life. Buy a sweet new ride!
Says CarGurus CEO Langley Steinert, "For a long time I didn't really see the need for a product like this, but then a few weeks after my 40th birthday, it suddenly started to seem like a vastly underserved market!" And what better time to launch this new cutting-edge product than this first of April as spring arrives and the world looks fresh and new and slightly less full of inevitable disappointment?
Plug in your zip code and get an instant view of available sporty cars, ranked from great deals to listings that are overpriced. For each listing, CarGurus provides you with a detailed price history, so you can see how long a car has been on the market as well as any price drops it has had -- information you can use during a negotiation. Of course, for you, money is surely no object when buying happiness on your way to recapturing your lost youth.
CarGurus' rankings are based on a mathematical analysis that factors in prices of current and recently sold comparable cars to determine their CarGurus Instant Market Value and how each compares to the current market. Unlike many other listings sites, the search results are unbiased by listings providers.
Looking for a new car is easy and fun. Just enter your zip code and you will be on your way to leaving those existential worries in the dust!