Acura dealerships near me (Olympia, WA)
2 dealerships within 50 mi
Hinshaw's Acura
|
View Inventory
5955 20th St, Fife, WA 98424 (29 mi)
Open Now

8:00 AM - 8:00 PM
The MDX that was advertised was dirty inside. As soon as the salesman opened the drivers side door you can see ink stains on the door panel. Driver and passenger seats were dirty. They wanted to sell me a dirty car but refused to lower the price. I came in with my own car loan and they insisted on me using their finance options which were lower than the loan I had taken. Because they didn't want to lower the price on the already dirty MDX that is advertised they suggested I buy an older model a 2015 which had a scratched up rear bumper and the salesman said I can just cover it up with bumper protection. I definitely would not recommend this place. The salesperson said the MDX would be sold before the weekend and it's still there. Nice try Hinshaw Acura. Sales hours
Sunday: 10:00 AM - 6:00 PM
Monday: 8:00 AM - 8:00 PM
Tuesday: 8:00 AM - 8:00 PM
Wednesday: 8:00 AM - 8:00 PM
Thursday: 8:00 AM - 8:00 PM
Friday: 8:00 AM - 8:00 PM
Saturday: 9:00 AM - 6:00 PM
Acura of Seattle
|
View Inventory
301 Baker Blvd, Seattle, WA 98188 (42 mi)
Open Now

8:30 AM - 8:30 PM
Although I contact dealer by email after open hours I was surprised they contact me right away. Next day after they open I was contacted by Danny Blankenship general manager at Seattle Acura who told me the car conditions and invited me for a test drive. When arrive at Seattle Washington bus station I was pick up by Tim a sales person from Acura dealer who walked me trough the hole purchase process. Car was exact as they listed on web page with the same standards. Process was good with a small opportunity but they were able to smooth it out. Over all I'm very satisfied with whole process and help I had. I wish Seattle Acura team and sales opportunities were close to my location since I'm from San Francisco Bay Area.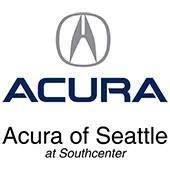 Sales hours
Sunday: 11:00 AM - 7:00 PM
Monday: 8:30 AM - 8:30 PM
Tuesday: 8:30 AM - 8:30 PM
Wednesday: 8:30 AM - 8:30 PM
Thursday: 8:30 AM - 8:30 PM
Friday: 8:30 AM - 8:30 PM
Saturday: 8:30 AM - 8:00 PM
Displaying dealers 1 - 2 of 2