Volkswagen Touran
Model Overview
Volkswagen Touran Cars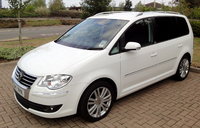 2008 Volkswagen Touran reviews: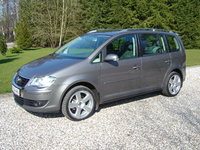 2007 Volkswagen Touran reviews: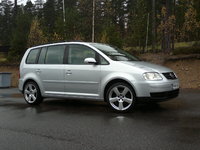 2006 Volkswagen Touran reviews: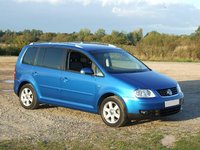 2005 Volkswagen Touran reviews: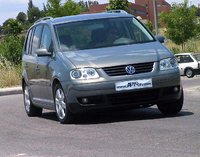 2004 Volkswagen Touran reviews:

Questions
Back Door
How to open the back door? Is there any button inside to press?
Symbol On My VW Touran
There is a symbol (actually a button with light) near my driver seat and I want to know what it means (photo attached)
Vw Ouran 1.9 Tdi Egr Valve
Good day I don't know if any one can help me. I drive a VW touran 1.9 tdi DSG My engine management light came on a while back. when I ran a diagnostic it showed that my egr alve needed to be changed. ...
Heater Blowing Cold On 55 1.9 VW Touran
No Power
Car has no power. Vcds say turbo actuator stuck. Replaced the actuator, still no power.
Volkswagen Touran
Overview
Literally a combination of Touring and Sedan, the Volkswagen Touran arrived on European shores in 2003 and almost immediately became the most popular compact MPV in Germany and one of the top sellers overall on the Continent. Looking like a stretched out Golf, the Touran offers versatility in both its interior space and engine choices.
The front-wheel drive van seats five in two rows or seven in three rows, though five-seater models have been dropped in some countries. Both rear rows fold into the floor, and the second row slides back and forth and sideways. Storage bins, pockets, and compartments hide in 39 locations. This diverse choice continues to the six different four-cylinder engines -- two 1.4-liter (regular and turbo) and four 2.0-liter diesel engines. Horsepower ranges from 90 to 170. A crossover version, the CrossTouran arrived in 2006, offering three petrol and three diesel engine choices and a higher suspension. A tuner ABT version boosts the diesel horsepower and tricks the van out with sporty touches, such as spoilers and dual exhausts.
In 2007, the Touran was the first VW to offer optional Parking Assist, which takes less than 15 seconds to parallel park your car. All the driver does is shift into reverse, and the system uses sensors to guide the van into a spot. For 2008, the Touran will debut a hybrid model at the Beijing Olympics, featuring a combination of a 20 kW electric motor and gas engine. The Touran was designed with families in mind, and its seat configurations, thoughtful interior layout, large cargo capacity, and economical engines keep it in line with Europe's gas-conscious drivers.