Nissan Grand Livina
Model Overview
Nissan Grand Livina Cars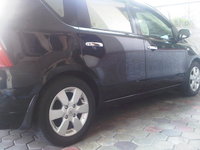 2008 Nissan Grand Livina reviews:






Questions
Sound Problem
When I turn the car to the right there is a gong gong gong sound? if the road is a bit bumpy, the sound will be slightly louder than usual. What is the problem? Thank you.
Squeaky Belt Sound
When want to take over people car, must got squeaky sound from the belt. Even change new one and screw tie the pulley still the same. It is the bearing or pulley broken?
Nissan Livina Where Is Fuel Filter And Do I Need To Replace It?
Compatible In Dashboard Multimedia Devices?
Hi, I have a Grand livina 2010 from Brazil http://www.nissan.com.br/Nissa... veiculoID=34&menuID=504 and I'm looking for in dashboard multimedia devices compatible, does anyone know any? Thanks in a...
Can I Repair The Shox Of One Side Of The Vehicle Without Removing Both Side...
i had an accident and now the thing is that the right front side of the car got damaged, the water container got damaged, when i'm supposed to move forward theres a funny sound from the wheel and its ...